Madly in the Mood for Lee Hong Ki Guide
Lee Hong Ki, a member of K-Pop rock band FT Island is like a five Treasure Island, singer, songwriter, lyricist, fashion designer, actor. Each treasure is so distinctive that gives it uniqueness but so analogous that maintains brand consistency across the island: Lee Hong Ki.
Lee Hong Ki communicates with his fans through his personal Instagram & Twitter accounts, regularly updated with pics and tweets.
To keep fans informed about their work FT Island has a Facebook Page, with posts both in Korean and English for non-Korean speakers, a good move by FNC Entertainment to communicate effectively with both National and International fans.
For Lee Hong Ki and FT Island MV's and other music related content, the band's Youtube Channel is a must! Not only to enjoy their music but also to discover their less mainstream off the current K-Wave Music Shows spotlight work.
At an interview published by Billboard in November 2015, when asked in which countries would FT Island like play in, Lee Hong Ki replied that they would like to go to where fans love them, be there 100 fans or 200, they would like to go there.
The full interview can be accessed here.
As a singer Lee Hong Ki is renounced for his powerful voice. He understands music the way a beat is an expansion of sound and sound the extension of his ear. That intrinsic know-how is reflected by the manner in which he rightly pitches a melody with a distinctive tone showcasing his vocal agility, bringing it to life. The result an emphatic prominence of his live performances with FT Island, be those on a concert stage in front of an audience or behind public doors on a live practice.
Madly performed at FT Island's concert in NYC 2015
Madly Live Practice
Madly is a powerful rock ballad, highly evidenced through its MV whose vibe is slightly reminiscing of Bon Jovi's hit single It's My Life. The lyrics however are an anthem to love, expressing the immeasurable feeling for someone, the longing, the pain... Madly is featured on FT Island EP, The Mood, the band's 5th mini album released in November 2013.
In 2015, Lee Hong Ki released his first solo work named FM302, with the title track, Insensible, whose MV had the participation of Park Shin Hye, the actress he performed with in K-Drama success You're Beautifulin 2009. Insensible is about an unforgotten love.
Lee Hong Ki singing abilities however are not limited to concerts and other live performances. More than a K-Rock idol, he's a K-Entertainer able to showcase his vocal repertoire beyond the comfort of FT Island and the challenge of going solo to embrace musical theater and make it his own during his musical performances as Lysander in A Midsummer's Night Dream in Korea in 2009 and Dracula in Vampire in Tokyo in 2014.
He's credited as a songwriter for 'Black Chocolate' and 'Orange Sky' from the album 'Rated FT'; 'Memory' from 'Thanks To' EP; 'Siren' from 'The Mood' EP and 'Black Chocolate' and 'BPM69' from the album 'I Will'.
As a lyricist Lee Hong Ki wrote the songs 'Do you Know Why?' and 'Light' from the album 'I Will'. The tracks 'Memory' from the 'Thanks To' EP, 'Siren', 'Black Chocolate' and 'BPM69' from the album 'I will' were co-written.
In 2014 he launched his own designer brand – Skull Hong which he's creative director of. The label's name is Lee Hong Ki's nickname on social media and a combination of skulls which he's renowned for liking with part of his name, Hong. Fashion and accessories which include nails and jewellery are available for purchase on its website with prices varying between products.
This is a blue STAR Chain Bracelet available at Skull Hong.
Information about the brand's lines can be found on their website in Korean, Japanese, Chinese and English.
So far Lee Hong Ki has been introduced as the singer, the songwriter, the lyricist and the fashion designer, demonstrating an array of diverse albeit identical skills expressed through his creativity as a multi-faceted artist, a Jack of all trades equally personifying characters through his work as an actor. Meet Lee Hong Ki, the thespian is a master of comedy whose personality has the reach and the engagement of an ancient amphitheater. Roads do not lead to Rome anymore. All roads now lead to him.
Below is a look at some of his work by year in decreasing order.
---
2015 - Lee Hong Ki as Lee Min Ki in 
Lee Min Ki is the leader and main vocalist of former rock band 'Excellent Souls' aka 'EXO', a man wretched in debt and elated reminiscences of his wild, crazy, fearless and presumptuous days on the road to stardom. The part befits Lee Hong Ki's as not only is he the lead singer of FT Island but also has a tracked success and experience in comedic roles. Lee Min Ki is energetic and fun. He's upbeat and determined while maintaining his foolishness, borderline on madness, idiocy and stupidity which make the character endearing in the drama and hilarious to watch. Lee Min Ki was a solid performance within Lee Hong Ki's acting comfort zone.
Modern Farmer is a drama about 'EXO' farming cabbages in the countryside to produce another album.
Take a look at the trailer:
Curiosities – The name 'EXO' raised eyebrows as 'EXO' is a popular and acknowledged K-Pop idol band. Lee Hong Ki also apologized to EXO fans due to the use of the name in Modern Farmer.
For the full story please take a look at the article here.
---
Choi Kang Joo is a chilly taciturn chaebol blessed with good looks, and a good education to match his cantankerous and indulgent personality. As a consequence, or not, of his background and disposition, Choi Kang Joo relationships have always been substandard and not up to par. The role of the stupid upper class bourgeoisie aristocrat was not only a departure from Lee Hong Ki's cheerful characters but also from his public perceived personality. Mediocre behavioral characters are overabundant in the drama and film industry, however sheep in wolves skin are farther apart and tend to be more likable to the public in general showcasing the different sides of a person, close to real live men and women. Lee Hong Ki played Choi Kang Joo in an utterly compelling manner to the point that the snide actions of his chaebol character in the drama looked charismatic and real, rather than a composition of planned attitudes and movements. Choi Kang Joo was misunderstood and understood, cynic and kind, overbearing and protective and in every segment of the story Choi Kang Joo, not Lee Hong Ki.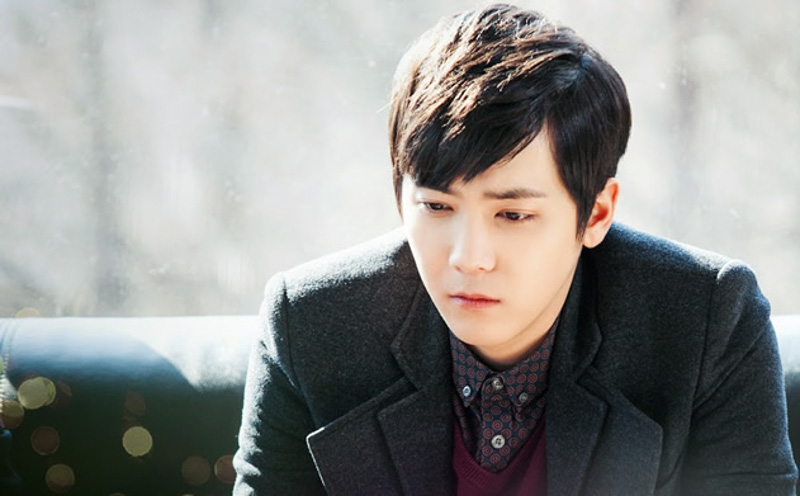 Bride of the Century is drama about a family under a century old curse where the first brides of the first-born son always end up dead. To prevent that from happening bride-to-be family hires a lookalike to take her place.
Take a look at the trailer:
Curiosities – Choi's family conglomerate is called Taeyang Group and Taeyang is a member of K-Pop royalty group Big Bang and also a very successful and inspiring solo artist. Whether the name was chosen as a homage to the artist is unknown. Bride of the Century is a cable drama from Chosun TV, a small channel with a small viewer rating, despite this, the drama was popular internationally and had a lot of buzz online. Lee Hong Ki sang 'Words I have Yet to Say' for the drama OST. The video can be watched bellow:
---
2013 – Lee Hong Ki as Chung Ui in 
Chung Ui is a reckless K-Pop star in need of an attitude adjustment which he ends up getting and becoming a better person in the process. Being a famous singer is Lee Hong Ki playing himself, however the behavioral disorder part is distant from him as an artist as he's not known to throw fits and get into public avails of discord. The work put into Chung Ui's character was visible as it was noticeable its evolution as a man nonetheless.
Our Heaven/Rockin' on Heaven's Door is a film about a famous K-Pop artist who decides to kick-ass in a club and as a punishment is forced to work at a facility for terminally ill patients on the verge of closing doors and his resulting change as a person.
Take a look at the trailer:
---
2011 – Lee Hong Ki as Min Ha in 
Min Ha is another musically talented character. By now Lee Hong Ki's the man FT Island's singer persona has become cliché in his acting roles to the point where the question is no longer if he'll perform another pop star sensation or wannabee star but when he'll perform another one of those characters again. Min Ha is a typical role that portrays the reality known to many musically talent artists; working very hard and failing and continue working very hard and failing and continue working very hard. Min Ha is a character of contrasts. Ambitious and calculist on one hand and kind on the other. Lee Hong Ki's performance is in a matter of speak a fan service to all Lee Hong Ki's supporters as he steals the show with his performance, one devoided of substance per say but enjoyable nonetheless.
Noriko Goes to Seoul is a special drama about a woman with cancer who travels to Seoul to meet her favourite K-artist and meets Min Ha in the process.
Take a look at the trailer:
---
2011 – Lee Hong Ki as Yoo Ji Ho in 
Yoo Ji Ho is a K-celebrity like Lee Hong Ki however an unknown K-star in Japan where the drama is set as it is Japanese. The character is another egg in Lee Hong Ki's K-artist roles basket with the exception that the drama is not Korean or Korea based.
Muscle Girl is a drama about the encounter between the female president of a financially-stressed pro-wrestling federation and a Korean man who unbeknownst to her is famous in Korea.
Curiosities – FT Island performed two songs for the drama's OST, Haruka and Itsuka. 2011 is the year where Lee Hong Ki acted in two dramas and ventured into the Japanese market as an actor.
To check out FT Island's Haruka's performance, take a look at the video:
---
2009 – Lee Hong Ki as Jeremy in 
Jeremy, it is believed that many will agree, is iconic and transformed Lee Hong Ki into a k-superstar with his performance. Unforgettable, funny, cheeky, cute, goofy, memorable, adorable and the list may continue to include a myriad of synonyms to describe Jeremy, all of which will fall short in the face of what Jeremy represents as character and its impact in the K-drama sphere. Lee Hong Ki was short of ingenious in his performance albeit brilliant in his performance area comfort zone.
You're Beautiful is an archetypal story in drama land of a girl cross-dressing as a boy, in this case her brother, a member of a K-idol boy band A.N.JELL.
Take a look at the fan made trailer:
Curiosities – The hit drama, a popularity phenomenon was screened all over Asia and became a reference for K-drama enthusiasts and K-drama newbies as a must-watch program.  You're Beautiful won the Best Foreign Soap Opera Award at the 7th USTv Awards and Lee Hong Ki along with Park Shi Hye and Jung Yong Hwa won the New Star Award at SBS Drama Awards in 2009. The fictitious band A.N.JELL held a mini concert in 2009. Bellow is 'Still' performed live:
Take a look at the hit song from the drama's OST 'Promise' by A.N.JELL:
Bonus curiosity – Lee Hong Ki sang 'I'm Saying' part of the hit drama 'The Heirs' OST. In the drama Lee Min Ho and Park Shi Hye co-stared.
Take a look:
Contrary to other K-Pop stars who have performed in a range of distinctive roles both inside and outside their comfort zones and experiences, Lee Hong Ki, the adult hasn't thus far played any multi-layered characters that have challenged his acting skills, pushing him to step up as an actor. Albeit not diminishing his accolade of accomplishments within the drama & film industry, it solidifies him as a consistent actor within the assortment of roles he has chosen to perform, rather than taking acting risks. For whatever reason Lee Hong Ki has chosen those far not to adventure himself into overly uncharted territories whose characters development and performance might be more of a hindrance than a please, considering his busy schedule and might without thorough preparation be fastidious, he is a good entertainer and that fact is unquestionable.
---
If there is an actor or an actress that is worthy of a Stalker's Guide in your opinion, and you have watched enough dramas of his/hers to prove it, please contact KatelynJayne.