A good actor should know how to cry on screen. Here's a list of my favorite actors who have perfected this, in no particular order.
Caution: All links to videos containing spoilers are marked in red.
---

This man is too good at it. The first time I saw him was in The Heirs and I just thought he was cute and funny. Later on, I saw him in High Society, Hwarang, and Strong Woman Do Bong Soon and he blew me away with his acting! I love his overall acting but when he cries, my heart can't handle it.
This scene from High Society (which I saw before SWDBS and Hwarang) made me fall in love with him.
---
Ji Chang Wook is my ultimate favourite Asian actor. I just can't find any faults, and one of the many reasons I love him so much is the genuine way he cries. Every time I see tears streaming down his face, my heart breaks and I can't help but cry with him.
This scene in Suspicious Partner was brilliantly acted and shows the depth and talent he possesses as an actor. [Spoilers for those who haven't watched the drama yet! It's less spoilery if you go directly to 1:20.]
---
Nam Joo Hyuk is a fairly new actor but has proven how talented he is from the start. I first saw him in Weightlifting Fairy Kim Bok Joo and immediately fell in love with him. I loved how he could go from being silly and cute to a very emotionally charged scene and handle it as brilliantly as he did. Not all actors have that kind of duality!
This scene (and episode) from WFKBJ was heartbreaking and his acting is stunning. [Spoiler for those who haven't watched Weightlifting Fairy Kim Bok Joo!]
---
Ji Soo is a relatively new actor as well and has yet to act as the main lead but his acting is superb. I first saw him in Sassy Go Go where the character he was playing was complex with a lot of emotions. He acted his part super well and the realness with which he portrayed those dark emotions made me fall in love with him. His part in Moon Lovers: Scarlet Heart Ryeo was also really good! I'm so excited to see his first lead role!
Y'all will have to watch his dramas to see the quality of his acting for yourselves. There are no videos available of his crying scenes. [Spoilers for Sassy Go Go in this video so if you haven't watched the drama, you may wanna skip it!] The quality of the video isn't as good but I couldn't find a better video of this scene! 
---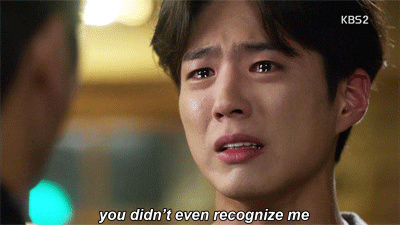 Park Bo Gum is arguably one of the best crying actors out there. I think he was born to be an actor and the fact that he is so new to the industry and has already made such an impact is proof of that. Bo Gum cries in every single drama he is in and I honestly don't mind. I love watching him cry because it's heart-wrenching and realistic; it looks like his heart is being ripped to shreds. (Plus, his smile is like a ray of sunlight on a cloudy day!!) 
This scene is from Love in the Moonlight and it is a SPOILER! So again, if you haven't seen this drama, don't watch the video! I tried to find a scene that wouldn't contain spoilers but all the scenes in which he's crying have spoilers so I'm sorry!
---
Aaron Yan is a Taiwanese actor and also a member of the boy band Fahrenheit. I love watching him cry because he puts so much feeling behind it. You can feel his pain as if it was your own.
This scene is from Fall in Love With Me and honestly, I don't necessarily love the drama because of some plot points but his acting is superb. This is not the best scene but I couldn't find a video of him just crying except this one! You guys should also check out Refresh Man and Just You because I love those.
---
Park Seo Joon is a veteran actor whose skills are unquestionable. He's done a lot of different characters quite successfully and manages to make crying seem beautiful and raw. 
This scene from Fight for My Way is a MAJOR SPOILER! If you want to watch it without spoilers, you can go straight to 2:24 and the only thing you'll see is him crying.
---
Lee Joon Gi is a beautiful man and no one can say otherwise. His good looks paired with his amazing acting skills have made him a household name. He is a veteran actor with many dramas and movies under his belt. In recent years, he's done a lot of historical dramas with his most recent drama being Moon Lovers: Scarlet Heart Ryeo, which gained legendary status for its handsome and talented cast of male actors and its tragic romance. 
What I love about Lee Joon Gi is that he's not afraid to ugly cry (if there is such a thing as him looking ugly). He truly gives his best performance without having to beautify it. This scene is from Moon Lovers and contains some spoilers!
---
Lee Jong Suk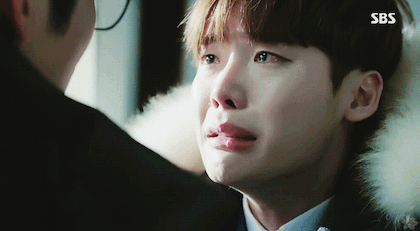 Lee Jong Suk was one of the first actors to catch my eyes when I started getting into Asian dramas. He's young, handsome, tall, and great at acting. He has a successful career in acting and modelling. I've seen various of his dramas and I'm always in awe of his crying. Just look at the GIF above! Doesn't your heart break at his expression?!
This scene is from Pinocchio and it does contain spoilers.
---
Honourable Mentions
 (mostly because they're new to dramas and don't have as many works)
---
A brilliant actor and singer. If you want to be blown away by this idol turned actor, watch his movie My Annoying Brother and you will fall in love with him. P.S.: You're going to need some tissues!
---
I'm so excited to watch this man continue to grow as an actor because he's relatively new and is already getting cast as a lead. Check him out in School 2017 and his other dramas!
---
I am OBSESSED with this man! He is so freaking gorgeous and talented. He's new and taking the drama world by storm!
---
Thank you for reading this article, I hope you enjoyed it.
Recommend other actors who have perfected on-screen crying below!
XO, Mila