Several times now, I have written articles on those heart-wrenching, beautiful, incredible, horrible, insanely intense C-dramas. One aspect that always draws me to the Chinese shows is that from the first eye-popping episode, it's a thrill ride. Truthfully, I typically don't like a K-drama until episode 3 (most of the time it is worth the wait), UNTIL NOW.

Recently, I've found two K-dramas that are engaging from episode 1 and kept me anxiously binge-watching and yelling at the screen until the very last second of the epilogue (they both have an epilogue). For any C-drama lover who has never experienced a Korean show, these two shows are the perfect choice to dip your toe into the K-drama pool.
If you are not familiar with K-dramas, they range from sixteen to twenty-ish episodes and typically have two males fighting over one woman (Yes, I'm oversimplifying). The smaller number of episodes keeps the gut-wrenching emotional roller coaster ride to a not so prolonged nor as intense experience as C-dramas. Don't worry! The HEARTBREAK is there. That cauldron of boiling emotions culminates into a diverting ending much quicker than you are used to (and it's probably better for your heart too).
So my C-drama loving friends, please consider checking out these two shows.
YWCFTS (abbreviation) mixes the old and the new beautifully as it weaves the story of Do Min Joon, an alien… yep, an alien… from outer space, who was stranded four hundred years ago in the area which is now Seoul, South Korea. For the next twenty episodes, we watch this stranger to our world interact with everyone from the Joseon era to modern-day South Korea. Kim Soo Hyun plays this interesting character with just the right amount of cynicism and wonder. One of the best parts involves the flashbacks with Do Min Joon in traditional Joseon garb and contains plenty of bling and spectacle with the locals (dumb humans to be exact)…hilarity and tragedy ensue.
A good C-drama is more than just the heart-wrenching story. There must be quirky side characters, lots of colour, a grand romance, magic (good special effects) and humour. Never fear! YWCFTS has all of that good stuff, and the results are wonderful, splendid, and any other adjective I can think of.

Don't worry, YWCFTS has more than enough heart-tugging to make the unsuspecting watcher clutch their chest in hopes of keeping that offending organ from escaping. Not to mention, Kim Soo Hyun as Do Min Joon is easy on this female's eyes (recently added to my "oppa" list) and I enjoyed every minute he was on the screen….but WAIT there is more than just a pretty brooding male lead.
The lead female Cheon Song Yi (portrayed by Jun Ji Hyun) was ROLL ON THE FLOOR funny. Her facial expressions, voice, sheer physicality were just remarkable. I smiled or laughed EVERY TIME she was on the screen. To see if she is always this funny, I started watching The Thieves. So far, it looks like she can do comedy and she does it very well. To clarify, I enjoyed watching Kim Soo Hyun as the very handsome alien, but I laughed, tears were in my eyes with Jun Ji Hyun portraying Song Yi, the vain and annoying actress. What an incredible talent she is and worth watching just for her.
The supporting characters ranged from the almost annoying second lead turned hero-type Hui Kyung played by Park Hae Jin (my #1 oppa) to his EVIL brother Jae Kyung (fabulous performance by Shin Sung Rok) to Song Yi's insanely awful mother played by Na Young Hee with a handful of others that…..well…..just know all characters were useful, funny, intelligent, or all of the above. If you want history, sadness, death, destruction, superpowers, colourful costumes, multi-dimensional characters….this show has enough ups and downs to keep your heart racing (all 21 episodes).

The story never got cloying or sappy, mainly because Jun Ji Hyun had me laughing whenever the story lagged (no really, she was that wacky-especially when she realizes that Do Min Joon doesn't age). The special effects were well done and only added to the story (like that spectacular scene between Do Min Joon and Jae Kyung on top of the roof). The "magic" added to the fairytale-like nature of the story and did not detract from it and was strangely graceful to watch. The music did not get old, which is very helpful for a K-drama. From the first episode to the epilogue (yes you must watch the epilogue), it was crazy-good, and I just couldn't stop watching… no, really… I even went back for a second round.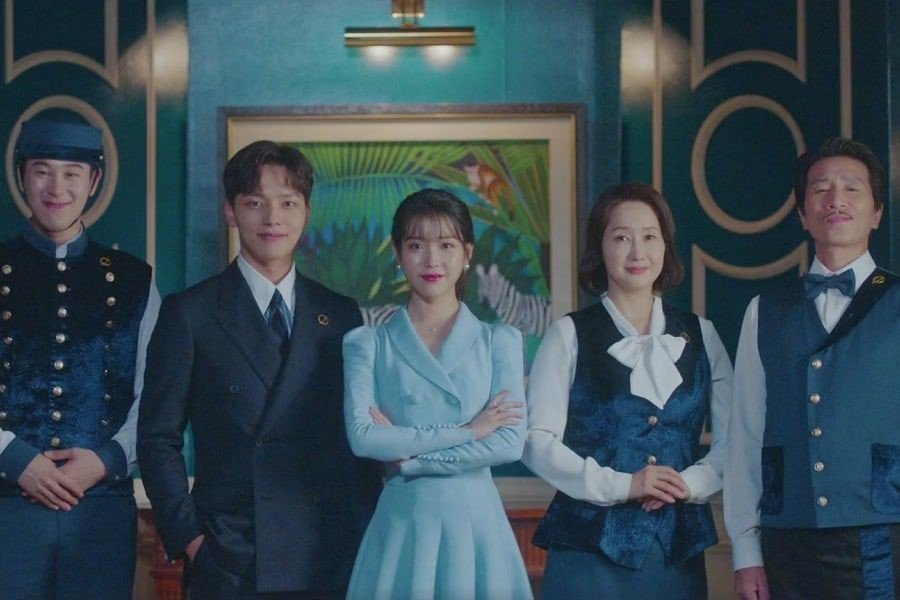 Disclaimer: This show may very well be my favourite K-drama so far. What a thrill ride and only 16 episodes (dang it). This show comes complete with a FANTASTIC anti-hero Jang Man Wol played so very well by IU. You need to know that this is the FIRST K-drama that made me cry (I kept it in until episode 16). WOW. Folks! This woman was unbelievable as the good/bad owner of the hotel for ghosts waiting to cross over! From episode 1, SHE HAD ME RIVETED! When she pulled out that gun (that didn't have the deadly kind of bullets) and shot the mayor (not to death)… holy cow, I was cheering her on. And her costumes? The colours, the different eras… she wore everything from thousand-year-old peasant garb to Vera Wang and did so with unbelievable grace.
Just when you think that the anti-hero stole the show (she kinda did), the character of Goo Chan Sung was just an incredible foil for Jang Man Wol. Yeo Jin Goo played the male lead with such heart, humour, and incredible empathy. I LOVE HIM!! There wasn't a moment that I didn't think he was justified in every action or reaction… just WOW. Who didn't love his discomfort turned sympathy with the woman with no eyes and my heart broke for him when he tried to save his first vengeful ghost… and she was SCARY! I found his good guy character neither annoying nor preachy and loved it EVERY TIME he tried to rein in Jang Man Wol and her "poop-coloured" car habit.
The supporting characters were out of this world (literally) from the ghostly hotel staff to the guests and the people from Jang Man Wol's past… just wow! The two characters that truly stood out for me were Go Chung Myung (played by Lee Do Hyun - awesome), the bad/good guy from Jang Man Wol's past (and might I add potential oppa candidate), and Ma Go Shin (Seo Yi Sook) who played… well, God.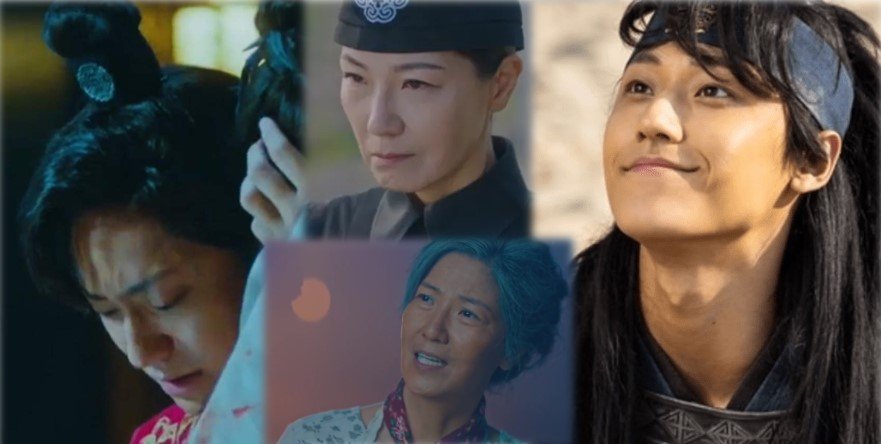 Go Chung Myung & Ma Go Shin – Couldn't get enough of these two
First, the audience doesn't understand everything about Go Chung Myung until the bitter end (whatta end too!). I enjoyed each and every second he was on the screen. Whether it was love or hate, I wanted more of Go Chung Myung. More than once, my heart was fluttering with his moody looks given to Jang Man Wol or when he was ultimately forced to… well, watch Hotel Del Luna and find out yourself.
I have nothing but praise for the five Ma Go Shins in action (we learn there are 12 at the end). Each one is more wonderful than the last. When I saw the apothecary Ma Go Shin, it took me a moment before I realized it was still Seo Yi Sook playing another character.  SHE WAS SO SO SO AMAZING!!!  I just hope she is Ma Go Shin in the next round of "hotel" shows – yep, it's possibly back - starring one of my oppas, Kim Soo Hyun (yes, from YWCFTS – can't wait).
The music was beyond belief…..just incredible (I bought two of the songs already). The special effects were superbly done and only added to this horror story, love story, and action-adventure mixed in one. The costumes and the scenery were as rich and vibrant as any C-drama and are what got me hooked by episode one…..no, it was the characters…..no wait, it was the music….well, you can see why this show was so much fun.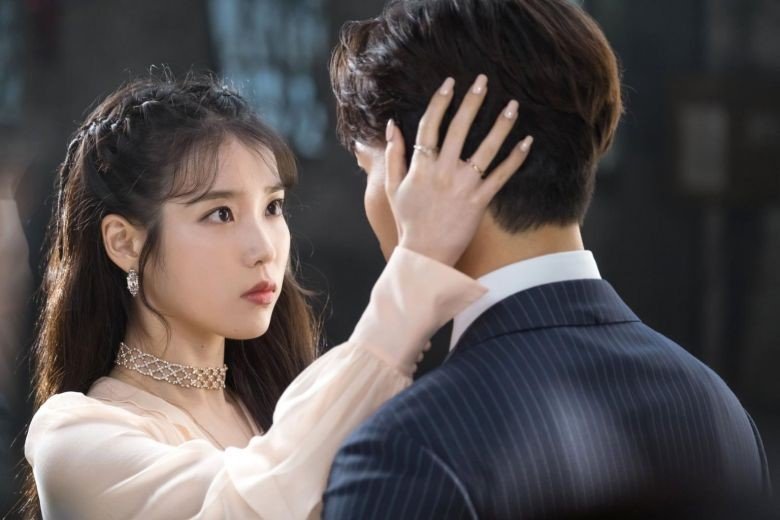 Jang Man Wol and Goo Chan Sung – Epic Love Story… Sigh
So, my C-drama friends, I know there is nothing like the spectacle of Ashes of Love or like the powerful love story of Eternal Love. But never fear… there are K-drama options when you are craving a good fight with clanking swords, fine-looking men and women that look more beautiful with impossibly long hair, or an epic romance that spans the test of time and several characters as well. And of course, there are dramas that have those quirky characters who make us cringe and laugh at the same time… and they wear the most interesting clothing.
Please consider checking out these two magnificent K-drama offerings. You won't be disappointed and who knows… you might enjoy finishing a series in less than sixty-something episodes or realize having your own "oppa" list is not such a bad thing.
---
Have you seen You Who Came From the Stars or Hotel Del Luna? Do you find them as epic as I did? What are your ideas of an epic K-drama? Are you as excited for the possible return of Kim Soo Hyun as I am and in a sequel to Hotel del Luna? Cross your fingers folks so that we can see him in another epic show.