So you may be asking yourself what is a Taiga? 
Taiga is the name that NHK gives to the annual, year-long historical fiction television drama series it broadcasts in Japan. The 45-minute show airs on the NHK General TV network, every Sunday at 20:00, with rebroadcasts on Saturdays at 13:05. NHK BS Premium and NHK World Premium broadcasts are also available. - wikipedia
I believe Taira no Kiyomori wound up on my PTW while adding Matsuda Shota dramas to it, but there were so many good actors in this that it just blew me away. Here is the full cast, I like the way it is separated versus MDL Layout when presenting a large cast.  Here is the link to the Japan Times Article on the drama when it came out and how Matsuyama got the lead role.  
What Is It About?
Born under questionable parentage, Kiyomori grows up in the Taira (Heiki) clan, groomed to be the heir from a young age. His bloodline is put into the spotlight several times throughout the drama and is a hurdle for him to overcome.  As the heir, he shoulders his father's dream to raise the status of the samurai from something more than just the Imperial Dogs. Familial bonds are tested time and time again, but never completely breaking. On his self labelled path of carnage through the political traditions of the Japanese government at the time, he makes several frienemies and rivals, but none are able to stop his ambitions or thwart his goals. 
Let me introduce those who I think are the main players, not main characters per se, but the ones I thought had the most impact for me.  
The OST
♫ For playing we were born
 for playing around with our friends
we were born ♫
This song is pivotal to the entire drama, I wish I had the Japanese text version to post here, but as it was I had to replay the first episode to hear Kiyomori's mother sing it. You will hear Matsuda Shota sing this, as well as a host of other actors at least once per episode not counting the introduction. If you like instrumental music  here is a link to the soundtrack sample listening here. Opening song video here.


The Romance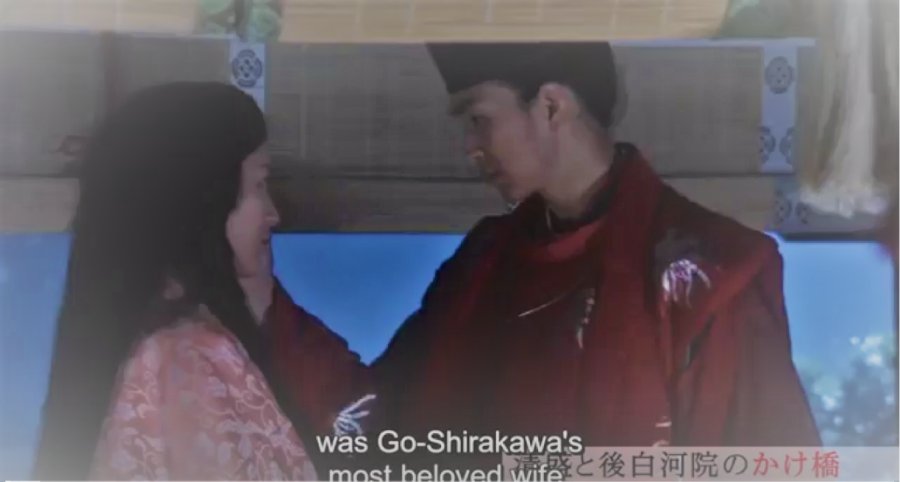 Someone asked me if this drama had any romance so I am including it in here, even though it is a historical slice of life drama. Love is everywhere in this drama from episode one to episode 50, it is in the background or not the focus. When shown the bonds are strong, one wife proclaiming "I only care about his health and nothing else" and Kiyomori's marriage proposal to his first and second wives made me laugh. Suave, he isn't.  
The one romance that carried the most weight for me was between Go-Shirakawa and Shigeo. She followed her heart, listened to no one and fell in love with the ex-Emperor. His attitude and demeanour changed drastically with her by his side. Showering her with poetry and flirting this portrayed a true relationship how the two became one mind.
The Sets & Costumes
Sets and costuming are stunning, and to my knowledge, accurate. Looking back, there were really only 10 or so locations, but each one was unique and characteristic of the family that lived there. Showing opulence at the palaces and the changes in the Heike mansion as their status grew.  
The battles were realistic, not everyone was a hero, or perfect at fighting. Some tried to run from the battles and struggled with their own beliefs and those of the family. This drama is a true slice of humanity.
---
Have you watched a Taiga before? 
Are you planning to watch 2018's Sego-don?