Name: Wang Ji Won
Native name: 왕지원
Nationality: South Korean
Gender: Female
Born: November 12, 1988
Age: 31
Wang Ji won is a South Korean actress and ballet dancer. Having trained with the Royal Ballet School in England and studied Dance at the Korea National University of Arts, she was a member of the Korea National Ballet in 2009. Wang began acting in 2012 and has appeared in several television dramas. She also featured in the reality show The Swan Club, as the only member of the cast with ballet experience.
(Source: Wikipedia)
Drama
Title
Rating
Thirty But Seventeen

Korean Drama,

2018

, 32 eps

Kim Tae Rin [Violinist, music director]

(Support Role)

8.6

Hospital Ship

Korean Drama,

2017

, 40 eps

Choi Yeong Eun [Kwak Hyun's ex-girlfriend]

(Guest Role)

7.9

Manhole

Korean Drama,

2017

, 16 eps

[Girl hitting on Pil](Ep.4)

(Guest Role)

7.3

Immortal Goddess

Korean Drama,

2016

, 8 eps

6.9

Divorce Lawyer in Love

Korean Drama,

2015

, 18 eps

7.4

Fated to Love You

Korean Drama,

2014

, 20 eps

8.2

Another Parting

Korean Drama,

2014

, 5 eps

7.0

I Need Romance 3

Korean Drama,

2014

, 16 eps

7.9

The Heirs

Korean Drama,

2013

, 20 eps

Yang Da Kyung [Kim Won's arranged date]

(Guest Role)

7.5

Good Doctor

Korean Drama,

2013

, 20 eps

Kim Sun Joo

(Support Role)

8.4

Family

Korean Drama,

2012

, 120 eps

youth center instructor

(Support Role)

8.3
Movie
| Title | Rating |
| --- | --- |
| One Line | 7.6 |
TV Show
Articles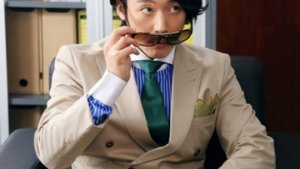 Check out the stills from Jang Hyuk and Jang Nara's Korean adaptation of 'Fated to Love You'