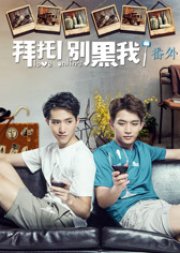 I watched this movie primarily for the supposed BL, but I stayed for the story, and the eye candy didn't hurt either.

Story: I liked the banter between the two leads, it feels like a typical rom-com where the couple started off hating each other and later their relationship blossoms into romance. I feel that I'm watching those type of movies but instead of a girl and a guy, it's a guy and a guy. I found the movie also to be quite funny, from their bickering to them eventually bunking together in the same house. I find it also adorable how they tried to fend off prying eyes, how their story turned into tabloid fodder.

Cast: They were pleasant to look at, really pleasant. The cast must have done a good job to have me in stitches while watching the movie.

Music: Pleasant enough.

Re-watch: I would re-watch just to catch more of the nuance between their actions.

I couldn't get enough of this movie, my mind went into over-drive just watching this. Yes, there is no BL skinship or any mouth-to-mouth action to speak of, but that doesn't mean they do not care or love each other less. The two men were practically attached to the hip till the very end, and even ditched other girls/commitments for more "couple" time.



Was this review helpful to you?