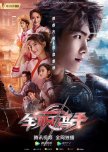 Plot (9/10): I think this is the first part of the whole story. There will be season 2 which may have more twisted and great plots. For season 1, from the beginning to the end, there is no boring time watching the drama. The plot follows the simple typical history of a young man "Yie Xie" who masters in e-sports gaming. During the journey, drama reveals that he tries his best to solve the difficulties to form the "Happy" team.
Relationship (8/10): the drama is about "Gaming". It does not contain elements of male and female romance, but maybe the plot of romance will be developed between the main male lead and three female leads in season -2. Their relationships are funny, entertaining and interesting for me. The friendly relations between the members of the team of "Happy" is great but not needed to epic> I think this is because of too many characters are introduced in a short period of drama.
CGI (10/10): the CGI effects of drama is very remarkable. Compared to "Love O2O", their graphics may be high budget and more using 3D rendering software. Their quality can be compared to western digitals. take a milestone in Chinese drama land. So, I enjoy watching the drama in 1080 dpi at the official "wetv" app.
Music (9/10): the OST music of drama supports drama very much. I like "《全职高手 The King's Avatar》R1SE献唱电视剧《全职高手》片尾曲《荣耀的战场》MV首发 OST" and listened many times. Also, the background music of drama is very realistic and exciting for me.
Acting (9/10): the actors and actresses act in two worlds, the outside realistic world, and the game world. In both worlds, they act their best. The most remarkable character is the male lead "Yang Yang" and his game character. Sometimes, the characters in the drama aren't well not enough to satisfy you. This may be due to over 10 main characters are introduced into drama with their own history. But it is not great destruction points in the drama.
Overall (10/10): the drama is a great drama of 2019. If you finished the drama, you can watch other gaming e-sports drama of 2019: " Go Go Squid". I also highly recommended to watch the drama in Full-HD. Thank you for reading my review.
Was this review helpful to you?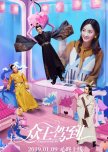 The drama is easy to guess what next can happen.
Good point: Funny and little romantic and for good casting with new actors, All episodes are in English subbed at mango YouTube channel.
Bad point: Misleading of historical points (But it is not historical drama), Not feeling of enjoyable drama as Go Princess Go (Time travel drama).
Music: Fair but not enjoyable
Photographic: Fair and most events of drama are happened in modern times.
Re-watch value: Never re-watch , in current time slot the most popular dramas are Legends (Wuxia), I will never let you go (Wuxia), Goodbye my princess (Fictional Historical ), Story of Minglan (Fictional Historical- finished airing).
Was this review helpful to you?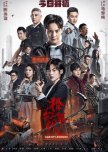 Of the first few episodes, the story show the two main characters for timeline of four years.
Story: it show illegal sale of gangsters group in golden triangle of Thailand (story show Burma but I did not see any signboard or poster in burmese language nd people speaking burmese)
Action: It is really fantastic
Music: the drama have few OST theme song but have corresponding background music
Rewatch vaule: the drama is currently on air
I will look the drama to the end. If you want to look the drama in eng sub, you can download the video at dramacool site.
Was this review helpful to you?