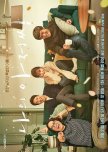 This drama is emotionally heavy and every episode is heartbreaking. You will cry a lot, it almost does not feel like a movie or like anyone is acting. You can identify yourself with all characters, which is great as the feelings are more relatable-however it does affect you. I actually waited 4 weeks before I watched the last episode, somehow could not bring myself to do it. However, they have ended the drama in a very positive way, which I am satisfied about. If you have watched Misaeng and if you felt it was difficult to watch because of all the injustice and hardships, then this drama has the same type of feeling. You feel bad and very sad for the main characters.
Was this review helpful to you?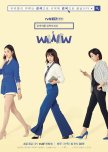 omg, my favourite actors as leads... and the chemistry between them is just fireworks. He is a God of beauty and she can portray so well a fierce, confident and powerful woman! I have been waiting for her comeback as I loved the series chicago typewriter (still my top fav drama). I have just watched the first episode and it was well-paced. I am craving for second one. I think the supportive actors have a lot of potential and I am curious the role the other women have in this series..it seems they will all at some point intersect.
Was this review helpful to you?