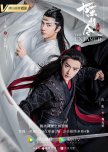 I've never read the book or watched the anime (but I've heard a LOT about them). The MCs are hilarious and amazing (though YiBo's acting is questionable at first) and they are incredibly engaging characters. A lot of TV shows and dramas have such boring and flat characters that have no real dimension to them, yet all the characters in this show have an amazing level of roundness.
The plot is amazing- there are so many twists and turns. The character designs make you expect certain things of certain characters but they pull a full 180 on you- which makes the show even more engaging because of these twists. Most TV show plot twists aren't the most realistic and don't fit the original character design, but with this show, they make so much sense and they're foreshadowed so far ahead! Bravo to the OG writer of the book and the scriptwriters for this show!
The acting was questionable with some characters, but Sean Xiao (Wei Wu Xian), the actor for Wen Ning, the actor for Ze Wu Jun- were amazing! So many others but I can't list them all (and I don't remember actor names, so I'm so sorry about that). However, a few were questionable (Wang YiBo at first and Jiang Cheng's actor), but overall, it was full of great acting and engaging storytelling.
Speaking of storytelling, the director(s) was/were amazing. I'm not a cinematography student or anything, but the shots in this TV show were phenomenal. They gave us the warm, the cold, the happy and the sad, all delivered in an unhurried and engaging manner. I watched this entire show because of one shot (episode 25, arrows ;) ) but I fell in love with the way the story was told.
The OST and original music was amazing as well. The OST was sung by Sean Xiao and Wang YiBo and it's AMAZING in my opinion. For any Chinese speaker, the poetry is amazing. I think its incredibly beautiful and meaningful.
Overall, definitely recommend watching and definitely will rewatch.
Was this review helpful to you?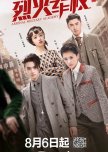 I've been watching SO MANY Chinese dramas and knowing the political circumstances they were released in, there's so MUCH political propaganda in them (show examples: Love O2O, GoGo Squid). It doesn't really take away from the watching, but if you don't like that sort of stuff, I don't recommend it. It's ignorable, but as soon as you notice it, it's ALWAYS there.
This show is overall amazing. Fantastic casting- the actors are amazing and I especially like Qu Man Ting. The characters are endearing and they're well developed; the plot was pretty good as well. It was amazing to see Gu Yan Zhen's character development and Li Wen Zhong's growth. Shen Ting Bai's devotion was sweet; this show was filled with amazing and flexible actors as well.
The reason there's a 9.0 on story is because sometimes the characters are so inexorably stupid. They could easily just shoot someone but they have to be a hero and fight them with their hands instead. That's the only problem I have with the show; otherwise, nothing's wrong.
Was this review helpful to you?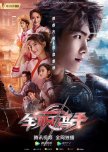 This review may contain spoilers
Looking at the other reviews, I'll say that it probably doesn't adhere to the original novel and anime all that much- but on that, I must say that I have no right to have an opinion. I've never watched the anime or read the novel, but as an individual standalone drama, it's really good.
I watched this originally because of the actors, specifically Yang Yang. I watched him in Love O2O and figured he was an amazing actor for it (his character does kind of recycle the same few facial expressions, but the fact that when you watch you think that's his whole personality is impressive. In reality, he's much more energetic and happy and smiling, so props to him for acting), so I saw that this was airing and figured I would give it a try.
The first 30ish episodes were amazing, but towards the end, the plot started getting weird. Admittedly, it's the only potential plot they could have given it considering that this is the sort of "happy ending" drama that it has reinforced since the beginning, but it's too perfect. Characters show up perfectly at that exact moment and they all return to continue in the game of Glory, but it's honestly not realistic in that manner. They wouldn't arrive at that same moment- it would have been funny to see them all rushing there and waiting behind the door because they're that dramatic, but instead we get this perfect dramatic moment that's too perfect.
I've never seen the OG book or anime, but I have to say, I love the character design. I know some people are upset at the changes in Ye Qiu/Xiu's character as well as Chen Guo's character, but I find them endearing the way they are. However, the back story isn't all that developed and it feels like they're throwing in the additional back story for bonus pity points. It would have been nice to see this back story be established- it creates a more whole character anyways- in the beginning rather than being added as the story goes on.
The main reason that I ranked the plot and storyline so low is that it relies to heavily on the perfect moments- these dramatic moments of perfect timing. It would be nice to see them mess up the timing- Ye Xiu showing up earlier in the game just because life isn't always so full of those missed seconds.
Otherwise, amazing drama, amazing show, and an amazingly endearing male MC!
Was this review helpful to you?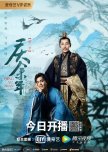 Wow.
Just wow.
I loved it because of the story. Some characters are flat and easy to see through- they're plastic- but others are very three dimensional, and that's why I'm addicted.
The characters are very well developed- the important ones at least- and it follows the original story pretty well. I loved the depth of the storyline- the layers that will only be peeled back with each season- though it is unfortunate that it had to end so soon. My mom's listening to the audio book, which is well over 400 "chapters" long; the show ends about a hundred of those audio book episodes in. Thank goodness there will be future seasons; I doubt I could live well knowing this is the ending to the show.
My favorite will always be the characters, even though the story line far outshines the character development. There are definitely episodes I will be watching again just for specific scenes; I'm glad I didn't skip over this show because the lead wasn't someone I knew.
Was this review helpful to you?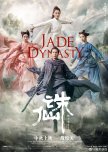 These actors- why!? The director has a handful of China's best actors at his disposal. Why does he just absolutely waste them like this? His shot choices were absolutely tragic; his involvement in the CGI clearly got them no where. There's a dragon in the first 20 minutes of the movie that they spent over a year on in CGI, but I'm so horribly sorry to say this but it looks cartoonish and tragic. The important places for CGI they absolutely jumped over and they clearly did not do a very good job with it. If you watch it and you're used to America's god-tier CGI like in the Avengers, then you're going to cringe incredibly hard.
Also, the script writers! What caffeinated beverage were they on? It's not cohesive, it's trying to tell too much of a story too quickly, and they're not doing a very good job of telling the already-simplified story they are supposed to tell. I'm sorely disappointed, especially with all the hype around it.
The actors in this are phenomenal with their acting. Xiao Zhan is absolutely amazing- he was good in the Untamed and he is absolutely phenomenal in this. His character is natural and flawless- I have nothing to pick about it.
Is it worth the hour and thirty minutes? Depends on how much you love Xiao Zhan, I suppose. If you're not a fan of his or how he looks in this movie, definitely don't because it's 100% not worth the watch. Even though for some reason there was so much hype around it, I'm sorely disappointed.
Was this review helpful to you?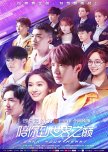 This review may contain spoilers
Wow, just wow!
I absolutely loved this show. It was incredibly wholesome and just utterly amazing. I'll now go through each section and explain my rating, as well as other things (that include spoilers, so be warned!)
1: STORY
As I stated, I loved the story. It was simply phenomenal. The portrayal of humanity was (chef's kiss) perfection. For me, I loved how they had evil characters that were fueled by either money or greed, like Zhao Yang and Qiao Xing. At the same time, they also showed how humans are prone to change- Qiao Xing ultimately realizes how she had messed up and chooses to change herself and the way she acts. It's moving and phenomenal.
From a more literary based perspective, I love how the story comes in a circle. We start off the show with Chuan Qi, including Ji Xiang Kong, Lin Yi Xuan, and Gu Fang losing the world IConquer championships. Qiu Ying has messed up on her opportunities to interview them and has to perform her own thing in order to keep her job. All of them are at a low point (not the lowest) but certainly, they're losing what feels like everything. In the end, Qiu Ying is asked to return to her dream job, Ji Xiang Kong, Lin Yi Xuan, and Gu Fang have a realization of their greatest dreams. It's a circle and in literature and cinema, we love circles. They represent what comes around really does go around.
Besides that, the story was just wholesome in general. Luo Tian was crushing hard on Qiu Ying, but despite his own interests, he chooses not to pursue her and rather just protect her in the shadows because he sees how hard she's fallen for Ji Xiang Kong. Mi Ya (her name's honestly just Mia, the translation just offers it as Mi Ya) is still in love with Ji Xiang Kong but she ultimately puts it down and unlike a lot of other dramas, she doesn't do anything to explicitly harm Qiu Ying. Rather, she's just trying to win him back; she's not destroying Qiu Ying's reputation or ruining her career as Qiao Xing does. She's just trying to get the man she loves back. Ultimately, she puts him down, the same way Luo Tian accepted that he may never be able to get Qiu Ying, and that's what makes it so much more wholesome. Of course, there's still Qiao Xing and Zhao Yang, but Zhao Yang's utterly ruined, which is a motif (what goes around comes around) and Qiao Xing accepts her actions and moves forward in a better direction.
What I also loved is that there isn't really a Second ML. At moments, I thought it might be Pei Xi or Luo Tian, but they're not really second male leads, but rather different. What's adorable is that Pei Xi is just a Ji Xiang Kong stan and he literally will follow that man to the edge of the earth. Luo Tian is more a character that pushes them together and not really a male lead.
Xia Ling is an utter wreck; he was so adorable that it absolutely destroyed me. I loved his character so much and his relationship with his family, but also with Pei Xi. They really were each other's mirrors and they saw each other so clearly. It was so sweet to see their relationship develop.
There's a lot more I loved about this story, but I'll just leave it at that because otherwise this will get TOO long.
2. CAST
Wang Yibo was the reason I watched this TV show, but I'm in love with the rest of the cast now. They were amazing in this show and really brought the characters to life. Of course, some moments are questionable and a bit rough, but I loved them in this. Wang Yibo was amazing, as expected, especially after watching Untamed. I greatly enjoyed the cast in this and I have to say, my favorite character and actress in this is Lu Yiyi, or Lu Xiao Yu. She was amazing!
3. MUSIC
The music is phenomenal. You can find it on Youtube if you search up Gank Your Heart OST and I have to say, Wang Yibo, you really are good at everything. The song is absolutely mesmerizing and it stirred up all kinds of emotions. I loved it!
4. REWATCH VALUE
As someone who doesn't really rewatch dramas, I have to say, I think I'm going to rewatch this at some point. It's too wholesome and perfect (for me) not to. I loved it and I think I'll probably have to put it pretty high ranked on my list of completed dramas.
Was this review helpful to you?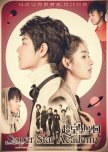 The sole reason I watched this show was for Sean Xiao, or Xiao Zhan and it was great to see where he started off with acting- he wasn't super great but he did pretty well!
Otherwise, everything else is pretty tragic. I can't bear giving them a super low score because of Xiao Zhan, but the plot is questionable, the SML (second male lead) is trash, the female lead is questionable, and literally everything about this TV show. Even the music is pretty bad. Definitely worth the watch, especially as its so long (30 episodes with 22 minutes each). It's a huge waste of time.
Was this review helpful to you?
This show is pretty funny and light; admittedly, it gets a bit cringey in places, but to be honest, it's pretty cute and light. I really enjoyed it.
The story itself is rather extra and unnecessary; the plot line is ridiculously extra and pretty bad (not the worst I've seen, but by far not good). The cast is rather cute together and they do have chemistry, but they're not the best at acting. Music is ok- they add a specific meme-worth music whenever something funny is going to happen, which I actually don't appreciate because I want to be surprised. I might rewatch for one scene in episode 18, but otherwise, it's not really worth it. However, the short episodes does mean that I can go through these super fast. Over all, it's not bad, it's not good.
Was this review helpful to you?
This review may contain spoilers
Quick Review V:
It's really quick (I mean 6 episodes) and the characters are pretty realistic in their design. The story line was very short and kind of difficult to get incredibly invested into, but because it's so short, it's still a very good watch. It's definitely worth a watch.
Longer Review V:
I'm so sad that it's only 6 episodes. The cast was great and I really enjoyed them, especially Fu Kang An's actor. It was also great to see so much of the old cast reunited (Yuan Chun Wang, Wei Yingluo, etc.)!
The story line was amazing as well. I thought it was very engaging. The leads had some pretty good chemistry. Also, I loved the plotting of it all, as well as the references to the old story (ie. Fu Kang An's mysterious identity). The best part, in my opinion, was actually Fu Kang An's identity. Who is his actual dad? We will never know. :)
I really liked the music- especially considering that we never listened to parts of the OST before in Story of Yanxi Palace. In this short spin off, I discovered that the OST from Yanxi wasn't just WOOO WOOOO WOOOO.
Overall, I definitely recommend watching this! It's amazing!
Was this review helpful to you?