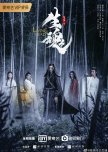 My expectations were high for this movie, following the drama 'the Untamed'. Absolutely loved 于斌's portrayal of 温宁 there.
Even as a spin-off movie. I had expected there to be relations with the drama. I hoped to see some character development for both 蓝思追 and温宁 since the drama pre-quel.
This movie started interesting, the beginning did catch my interest. However, the way温宁 appears, his whole chracter is changed and different in terms of personality from the drama. Being much more independent, and confident…smarter.
It is understandable that there was a time-skip between. But I feel it would have been so much better if the movie would tell a story of his growth rather than just making a random 'jump-in' to a different characteristic, almost changed personality that is not familiar to me. Thus it felt much unrelated.
Half of the movie was storytelling, not in any form personally related to温宁 and 思追's adventures and growth. They are basically just passing by a city and get involved. And it does not give me the feeling of them being the 'main cast'. Like… there is no major focus in terms of character development. Yes, 魏无羡 did appear for 温宁. And that being more of an emotional moment. Feeling of significant. But it was a mere cameo kind of. It was not as deeply emotionally filled that left us longing after the previous drama Untamed.
I feel the story was simple, lacked of depth. It felt much like they 'borrowed' the characters 温宁 and思追 from Untamed to play detectives.
The actors were still great. They did a good job. CG and special effects were cool too!
The side story was alright. However, the plot itself (in relation to the growth of characters温宁 and思追) was just not on that level… Except for the appearance of温宁 and 思追it could have felt like just any other 'OK' movie.
*This is coming from someone who specially looked forward watched the movie only because of Wen Ning.
The ending song for Wen Ning's theme was the best...
Was this review helpful to you?