The website is currently undergoing maintenance. Sorry for the inconvenience.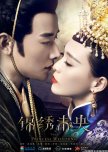 JUST COMPLETED WATCH ALL 54 EPISODES IN 4 DAYS TIME. SUMMARIZED - IN MY OPINION, OVERALL IT'S QUITE AN AVERAGE TO GOOD SHOW. STORY LINE IS OKAY. BEGINNING THE FIRST 10 EPISODES IT GOES STRAIGHT TO THE POINT OF THE STORY AND IN BETWEEN FROM 25 - 37th EPISODES, IT GIVES AUDIENCE ( MYSELF ) A VERY ANGRY, DISAPPOINTED, DISGUSTED AND IRRITATED FEELING WITH CERTAIN PARTS OF THE STORY ACTUALLY IS QUITE AN UNNECESSARY WASTE OF TIME. BUT JUST BARED WITH IT, AFTER THAT THE STORY LINE GETS BETTER AS SLOWLY MORE EXCITING AND QUITE A FEW SURPRISES. ESPECIALLY THE ENDING LAST 3 EPISODES IT'S QUITE A SURPRISE OR UNEXPECTED. I RATE THIS SHOW 6 SCORES OVER 10. IF COMPARE TO LEGEND OF MIYUE OR THE EMPRESS OF CHINA, THIS STORY IS A LITTLE LESS GLORIOUS. IT'S MORE TO LIKE " THE LAST WOMEN STANDING ". AND IF IT'S FROM THE POINT ABOUT POLITICAL, AND COMPARE TO NIRVANA IN FIRE, THIS STORY IS FAR LESS COMPARED TO. SO FAR, ONE OF THE BEST STORY AND DAMP WORTH A WATCH IS NIRVANA IN FIRE.
Was this review helpful to you?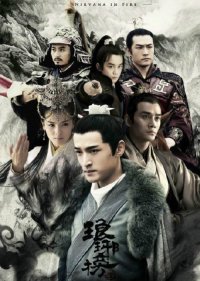 THIS IS ONE OF THE BEST AMONGST SO MANY STORIES ! IT HAS NOT A PART OF BORING FROM THE BEGINNING OF THE SHOW TILL THE END. THE MARVELOUS EFFECT OF THIS STORY NOT JUST ENTERTAIN AUDIENCES, IT MAKES AUDIENCES THINK AND GUESS WHAT'S GOING ON, WHY OR WHAT HAD HAPPENED, WHO AND WHY HAD DONE SUCH. IT'S REALLY AMAZING THE INTELLIGENCES WAYS OF VENGEANCE. AND THE MAIN THEME SONG ( ??? ) IT'S SO TOUCHING & MEANINGFUL IF YOU UNDERSTAND MANDARIN WORDS. AT SEVERAL PARTS OF THE SHOW, IT'S SO TOUCHING AND I CAN'T HELP IT AND SHEARED TEARS. I RATE THIS SHOW EXCELLENT !!
Was this review helpful to you?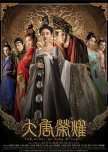 ONE OF THE GREAT HISTORICAL EVENT DURING TANG DYNASTY BESIDES WU ZE TIAN ( THE EMPRESS OF CHINA ). I THINK OVERALL, SINCE THE GRAND EMPEROR XUANZONG ( LI LONGJI - 712 - 756 ) IS A FATUOUS EMPEROR THAT HAS NO SENSE OF LEADERSHIP ON MANAGING THE EMPIRE. BECAUSE OF THIS, HIS SON THE CROWN PRINCE ( LI HENG ) ALSO LATER KNOWN AS EMPEROR SUZONG ( 756 - 762 ) AGAIN IS ANOTHER FATUOUS EMPEROR REPEATING AFTER HIS FATHER'S MISTAKES ON MISTRUSTING HIS EMPRESS AND THE COLLINSON.THE ONLY PART THIS DRAMA MODIFIED WAS, IN ACTUAL, THIS IMPERIAL CONCUBINE YANG OR YANG GUIFEI WAS ACTUALLY THE WIFE OF EMPEROR SUZONG ( LI HENG )BY ORIGINAL MARRIAGE, AND GRAND EMPEROR XUANGZONG ( LI LONGJI ) EXTORTED HER TO BE HIS IMPERIAL CONCUBINE. THEY RELATION SUPPOSE WAS FATHER AND DAUGHTER IN LAW. IT'S A GOOD STORYLINE BASED ON REAL HISTORICAL RECORDS BUT IT'S A SHAME FOR THE DECEDENT OF EMPRESS WU ZETIAN ( 624 - 705 ). SUMMARIZE UP, IT'S A GOOD SHOW, NON BORING, STRAIGHT FORWARD STORY, WITH A BALANCE OF HILARIOUSNESS, SORROWFULNESS, SWEETNESS, BITTERNESS. NON OVER ACTED, AND GIVES AUDIENCES A BALANCE OF VIEWING PLEASURE WITH EXCITEMENTS TO "CHASE UP". FINALLY FINISHED PART 1's 60 EPISODES. NOW, GOING TO CONTINUE ON WITH PART 2's REMAINING 32 EPISODES. LET'S SER HOW THIS DRAMA CONCLUDED.
Was this review helpful to you?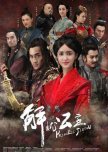 FIRST OF ALL, IN THE BEGINNING FIRST 5 EPISODES ARE A LITTLE SLOW AND CHILDISH. BUT BE PATIENCE, AFTER THAT, THE STORY GETTING BETTER AND MORE INTERESTING. OVERALL THE STORY LINE IS OKAY. AT CERTAIN PART, THERE ARE SEVERAL SURPRISES. NOT TOO BAD, WORTH A WATCH THIS SHOW.
Was this review helpful to you?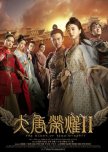 THIS PART 2 TOTALLY HAVE 32 EPISODES. IT'S THE BALANCE OF THE PART 1's CONTINUING STORY. OVERALL, PART 2 IS A LITTLE SLOWER, LESS EXCITING. BUT IT HAS QUITE A REASONABLENESS CLEAR CONCLUSION. JUST THAT, IT'S QUITE A SAD ENDING. AS I HAD COMMENTED ON PART 1's REVIEW, MORE OR LESS I HAD ALREADY KNEW THIS STORY COZ I HAD WATCHED IT FROM THE LEGEND OF YANG GUIFEI. FOR THOSE YOU ALL HAD WATCHED PART 1 AND IF YOU LIKE PART 1's STORY, THEN THIS PART 2 PERHAPS YOU MAY WANT TO WATCH IT TO KNOW THE SUMMARIZE CONCLUSIONS. IF YOU THINK OR FEEL PART 1's STORY IS JUST SO SO, THEN PERHAPS PART 2 MAY NOT NEED TO KNOW, AFTERALL, WHAT GOOD LIFE CAN BE FOR BEING AN EMPEROR, EMPRESS OR LIFE IN THE PALACE AND HAREM ?? OR BORN IN THE ROYAL FAMILY ??? I CAN IMAGINE HOW SHIT IT FEELS BACK THEN, IT'S BETTER AND RATHER BE ORDINARY PEOPLE AND LIVE LIFE MORE SIMPLER, FREEDOM, LESS RESPONSIBILITY AND LESS CONSTRAINTS. NO WONDER PALACES AND HAREMS ARE THE MOST DOOMED PLACE, FILLED WITH SO MUCH OF BITTERNESS, SADNESS, RESENTMENTS AND INJUSTICE. AND, A LITTLE NOT TOO SATISFIED WITH A FEW PARTS, 1) THE DEATH OF EMPRESS ZHANG. TOO EASY FOR HER TO END LIKE THIS AFTER ALL THE WICKED THINGS SHE HAD DONE. 2) IT DIDN'T REVEAL CLEARLY WHAT HAPPENED TO YE HU ( MO YAN CHUO'S ADOPTIVE SON ) AFTER HE WAS CAPTURED OF TREASON. 3) AND ALSO HOW SHI SI MING DIED OR KILLED BY WHO AND AT WHAT CAUSED. THESE FEW PARTS ARE LIKE JUST HASTY SKIPPED OVER AND FOCUSED ON A LOT OF WASTED TIME ON "SLOW MOTIONS EMOTIONAL PARTS WITH MUSIC", KINDA A WASTE OF TIME JUST TO DRAG THE EPISODES LONGER. OVERALL, THIS PART 2 IN MY SUMMARY, I THINK IT'S A LITTLE LESS PERFORMANCE COMPARED TO PART 1.
Was this review helpful to you?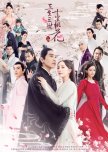 OH MY GOD .... THIS WHOLE SHOW IS SO SOUR & BITTER ! CERTAINLY, IT PORTRAYS KARMA AS WELL. STORY LINE IS JUST OKAY. IF COMPARE TO NOBLE ASPIRATIONS, I PREFERS NOBLE ASPIRATIONS. SOMEONE COMMENTED IF COMPARE TO JOURNEY OF FLOWER, I DISAGREE IT. JOURNEY OF FLOWER IS ABOUT A STORY BETWEEN AN APPRENTICE AND HER TEACHER, THIS ETERNAL LOVE IT'S A LITTLE MORE COMPLICATED THAN THAT, ABOUT A LOVE STORY THAT SORT OF FAILS EACH OTHERS IN 3 CYCLES TO TEST THE FATE OF THEIR TRUE LOVE. IT'S A LITTLE COMPLICATED TO UNDERSTAND THE WHOLE STORY IF YOU MISSED AN EPISODE. AT CERTAIN POINT, THERE ARE SOME PART THAT SORT OF "UNNECESSARY WASTE OF TIME" TO DRAG THE STORY LINE TO BE SO LONG / TOO MANY EPISODES.
Was this review helpful to you?
THIS PART 2 ACTUALLY SHOULD COMBINED FINISH OFF IN PART 1. AS THIS PART 2, IT'S JUST SHORT STORY OF 18 EPISODES. I FIND THIS PART 2'S STORY LINE IS GETTING BORED IN SLOW MOTION & MANY UNNECESSARY PARTS THAT WASTE OF TIME. THE MOST DISAPPOINTED PART WAS THE LAST EPISODE THE ENDING, IT DOESN'T HAVE AN ENDING AT ALL, CLEARLY IT INDICATES COULD HAVE PART 3 PERHAPS. OVERALL, COMPARED TO PART 1, THIS PART 2 IS QUITE BORED ....
Was this review helpful to you?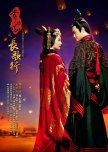 THE FIRST 10 EPISODES ARE QUITE SLOW AND BORING. AFTER THAT THE STORY LINE GETS BETTER. OVERALL, IN MY VIEWING OPINION, THIS STORY IS JUST OK ONLY. IF IN RATING, I RATE THIS DRAMA 4 SCORES OVER 10. THERE'S NOTHING QUITE INTERESTING ABOUT IT IN THIS WHOLE STORY, AND IT'S NOT HARD TO GUESS WHAT IS NEXT ABOUT TO HAPPEN AND WHO IS DOING WHAT ... PLUS THE WHOLE STORY FROM THE BEGINNING TILL THE END, IT ONLY GIVES AUDIENCE A VERY SOURY FEELING. COMPARING TO FOR EXAMPLE THE LEGEND OF MIYUE, THIS REALLY CAN'T COMPARE.
Was this review helpful to you?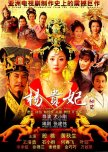 I THINK THIS VERSION MANY PEOPLE ARE NOT AWARE OF AND IT'S ONE OF IT'S OWN RARE PRODUCTION. BASICALLY, THE ACTING SKILLS ARE QUITE LOUSY, ESPECIALLY WITH ANTHONY WONG AS EMPEROR XUANZONG OR BETTER KNOW AS LI LONGJI. IT'S KINDA WEIRD TO LISTEN TO ANTHONY WONG SPEAKING IN MANDARIN, AND AT CERTAIN WORDS' PRONUNCIATION ACTUALLY IN HAS HEAVY CANTONESE ACCENT INSTEAD OF PURE CHINA'S MANDARIN SPEAKING. BESIDES IT'S A LOW COST PRODUCTION FILM, BUT IT TELLS THE ACTUAL STORY OF IMPERIAL CONCUBINE YANG GUIFEI FROM THE STARTING OF HER LIFE. WHICH IS THE ONLY FACT WORTH WATCHING ABOUT IF YOU WANT TO KNOW HER LIFE'S STORY BASED ON REAL HISTORY RECORDS. ONLY CERTAIN CHARACTERS IN THIS SHOW ARE NOT ACCURATE ACCORDING TO HISTORY. BUT THIS SHOW GIVES ME A CLEARER IDEA ON WHAT HAD HAPPENED BEFORE THIS RECENT NEW RELEASE " THE GLORY OF TANG DYNASTY". OVERALL, IN MY SUMMARY, IT'S A BORING STORY ABOUT A CONCUBINE AND A FATUOUS EMPEROR THAT'S ALL. NOTHING SO EPIC OR GREAT ABOUT.
Was this review helpful to you?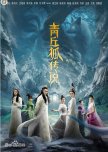 I DONT UNDERSTAND WHY THIS DRAMA IS CALLED LEGEND OF NINE TAILS FOX. AFTERALL, IT'S ABOUT A SERIES OF SEVERAL FOXES ROMANCE STORIES, NOTHING RELATED ABOUT NINE TAILS FOX. UNLIKE THAT "THREE LIFES THREE WORLDS TEN MILES PEACH BLOSSOMS" STORY THAT NINE TAILS FOX ( BAI QIAN ). THIS IS JUST TOTALLY A DIFFERENT STORY AND A LITTLE OUT OF EXPECTATIONS, SORT OF BORING AND UNDER PERFORMANCE. I BOUGHT AND WATCHED THIS BECAUSE I THOUGHT IT WAS RELATED TO THREE LIVES THREE WORLDS TEN MILES PEACH BLOSSOM'S BAI QIAN THE NINE TAILS FOX'S STORY, UNFORTUNATELY....
Was this review helpful to you?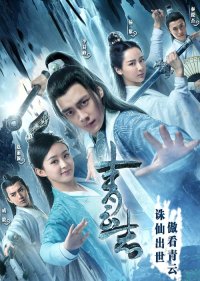 IF PREVIOUSLY HAD WATCHED THE JOURNEY OF FLOWER AND IF YOU LIKE IT, THEN THIS STORY IS SIMILAR GENERATE TYPE. IT'S RELAXING, JUST FOLLOW THE STORY AND ENJOY IT, AFTERALL, IT'S JUST FICTION TYPE OF DRAMA. I FIND AT EPISODE 10, IT'S SO HILARIOUS !! CAN'T STOP LAUGHING FOR A FEW DAYS. OVERALL, IT'S A GOOD SHOW PLUS IF YOU'RE A FAN OF ZANILIA ZHOU, YOU'LL LIKE IT. THE ONLY THING IS, IF YOU ARE PLANNING TO WATCH THIS, YOU GOTTA GET THE PART 2 TOGETHER. IF NOT, AT END OF THIS PART 1, YOU'LL BE URGING TO FOLLOW ON WHAT'S PART 2 GONNA BE. WITHOUT PART 2, THE STORY IS NOT COMPLETE.
Was this review helpful to you?