If you're still experiencing technical difficulties, please report it
here
.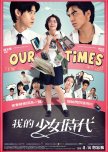 Beautiful, funny movie. Lighthearted yet very emotionally involving.
Makes you reminisce without reducing the throwback time frame to simply trope.
The acting is excellent. The characters are silly without being annoying. It reminded me of my own secondary school experience. I rooted for the OTP with all my heart during this movie. I laughed and I cried. Darren Wang and Vivian Sung are absolutely perfect as Hsu Taiyu and Lin Truly. Plus, they have incredible chemistry.
You will find some drama cliches in here... There's some noble idiocy, there's some "girl falls for bad boy instead of the good boy she had liked before," and "boy saves girl's life." But it is presented with an unexpected freshness together with wonderful acting(and directing) which makes the events seem to be happening to real people. Their world somehow seems real.
Thoroughly enjoyed this movie.
I am giving it an 8.5, however, because I felt that the ending was not quite as satisfying as this story deserved.
Was this review helpful to you?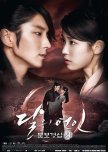 I LOVED this drama. LOVED. LOVED. It is the only drama with a score as high as 9.5 on my own drama list.
FULL DISCLOSURE: I had never watched or heard about the Chinese version before I watched MLSHR. I did not have an inkling of how it would end. I had no preconceived notions of what is "supposed" to happen.
I did not start out liking this drama, I confess. I watched it to gratify my friend who begged me to watch it just so she could have someone to discuss the drama with. The first few episodes didn't interest me much. It was fun, interesting, enjoyable with a few cliched moments but I didn't invest much in it emotionally and I thought that it would go in the makjang-ish direction.
Oh, how wrong I was. About halfway through the show (EP 9-10) when I had grown an emotional connection to the characters, learned to tell the princes apart (both physically and learn their different personalities), I knew this drama would be something special for me. There were moments before EP 10 which pulled on my heartstrings but I resisted them because I had almost made up my mind not to invest in this drama. But the drama pulled me in, it roped me in, it trapped me; I could barely resist. I let go. It was in EP 10 I let myself fall in love with this drama and let it take me where it was going.
Around EP 12-15, where I find most dramas drag and lag and slow down and a lot is very skippable and expected, this drama picks up its pace. There are unexpected twists and turns and the fast pace kept me hooked and wanting more.
EP 16-20 were a beautiful conclusion to this story. For me, the ending was heartbreaking but beautiful. Unexpected but strangely satisfying. In spite of the tragedy there was still reconciliation and hope.
The soundtrack was beautiful. CBX's For You after the last scene in EP 20 brought on the waterworks for me. It was a lively but romantic song that reminded us of the lighter first few episodes and so intensified the pain of the last few. Davichi's Forgetting You and Lee Hi's My Love were absolutely beautiful and have been on my playlist since November. Epik High and Lee Hi's Can You Hear My Heart was a beauty too, though not absolutely appropriate for the more solemn moments. Im Sun Hye's Will Be Back was the well known "Death" song of the series and just a bit emotionally manipulative but I still love it so much though. When it came to the score, Pastoral Morning seemed to carry so much nostalgia and hope in it.
All the flashbacks were relevant and beautiful. The theme of nostalgia, reminiscing and looking back on one's life were heavy in the last few episodes and it was so affecting because that's what we all do when anything (our lives, a stage in our lives, a programme) is coming to an end: look back.
The princes with their varying personalities were all a delight to watch. Wang Eun was very little brother. Wang Wook was the virtuous one. Wang Jung was steady, brave, a fighter. Baek Ah was so flower boy but so loyal. So loyal. (In fact, my friend and I joked that MLSHR is a love story between Baek Ah and Wang So in which Hae Soo features). Wang Moo was more "uninvolved in their little games but wish them well" older brother. Wang Yo was the bad guy you grow to feel pity for. Wang Won was his sheep. And Wang So. Wang So. How can put Wang So in words? There are no words.
He was unpredictable, likeable, determined to keep what was his, and most of all, relateable. He has insecurities and hurts but he faces the future with determination. He will love and protect the ones he loves until the end. At first, he seems like your cliched "arrogant with a good heart" male lead but he is so much more than that.
The series stayed with me for months after I had watched it. I have never watched a drama that was so difficult to forget. I read fan theories, campaigned for a season 2, tried to get my friends to watch it, read up on the histories of the characters, participated in forum discussions, had dreams about this drama (literally, dreams about this drama at night. In my sleep. Vivid REM dreams).
So, why am I not giving it a 10?
First, Hae Soo. the lead was actually one of the most forgettable people in this show. She is nice and even likeable but not particularly interesting because the events seem to be happening to her. She doesn't take an active role very often. She does a few times, though.
Second. The romance between Baek-Ah and Woo-hee is not developed well. Baek-Ah and Woo-Hee's love story interested me but left me confused a lot of the time. I am not necessarily asking for more screen time, just better clarifications about why they did certain things they did. (This is me trying not to include spoilers) Wang Eun and Soon Deok, for example, had a lot less screen time as a couple than they did, but their story made so much more SENSE to me than Baek-Ah's and Woo-Hee's.
Third. The drama was so reverse harem. I would have been more satisfied if one less prince had been in love with her.
For me, this drama was so satisfying because of how much MORE I wanted at the end. I know for some people, this makes it unsatisfying but not me. Quite the opposite, in fact.
I watched BBJX after this. I still preferred this version and was glad that they stuck to the plot while taking some liberties of their own. I like that the ending was not exactly the same and that her relationships with the princes, while generally sticking to the same story, was developed in a slightly different way. One missing thing was that she didn't have as close a relationship with 13th prince in the Korean one. I didn't miss it the first time I watched MLSHR but after I watched BBJX, I wished it had been present.
In conclusion, this drama is everything I expect from a tragic romance. Be prepared to fall into the characters and their world and their loves and hates and hopes and disappointments.
Was this review helpful to you?