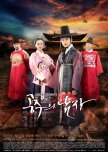 Annyong..
This is my first review ..
This drama is worth all the time u invest in the . A deep romance suspense action thriller seguk. i would recommend it to any one who love these themes.
The acting and music was really good. A strong female character, who is bold and flexible at the same time was really impressive for me...
Only criticism I can give is that I felt it little dragged.. a little only (the story wise)..  Also when it came to the  ending u might feel a little disappointed . But trying to stand in the writers shoes I think he wrote the ending much in the sense  of reality.
I really enjoyed it.
Was this review helpful to you?