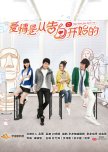 I have watched all of the adaptions of Ita Kiss besides Playful Kiss, the Japanese 90' version, and the anime. What I can say is that this drama does not follow the original story line. Does that make this drama bad? No. In some instances it actually makes it better.
In fact, if you stick around for the full 32 episodes, the character development of Ou Hao Chen and Zao Zao is the best of all the versions. It's fully fleshed out and really does show the true meaning of Ita kiss if you want to delve deeper into it's hidden themes. There are some really poetic lines as well, especially the last arch of the show.
It is a bit long, I binge watched the first half in a week, however it began to loose it's momentum and my initial interest plummeted as the story progressed. Yet, the last 5 episodes made up for it as there was a change of tone.
Things I didn't like.
I don't usually watch C-dramas. When I do, I get off put by the dubbing. This show, similar to other C-dramas, is dubbed. It's not really obvious if you don't pay attention to it and it doesn't make the show less enjoyable.
I would watch this drama if you liked the rest of the Ita Kiss adaptions. It has a good level of romance, comedy and drama. Non of them over power the other. I loved that the second female lead had a redemption arch. The best part of this adaption is that it doesn't really follow the story in order, you get flashes of the story here and there but it has it's own direction.
Usually Chinese dramas stay away from cliches, if they stick with the cliche moments, it does get made fun of in a slap-stick humor kind of way.
The story is a cliche, but that's why is has a cult following.
Was this review helpful to you?