The Upload Image feature is currently undergoing maintenance. Sorry for the inconvenience.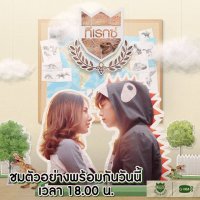 I highly recommend everyone watch this if you haven't seen it. This is by far my favorite out of all the U-Prince series so far. I loved that the male lead roles were flipped in this. Instead of the male lead being a jerk in the beginning and becoming nice, the male lead in "The Lovely Geologist" is a sweet and doesn't get mad easily. The 2nd male lead on the other hand is the jerk.
I fell in love with T-Rex when I first saw him. He looks too sweet and innocent. He's too cute, that you can't help but love him and his sweet smile. The female lead was kind of dumb and forgave too easily but realized her feelings before it was too late.
It had it's moments that will make you go "awe poor baby" then go "HAHAHAHA" because something funny will happen. It was really enjoyable.
The acting wasn't AMAZING but it wasn't bad either. It was good. The male lead did a great job and he hasn't had much acting experience. Same with the female lead but she's done a couple dramas. I loved the different facial expressions T-Rex had.
Overall, it was a cute and funny drama that I really loved and would probably watch again just to see T-Rex!
Was this review helpful to you?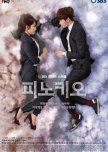 Pinocchio is my #1 favorite drama for multiple reasons.
1. The acting is amazing. Jong-suk and Shin-hye did a great job! I cried and laughed along with them.
2. The soundtrack is absolutely beautiful, it has one of my all time favorite soundtracks. Bless Roy Kim's voice.
3. The chemistry between Jong-suk and Shin-hye is great. The best chemistry I've seen with any of her leading men. They were so adorable and I love it.
4. The storyline is unique and interesting. I never got bored at all with this drama although some people thought it was boring, I don't know how.
5. I love when a drama can make me emotional within the first episode and that's what this drama did. I went on the feels train throughout this whole drama. But I don't regret any of it.
6. It was super funny and cute.
7. I adored the whole cast, even the ones that I hated in the beginning. I didn't hate them so much at the end.
Overall it's an amazing drama that I highly recommend everyone should at least give a chance.
Was this review helpful to you?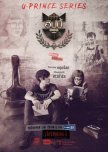 I was the most excited for this story out of all of the U-Prince series because Hippy was an interesting supporting character in everyone else's story and I knew his love story would be very good!
I love the opposite's attract cliché they used for the storyline. Hippy is a rock star who never really thought he would find the one, until he meets bookworm Mel B and the two fall in love within the time span of 5 days.
I absolutely loved this story and the cast! Originally my favorite story of the U-Prince series was "The Lovely Geologist" but it changed after completing "The Crazy Artist". This story lived up to my expectations and everyone should watch it!
The acting is great!!! Mel B made me cry whenever she cried, she looked so heartbroken. Hippy brought his character to life and many people loved him, including me because he's such a fun person and his voice is so good.
The story is so heartwarming and beautiful. Never a dull moment for me and I loved seeing Hippy and Mel B grow so close. It's an emotional yet beautiful drama!!!! I LOVED IT!!! 10/10
Was this review helpful to you?