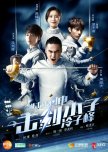 I usually don't write reviews after watching dramas, I just leave a rating and that's it but I couldn't do that for this one. Attack it, Lightning! is an amazing drama. Chinese dramas usually drag out a lot of the story line and it can get kind of tedious watching the usually large amount of episode. This drama however had 31 episodes and I didn't skip a single one! It's on the relatively short side for a Chinese drama but if you are a Kdrama fan like me its longer than usual.
The acting was really great! I had never seen any of these actors before so watching them for the first time was definitely a treat! I fell in love with every single character except one! That is an amazing feet for any drama. The main characters Zifeng, Erhao, Yihong and Wushuang did an amazing of making you fall in love with them despite their flaws. The secondary characters especially the friends/family members only added to the greatness. There is major bromance and good romance without the unnecessary back and forth. Once the characters get together they are pretty solid. The bromance is always the best and this one was no exception! It had me laughing and swooning! The plot is very interesting. The fencing aspect of the drama was a huge factor in my rating because they made it really interesting and easy to understand. Loved the CGI they added for the fencing battles. The plot revolved around fencing and the sport really took center stage alongside the other stories.
I don't usually pay attention to the music unless its distracting or really bad so I can't comment on it other than to say it didn't bother me at all.
Overall I loved every aspect of this drama except for one thing and it's mostly a personal preference of mine so it might not affect you as it did me. I highly recommend this drama even if you don't like sports because the story apart from the fencing is interesting enough!
Was this review helpful to you?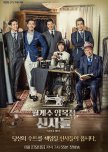 This is the third long drama that I've watch and its my favorite so far! The plot might not seem as interesting as some other dramas but you have to keep in mind that this is a family drama so the plot revolves heavily around the men of Wolgyesu tailor shop and their family.
I fell for the main males characters quickly! The drama shows us that these gentlemen have flaws and arent perfect from the very beginning and I think thats what made me love them so much. They each had their own story and we get to see how they deal with romance and daily life. The female leads (the different love interests) are a different story, although I did love each of them at the end, there were moments when I didn't like them at all! The secondary characters (mainly the family) were your typical annoying meddling family. There are two family shown and they are completely different.  I liked the contrast between them and I like how we got to see the, grow closer.
The acting was great and very believable. One of my favorute parts of this drama is that at the end you're happy with how everything ended. Usually dramas have super villanous people who will do anything to get want they want even killing but this show didn't have that. There are what you would call villains but they werent really that bad. I only hated them for a couple of episodes and then they showed us a different side and in the end they all moved on. I love how this drama shows forgiveness and how people make mistakes and that people can change for th better.
The show is 50+ episodes but I watch all most of them. I only skipped around 4 or 5 episode because at the time I was watching I had college stuff to do and I wanted to finish the drama before. Those episode to me were not that important so I didn't miss anthing major.
Overall it was very entertaining and kept me wanting to watch the next episode! I binged this drama for a day because of how addicting it was. I recommend this drama for anyhing who isnt into major major drama and likes to see peoples daily lives.
Was this review helpful to you?