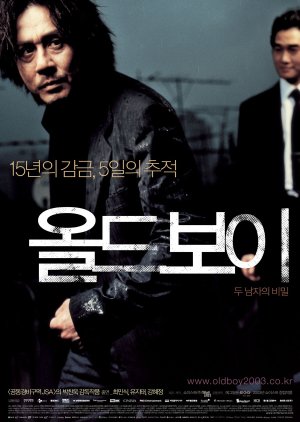 Passion, purpose, and violent.
I'm not one of the Korean movies fan, especially Asian drama. My enthusiasm was so high about the influence on Hollywood while watching this film. "Oldboy" is a very, I mean, very good film from any angle. The audience continues to be excited about the storyline. The ending is just freaking me out with such an unexpected twist. Most Hollywood movies, especially thrillers, are often modifying concepts like this. Given this Korean movie, Park Chan-wook is the director of many who have succeeded beyond the level.

"Oldboy" also feels like watching David Fincher's "Se7en". A similar format about crime, mystery, suspense, and thriller. But, it's all about the psychopath. The psychopath makes the victim or protagonist face two very difficult choices. Both choices forced him to do it but with such high consequences. Dae-su openly wants to do his 15-year revenge. But that will make him lose. His curiosity appeared and turned into the psychopath's counter attack. He keeps thinking about how he can finish this psychopath's game. Or, how can he get out of the game? On the other hand, such high curiosity made him keep thinking why. A trap on two sides of the same coin.

There are no such things if you've never watched this film, not the Spike Lee remake. The point of this movie is from a mystery into a tragedy. But, there are so many twists contains a lot. So many clues that the character gets. An amazing sequence, which reminds me of "The Raid", is the corridor scene. I mean, it's one of our favorite things if you want to talk about this movie. The camera movements work very well. The one-shot is really intriguing and gorgeous. The choreography as if they put a lot of stakes and consequences. You're fighting a man with revenge. Infinitely, a driven person who eats you alive. And by the way, I also like the title sequence.

"Oldboy" providing a deep element and complexity from a transformation of the character's amazing personality. The ending is just one of the best things with ambiguous elements, natural yet happy ending but not. We need thrillers like this or even more than this. So many thrillers are stuck or even more than a thriller that is just an action movie or something else. But, "Oldboy" has its own passion, purpose, and violent as well. The music is phenomenal, the actors, the director, the writer, all of them have a pretty great job.
Was this review helpful to you?