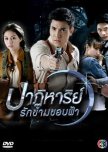 This review may contain spoilers
I really liked this drama. The synopsis doesn't give the whole story, which I liked. I really liked the fact that there were more than one story arks within this drama. The only bad part for me was that the main villian was only revealed in the last episode and didn't really have a role.
The story is sweet and I think the actors really matched the roles. My only problem with the main female lead was her indecisiveness. That made my want to scream at her just say it already. I really liked the second male lead. The actor did great in both his roles.
I liked the overall feel of the drama and recommend it to people. Watch it if you like fairytales and fantasy stories. It is sweet and does have some action. Plus the kisses were good and the chemistry between the couples was there.
Was this review helpful to you?