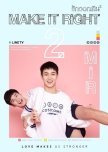 I have been a strong support for Peak and Boom, I am glad and surprise Peak and Boom acting have improved so much, and also the other cast too,
Back to the story line, I can feel the strong love between Fuse and Tee and although Fuse wanted to return to Jean but I can feel he is reluctant to let Tee go, but I can understand this is not fair for Tee but sometime in life especially when coming to love, or starting to love it is always difficult to make decision so I just hope Fuse and Tee can maintain their love for each other, anyway the original theme of this movie is "I believe true love exist".
About Book and Fame they are now having love over their head, and I also hope they can stay faithful to one another.
About the author very good story line, able to express people that are in love, same couple falling in love but expressing and experiencing their love differently, I believe there are many peoples that are also going through the same thing.
lastly, to the director I believe there are many screens in the book that cannot be shown on TV but he is able to make us imagine what is going on, so I think he has done a very good job.
And to all the crews thanks for all the hard work and all the problems that they have encountered and Make It Right!
Cheer!
Was this review helpful to you?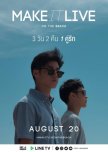 Hope this will kick start another MIR 3, if the respond for this short film is good!
Our Boompeak is always so cute and handsome.
If they could just get all the actors and actresses back!
I really hope Copy A will consider this and also the respond for MIR was well received before.
And now they are all in their teen, yes, in order for all ages to watch there should be some reserve
but basically a passionate kiss should be ok.
And they are now so close so there should be any problem for Boompeak.
Was this review helpful to you?