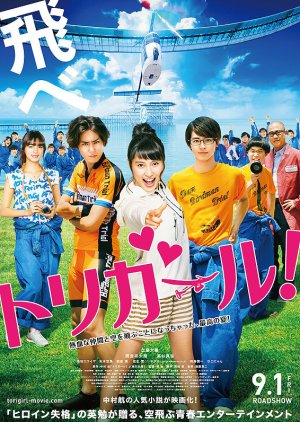 If someone told me that Tsuchiya Tao and Mamiya Shotaro would make such a good couple before seeing this movie, I wouldn't believe them. The characters they usually choose in dramas and movies are so different from each other, I couldn't even imagine them being in any way compatible. The description didn't hint at anything different, either; recycled, stereotypical J-love triangle with a female character that goes "ehhhhhhh~~" every 2 seconds. But what we got was so, so, so much better.

The first 15 or so minutes of the movie is nothing out the ordinary and is exactly as the synopsis says it is. Tsuchiya Tao so far, as Yukina, fits the cast of Every Japanese Shoujo Heroine™. The REAL fun of the movie starts when Yukina and Kei meet Sakaba (Mamiya Shotaro's character) and try convincing him to be a pilot in the club again. What ensues is a hilarious scream-off between Yukina and Sakaba, owing to their headstrong personalities and loud voices, which is both extremely cute and displays the incredible chemistry between the two characters that never goes away throughout the duration of the movie.

That said, don't watch this expecting a cute romance; there isn't one. One-sided, sure (I won't say who), but definitely nobody becomes a couple at the end of the movie. I was a little disappointed at first, naturally, but in figured that in the grand scheme of things, it doesn't really matter- it didn't matter to the two people involved, anyway. Yet, I hope there is a Part 2 so that my hopeful little heart is in peace.

Tl;dr: If you're a fan of cute comedy and amazing chemistry (that is only sometimes romantic- emphasis on SOMETIMES), you will love this movie just as much as I did.
Was this review helpful to you?