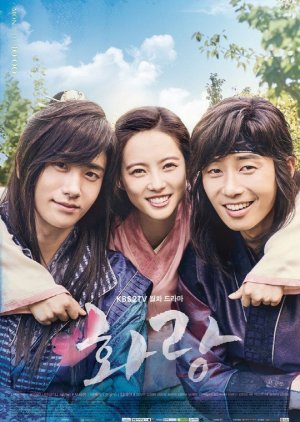 This review may contain spoilers
The story was interesting and engaging, I would give it that.

Spoilers involved (I'm sorry I can't resist myself)

I would begin the main review by talking about my favourite characters/who i deemed as the best actors:
- Pa Oh (Yoo Jae myung): I never felt any negative feelings towards this character. The actor made this character his own, I had watched him in Strong girl Do Bong Soon and he seemed like a completely different person; that's a GREAT actor right there.
- Kim Soo ho (Minho): it was the first time I had encountered him properly, I'm neither a Shinee fan nor have I watched anything he's been in. But he very pleasantly surprised me, he took on the role with grace and never disappointed. However, the writers could have done a better job with the character; why was he so obsessed with the queen? shouldn't there be more of an explanation for that? why did we never see him in any of the last couple of scenes when everything had been resolved?
- Kim Yeo wool: This character had SO much potential but clearly, the writers seem to think otherwise. Why was his story only briefly mentioned in the beginning when were given an overview of the main hwarangs? He was so intriguing at the start and as the show progresses, you would want to know more about him. But his character was merely superficial, a sort of distraction. In my case however, it was a pleasant distraction because I enjoyed all the scenes that he was in. Don't even get me started on his bromance with Hansung- Fave!

The drama opened up so many doors but was unable to show what was inside, for example, why did Park Young-shil do NOTHING when the medicine suddenly disappeared? They painted certain characters as one thing but their actions proved otherwise. A lot of the characters feelings/actions were also unexplainable, for example, why did Hansung feel so deeply connected to Sun-woo??? even though it had been made clear to us that some of his decisions were sometimes irrational and he didn't think too deeply about things, it somehow still leaves us wondering why he would take such drastic action to protect him. Also, something about the Baekje kingdom letting everything be without coming back for a fight makes me a bit uneasy, but I know that's just me being super fussy. This show leaves me with QUESTIONS and I shouldn't feel this way after watching 20 hours worth of content. You would think that they would be able to uncover everything in 20 hours (instead of 16, as it usually is with k-dramas) instead, all the screen time was dedicated to the most boring main couple in k-drama history: A-ro and Sun-woo. What a bland relationship. I did not like it whatsoever.

Now a list of my least favourite characters because I just can't let it go, whether it be poor acting, poor character development, poor writing, who knows.
- Kim Wi-hwa: The constant laughter got to me; his character became boring after the first few episodes, he also got kind of annoying. I couldn't stand to see him alone, I only enjoyed scenes with him in it if there were others as well.
- Kim Kwang-kyu: His presence was overwhelming. This character was overdone.
- The queen: For obvious reasons.
- The princess: see previous comment.
- A-ro: Don't even get me started, the character was a disappointment. I tried to like her, I really did.
- Park Young-shil
- Han-sung's grandfather
I could go on and on....... I realise that you're not meant to like every character in a production but this was too much, they could have done better. I did not like most of the female characters because there was simply no reason for me to. I have so many questions regarding them e.g. why were we suddenly expected to feel sympathy for the queen at the end when she had acted like a villain all along?

Now you might wonder why I still choose to give quite a high rating after so many complaints and barely any commendations, that's because it did a good job at keeping me interested, it got me addicted, and that's what shows are supposed to do, right? However, I did not understand why a lot of things happened the way that they did, perhaps that it is why I was so eager to watch, to see if whatever 'mystery' there was in each episode would be solved in a sense. But the answers were hardly ever uncovered. At times they were (partially), and other times we were just left in the dark.

I will end with this: If you want something lighthearted, this is not the show for you, it is quite intense. It took 30 minutes to summarise 2.5 episodes to a friend, A LOT happens at once in this drama.
Was this review helpful to you?