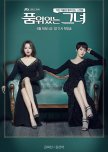 This review may contain spoilers
"Woman of Dignity became one of the highest rated Korean dramas in cable television history"
to be honest when I first read this title it didn't really affect me because I never believed that high ratings = great drama but since I love KHS I thought why not watch at least I'll enjoy KHS beauty & I'm happy I didn't miss this great drama I'll get into details with no spoilers at all so read it with no worries :)
What I liked about this drama:
1- It's not your typical drama in terms of story, acting or even characters. we have two female leads that are the main story in the drama with supporting characters that each have a story of their own just as fun as the main story with everything connected to each other I usually get bored of dramas that focus mainly on the female & male leads so this was such a fun drama for me.
2- It gets better with time, 20 Ep was a scary thing for me since usually the last episodes would get draggy but that wasn't the case with this drama thankfully, it gets better and it's just so fun that you won't be skipping anything.
3- I liked the light comedy that was added to the story mainly by Jung Sang Hoon, the humor was such a breath of fresh air in this somehow tense drama
I feel like if I write more I would end up with spoiler so that's it a small review about Woman of Dignity I hope you enjoyed reading it .
Was this review helpful to you?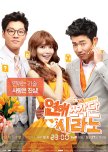 I watched this because i love Sooyoung but although i loved her i thought she was a bad actress since she's actually an idol BUT BOOOM she was perfect
As for the drama its really good for people who are looking for a light comedy romance drama full with a lot of handsome boys
People were complaining about the age deference but i find it actually cute since Lee Jong Hyuk is really handsome
Anyway i loved each ep of this drama & i could sure you won't get bored from this drama
Yaeh & i hope there would be season 2
Was this review helpful to you?