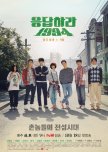 Going back in the past, to some it might hurt but the past before our present made us the great person we are right now.
I liked watching Reply 1994 because of the great acting of the casts, and the OSTs. WOW. Totally great. I downloaded the OSTs of this drama and the songs are really good to listen especially if you're having stress or doing something. Besides the OSTs, you can feel the "freshness", and the feeling of "youth" in the drama.
As usual, we have the "Love Triangle". That's what the story is all about. Finding out the "who" in the end. But, the story-line is somehow special, connecting the past to the present. The wonderful memories of the freshness of the youth.
Go Ara's character is a strong yet sweet girl, and she really portrayed it well. She had a loyal heart who only sought one man in her heart, which made it unfair for the second man involved in the Love Triangle.
But what's more amazing in this drama is the creativity of the director. There are three stuff toys that shows in almost every episode, notice their positions, and you'll see that they are sort of like weather forecasts on what will happen next.
Overall, this is a good drama and I recommend it to you.
Was this review helpful to you?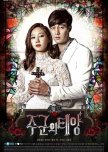 The Master's Sun. From the title itself it'll really make you wonder.
I really liked this drama. When I saw the genres, I was really amazed because there's horror, comedy, mystery and thriller and of course, the romance that completes the recipe of almost all stories. And yes, as I finished it, all of the stated genres were really experienced. You'll find yourself sobbing, laughing, thinking, getting thrilled, and the feeling of love.
The story has a lot of twists which will make you wonder almost all of the time. It is a fast-phased drama, which will really make every moment, every episode important. So for those who are thinking of skipping an epi, better not do that.
While watching, I saw comments saying they stopped watching because it is scary, actually no. It wasn't really scary. Ghosts? As I watched this drama, my perspective on ghosts really changed. You'll find them interesting and you might even find yourself pitying them and maybe a flashback of memories from your past might occur
The OSTs were really daebak. It suits the feeling of the scenes being shown. The script was really great, besides the story-line being different from other dramas, there are quotes that might help you in your lives.
And maybe in the end, you'll have that "kojo" hangover in your head. Hahaha
Was this review helpful to you?