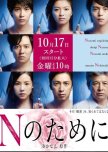 This drama is one of my favs. I came to watch it because of some gifs I saw on Tumblr. I recommend this to everyone. However, this drama is pretty heavy. I cried several times. It was a mystery thriller romance done right. It's nothing comedic and the romantic moments are true / realistic. The drama feels real because it could happen to anyone. At the same time, you'd hate to think that this could be happening to anyone around you.
The scenery was beautiful. Long shots of the entire setting allows us to feel like we're watching things happen from a far. Although the shots seem 3rd person point of view, you are still connected to each character. They are all encouraging characters with clear motives. Each one is given a good amount of time in every episode to tell their side of the story. You may grow to hate a character but also understand why a character would do such a thing. It makes you really think not just of the mystery, but what it's like to be human. You grow as the characters grow.
The story / events aren't shown in chronological order. It jumps from time to time - but it was a perfect way to transition into things. The soundtrack is just beautiful! When you listen to certain songs you can definitely link it to a precise moment in the drama. They are also played at the perfect moments.
When you complete the drama you'll feel like you've witnessed someone's entire life and that kind of made me feel complete. What made me love the drama even more was how it presented hints to the mystery all along but I didn't find them until my second time watching. On my second watching, it felt familiar but also shocking. I was baffled by how subjective I was. It amused me to see how arrogant I could be just like some of the characters.
Was this review helpful to you?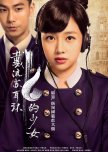 First of all, I personally really like Guigui so I watched the whole thing but if it weren't for her I don't think I would've completed it :S If you're into romance and drama this could be a show for you. The romance is cute in the beginning near the middle it focuses on elaborating and building up to the problem solving / ending of the show. There are many things I'm not too fond of though.
I'd say the story was okay. When looking back it was basically a Romeo and Juliet story. It had one major plot so it wasn't all over the place. The surrounding subplots lead up to the major problem so I'd say they did well to stay within their plot line. The romance did feel a little repetitive at some point but I'd say it's because both main characters were written to be stubborn so their decision felt like ongoing battles between their desire / love and pride. Near the middle / end of the show it does become less about romance and more drama-ish (importance of family and justice - although it does surround the main romance plot line). To further elaborate as to why it was only okay its because personally I did not like the ending not because of the lack of romance but the ending was truly puzzling.
As for the acting, I haven't seen any of the other actor's stuff but Guigui always seem to be playing the playful, cute and lovable character thus her doing well here was no surprise. It was like a copy paste of her other works just in another time / dimension. Plus, I find her shippable with anyone so I was fine with her acting. I'd also like to point out that the acting here was good for what was needed to be presented. Some of the actions the "characters" did in the show were questionable, but I can't blame the actor's acting for it. Thus, they acted well for their characters. The only problem I had was the dubbing. Guigui's dubbed voice honestly made her sound even more like a child / younger, so sometimes I couldn't take her seriously.
Music was okay. They have an opening and ending song but I usually skip those so I don't even remember what they were. The music within the show didn't distract me from what's happening. They did well with the music during the romance scenes and since it's a romance drama, I'd say they did great.
Now the rewatch value... hmm, personally, I would only rewatch the beginning 20 so episodes? Cause they were cute. But near the end I was completely disinterested. Also the final episode was terrible. I honestly hoped that I had got it wrong and there was at least one more episode left. If I had known that, that was the final episode I would've stopped much earlier! So to say, I liked the romance, the main pair in the drama, even the story was pretty okay but the ending was bleh. I suggest you try it but if you didn't like the first 20 so episodes, you won't like the rest of it either.
Was this review helpful to you?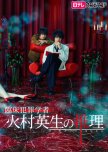 If you're looking for a good mystery thriller... this probably isn't it (especially if you're a fan of that genre). But if you like mysteries and thrillers but you're also a fan of slice of life and bromance, this is perfect. I'm a fan of Kubota so once I heard he was acting in this I just had to watch it.
First of all, the story as a mystery thriller isn't innovative at all. It's like Sherlock and Watson in Japan. It's nothing new. The twists in each case aren't even shocking. The big concluding case isn't that interesting either. Sometimes there are let downs as well but the way the two characters interact with each other are great. The title of the show is 'Criminologist Himura and Mystery Writer Arisugawa' but honestly if you're going to play out two of these interesting characters under a law enforcement - they should've had more interesting cases. Or perhaps I just expected more from a crim. professor and a mystery writer engaging in the law enforcement. Nonetheless, the drama had it's format and it kind of knew that it was being cliche at some point so they let sub characters play out the all time (I have solved the case! - Marker) that is often indicated by the main lead. Due to its awareness it did well in a comedic sense and showed character development.
They're great actors in my opinion. The reason why I continued watching was because of the acting. The interaction between the two leads are really enjoyable. Even the sub characters were enjoyable. They bring the characters to life. It felt like they had been friends for such a long time they are practically a couple. They also did so well to portray the characters that you feel like they're really passionate about problem solving and mysteries. You also have to keep in mind that this is a Japanese drama. Sometimes things seem over the top but that's just the feel a Japanese drama has. Also, they do so well in making it feel like that's just how it is. So to say, even with the large exclamations from time to time, it felt normal. Thus, they did a great job.
Japanese soundtracks never disappoint in my opinion. They always know how to create a setting. The soundtrack here were great. It felt comedic yet intense at the same time. It was exactly how the drama was portrayed. There weren't any variations to the soundtrack though so the same one would play every so often. It was like a cue to things getting serious or the marker to knowing that the case has been solved.
Rewatch value is 7 /10 because once you know the reveal it isn't exactly as interesting the second time. BUT, I'd deff. rewatch for the scenes with the two leads. They're just too adorable together. I even watched the SP's because I wanted more of them regardless of what they were going to encounter.
Overall, it's 7.5 /10 because I was expecting more mysteries and thrillers. I wanted something shocking and new. I wanted to be surprised but all I got was cute bromance - which isn't bad at all but I wanted bromance and mind blowing cases.
Was this review helpful to you?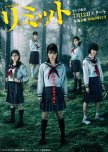 Limit
5 people found this review helpful
You aren't supposed to go into this drama expecting a lot - with that in mind, you'd enjoy it. I'd say it's a good weekend thriller. If you're a fan of locked room mysteries, Darwin's theory of survival of the fittest or even corruption, then you'd like it. It's not like a top quality thriller but it'll provoke you so it does its part. If you've watched Lost Days - you'd like this. Or if you found Lost Days not thrilling enough, this one's better.
The story's logical. It's not like they were just randomly put into a forest so props to them for making it logical. They do well on focusing on one single plot so that things aren't everywhere. Episodes are spent to establish each character's story / side. They did really good on this. You may think something on one of the episodes and then on the next one we see another other side of the story. Factors like society, hierarchy and responsibility play a part in the narration. I like the whole "seemingly middleschool / highschool setting but actually a glimpse of a small existing corruption in the society" thing that was going on.
The acting's good as they are playing students. There were different types of reactions to the situation they're put in so I guess you could say it satisfies all viewers. Their acting is also all on the same level so no one really sticks out. The 'adults' acting was great. They did well in pissing me off most of the time & seeing how they were supposed to be a stressful factor in the narration, I'd say their acting felt realistic.
It wasn't a memorable soundtrack but it did its part. Felt the jumps when needed. Played the fear card when needed. It was a typical thriller soundtrack; the momentum builds and you're all excited to see the reveal. Never missed a beat so I'd say soundtrack was good.
Only problem is if you watch all the episodes at once you'll kinda skip things cause they either do a long review of the previous episode or drag it out. Each episode tries to establish the same feelings as you got from the previous episode then get on with the current episode's motive, which could get annoying if you're watching all the episodes at once. *I kind of understand this though, cause it was a show that played one episode per week so if you were watching in real time, you may have forgotten what happened last week.
Rewatch value @ 5/10 - cause once you know what happens you can't really rewatch it with the same feelings nor is it a great thriller to be rewatching. Nonetheless it was a good thriller (for the weekends - cause you may just want to relax / you're bored/ just need something to watch in the background).
Was this review helpful to you?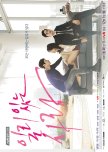 If you're looking for something that's more mellow, realistic and homely this may be it. I'd watch this on a weekend. It was a drama that reflected a life that could be happening to anyone around you. It showed raw reactions of an emotionally heavy situation. As the title is: Valid Love - the drama displays different types of love and ends off with telling you that - all love is valid.
The story felt familiar. It was a great display of mature love and relationships. If you were hoping for heart racing & grand romance, this isn't it. You see quarrels within the family and marriage. You witness the life of this one family who just happens to be unlucky. It was a story that focused on everyone's point of view in marriage, love, family and life. Although you are only given the inner narration of the first male lead - he helps guide you through not only his emotions but others emotions as well. It was a narration that reflected the past. It's like the male lead learns as he narrates which really gives you space to feel. You aren't restricted to his anger and sorrow. You know he has the potential to grow out of his anger. When his narration isn't given you can see the point of view of the other characters and you come to take the side of the other characters.
The acting was great. I always found the main actress amazing but seeing as she was playing a character that could be hated by a large amount of viewers due to her situation, I really admired her. She conveyed her feelings really well. The character herself was really well written. She was outspoken and stood up for herself so it wasn't hard to like her. The second male lead was not seen as only - the other party-. We witnessed his side of the story as well. The male lead gave us a wide range of emotions which made him extremely enabling. He showed growth throughout the drama. I really liked the family's acting as well. It wasn't just yelling and shouting. When they cried I did too. It wasn't just typical loud family acting.
The Music is beautiful. It was music that would make you want to stare out the window and just zone out. It was calming, soft and a perfect representation of Valid Love. The lyrics conveyed strong emotions of longing and emptiness as the melody tries to calm you down from the given message. The OST makes time move slow.
The rewatch value is @ 8.5 / 10 cause it isn't exactly a bright and light drama. I'd watch it only when I feel down and mellow. I do have to say, there is a sense of completion after you finish this drama. It feels like a lot has been lifted off your shoulder.
Was this review helpful to you?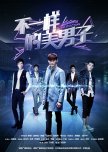 If you're looking for a side show / something to watch when you have nothing to watch that day this drama is an option. This drama is a mix of sci-fantasy and romance. It was not what I was expecting but since I liked several of the actors I watched till the end.
The story's a bit odd. It's a romance drama but they added some sort of sci-fantasy in it so it isn't - just - a romance drama. It's as if they didn't want to repeat the whole - rich guy and average girl fight to stay together thing - so they threw in a few special powers. They did tie it all together though. They tried their best to make sense of it all so it isn't as if they randomly gained super powers so I congratulate them on that. There was also too much going on. I understand that they want a background story for each character but we needed to be reminded of what the main goal of the story was. The main story was overshadowed by the side stories. I wanted to learn more about how the super powers were affecting the characters daily lives instead of the main couple's struggle (then again it was a romance drama...). The story needed revising and the writers needed to find a way to organize everything.
About the acting, the relationships were confusing. If I were to draw a chart of how everyone's relationships worked it would be like a weird star-ish shape thingy. Due to the messy relationships the acting was sub-par. Each person did well on their own part but when they were to act like they were in love with another character... it was hard to believe due to the odd star-ish figure.
Supporting characters' relationships were even more convincing than the main character's relationship. The main male lead and the female lead seemed so distant. He was better matched with the second female lead... In fact, everyone was better off with their second love option which was confusing because we are told that their one true love was their first pairing... Their acting of their super powers were more convincing than their love lines...
The music was not memorable they did set the mood though. In fact, there was so much background music all the time I don't recall silence. It was always climactic music. It felt like everything they were doing was important. Then again they had powers so everything they were doing - was - important compared to anything an average person would be doing.
Rewatch value is @ 5/10 cause I don't think I'd rewatch it. I honestly liked the second love options for each person much more than the main ones. Even if their relationship was plausible - they were lacking in romantic scenes, you'd probably get more intimacy between the supporting roles. The story was also predictable. The ending wasn't really an ending. I've watched other dramas of the cast and I'd say this wasn't their best work. For a Sci-fantasy romance drama, this one failed.
Was this review helpful to you?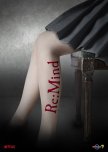 Re:Mind
2 people found this review helpful
I did not like it LOL. I see the appeal but there are better Japanese thrillers / suspense out there. 'Lost Days' would've been better - or even better 'Limit' and they aren't even the best.
The setting makes it interesting, yes people locked in a room and they don't know why. The characters are wondering why and so are the viewers but that's all it was. Perhaps the first 3 - 4 episodes were okay. We had questions and we got some answers but further on in the show you just kept getting questions and the answers seemed to be just more questions. This is what happens with thrillers / suspense though. Something with single room / locked room settings requires more psychological torture. I wanted more chaos.
The acting was not too great. Some had potential and the rest... :S Sometimes music came on and you could feel that they were forcing on a scene. It did not feel natural. They dragged out moments with repetition and bad acting and then when emotional scenes came up, it just felt out of place because they either needed to explain why it should be upsetting or the music felt extremly forced. I'm sure with decent acting, even in silence you could understand whether a scene should be sad or not.
I would not rewatch this. I completed it because I wanted answers and I regret I even watched it because I feel like I wasted my time. I could see where they wanted to go with this but it could've been better. I was frustrated and felt like 12 episodes could've been cut to 8.
Was this review helpful to you?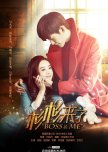 Boss & Me is a great romance drama. If you're looking for something cute and light this one's great. There are two or three expected scenarios (cliches) of a romantic drama but it's done right. It isn't over the top and it feels like you're watching a good drama happen in real life - like the love story of your favourite old neighborhood couple after knowing they've been married for like 60 years. It's fluffy and cute. You can overlook the flaws of the drama with just how cute the two leads are together.
The story presents itself as the typical rich man pursuing the average lady but it's more than that. There's depth to the main characters which makes the story much better. We see a man who knows that this love is not well looked upon amongst the society so he doesn't know how to approach the situation and his emotions. We see the girl who's honest with what she feels but she doesn't exactly act on it because she knows that things like this only happen in dramas. I want to say it's a realistic approach to a highly impossible situation. For example: when we ask questions like (How did he get there? or Is he just going to let her walk away like that?), there aren't moments like that. We are given segments where our questions of the realism in the drama world are answered. It's like they matched the drama world to ours. We are greeted with welcoming characters, instead of an arrogant rich family we see a friendly but cautious family. They don't flaunt their status but they do use it to their advantages. There are no over the top characters that throw you off track. We get what we're expecting. I think that's what made this drama so enjoyable. We are given a toned down and sweet approach to an overused and exaggerated theme of the rich man and average lady story. The side stories are perfect side stories - they don't overshadow the overall plot. But the side stories are really just there to create more depth to the characters around the main couple. I could see why they are necessary. It created a good balance so you aren't overwhelmed by the whole theme of the story.
The acting was perfect for this theme. The female lead was not annoying. Although she was presented to be a cute lead she wasn't the cringe worthy cute. She wasn't innocent and pure, she was honest. I really admire her acting. She gave a perfect representation. To play a refreshing and honest personality is often hard because viewers tend to get annoyed and criticize - good - characters. The male lead's acting was good. I don't know if I'm admiring his acting or the character itself. He played a stoic person. The writing gave the viewers space to understand that he had other emotions kept under his calm visage. Or maybe it was the way he held the female lead that made us believe in their love. Their chemistry was amazing. I felt like they had been together for years and although his lack of expression - she didn't mind it cause that's just how he is and it was just how they'd always had been. There were never awkward moments.
The OST was good. The opening was nice but the ending sometimes threw me off from the whole setting of the story. It sometimes felt out of place. There was a really cute song that played every so often at the right moments. I personally really liked that song and when I listen to it I can imagine myself walking in the park on a breezy summer day or eating ice cream with a bunch of friends.
Rewatch value @ 8/10 cause it was so cuteee! I just love the two together. But sometimes there were unnecessary parts so I'd literally be just clicking around looking for the leads and not watching the full episodes.
Was this review helpful to you?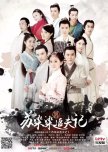 This drama was filled with unfamiliar cast but it was quite refreshing. If you're interested in this genre to begin with then you'll enjoy it. I was personally looking for something under the romance genre and I always find that long Chinese dramas with the romance tag have enough cliches for me to enjoy.
The story is just like any other adventure story you'd find in that time and space. However, oddly enough I found this story well written compared to other popular dramas in this genre. The story actually made sense and it was so clear on what it was trying to say that I felt completely immersed. It had one task and it did well to convey itself from beginning to the end. Sometimes long dramas tend to add subplots that stray from the main story but this one, everything that was happening made so much sense. Perhaps it was because of how elaborate it was. It felt like they actually planned out the life of each character. The characters they focused on had a part and a history. Although it could have done better near the end I am pleased with the story and the ending. Also I felt like I got what I was expecting.
The acting and cast was good. I wouldn't say excellent but it was believable - and seeing as they have to convince us that they have super powers and can fight like crazy - they did well. I also haven't seen any of their other works but from their bio's on here it seems like the main leads are new actors. If I had to nitpick though, the actors seem better in the comedic scenes than the serious ones especially near the end. Furthermore, I wish there were more scenes of the main leads in the beginning because more scenes together would of made us feel a stronger 'love' connection between the two later on. I wish I felt more angst or... pain(?) for the main pair - like a longing for the love between the two. I understood it but I didn't feel it. This is where I'm wondering if it's the actor's acting or the way the scenes were shot and cut. Personally when it comes to this section, I can't tell if it's the acting that needs more improvement or the production team. Sometimes I find that scenes were too long but I felt that it wasn't because of the actor's acting that it felt weird but it was honestly how long the producer and camera men spent on their faces.
Music was not memorable but I personally skip ops and ends so I can't really give my input here. They weren't memorable in my opinion. But the soundtrack within the show was just like any other soundtrack of an adventure in this genre. They weren't blaring in your faces but it wasn't memorable to the point where I'd look for it after watching the drama.
The rewatch value is 6/10 because it's long. I wouldn't put myself through 50 episodes again. Perhaps the first 20 so episodes I would rewatch cause they were cute and I like how they established it. I watched the entire series at once so sometimes I felt like some parts were unnecessary so when rewatching I'd click through quite a lot just to see the main pair.
Overall it's an 7 /10 because I like when the drama makes sense and things tie up. Also the main leads were cute together. Wish there were more sparks(?) but they were cute nonetheless.
Was this review helpful to you?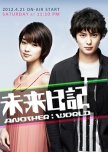 Mirai Nikki was another mystery romance thriller done right. If you're a fan of Japanese mysteries or thrillers I'd recommend this. I went into the drama expecting exactly what the summary had written and I am extremely pleased with where it had gone.
The story is amazing. I can see how it was originally a manga and then an anime. Although, I've heard that the manga and anime were different from the drama. The summary of the drama is very close to what it is for the first part of it. At one point it changes its direction / approach and that's when I was amazed. The plot reveals are just perfect. I remember there was this one point where I just had to continue watching although it was 3AM in the morning. The drama keeps you guessing on several things while staying on task. You're always reminded of the main motive of the characters. You'd think you got everything figured out only to be punched in the gut and have to guess it all over again.
The acting was good. I can't say it was great because sometimes the long pauses to create anticipation just didn't do it for me. Sometimes the acting felt cheesy to me. The supporting roles didn't have enough story to them for you to really attach yourselves to them. Thus when they are to act a certain emotion, it just doesn't come off as genuine. Nonetheless, everyone did well cause they were creepy when they had to be and light when the situation demanded so.
The OST is amazinggg. I loved it and searched for it once I hit the 3rd or 4th episode. It really reflects the whole situation. It had some technological and mechanical sounds which went really well with the setting of the story. Thriller soundtracks are always great. When listening to it alone you can imagine yourself trying to solve something very important when you might just be making toast LOL!
Rewatch value is @ 7 /10 cause I'm sure once you know the reveals they aren't as exciting but the romance in the story is heartwarming. I'd watch it for the romance. It also comes off as slow and repetitive when you rewatch it - only because you know what's coming up and wish that it would happen faster.
Was this review helpful to you?