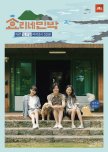 I'm not sure how to rate this show since it's not a drama.So it is better to read here than looking at the rating.
If you want a lot of drama ,gags,games or competitions...like many of korean's variety shows, this isn't it.
I dunno how much of it is scripted (even though they say it is not. )It feels very real . They mainly focuses on the interactions between the 3 cast themselves or between them and the guest and they also showcase a lot of Jeju's scenery. It is often just simple daily life activies like cleaning the house, grocery shopping,cooking ,eating,walking the dogs....and guest-house type of activies like greeting ,talking with guest,helping them with stuffs. It may be seem slow for some of you and there isn't much ''exciting'' activities.But personally,i find it very relaxing to watch. 
This show has a special place in my heart along with Ji-eun, hyori and sangsoon. I feel so close to them now,its kinda weird. Lol
Was this review helpful to you?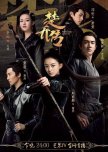 The story here is not the best ,it has many flaws and there are soo many loose ends in the end. However ,i gotta say i still find this drama to be enjoyable.
I think the main problem with this story was that by the end, you still feel unfinished, there are way too many things left unanswered.there are a lot of aspects that the drama introduced but didn't explore further.The ending was kinda rushed,while around 2/3 of the story was draggy. I feel like they focused too much on the second male lead,not enough on the male lead.
The good parts: i like the main protagonist that she was not just a helpless damsel in distress looking for love. She actually work hard and fight for what she believes it. She was not a pushover,and she is basically a good person but she is cunning. I love the character Yuwen Yue,played by the handsome Lin Gengxin.i'm quite sad and annoyed that they didn't focus a lot on him and the people around him. There are some interesting characters surrounding him but the story didn't cover that so it makes those characters very i dunno what the words to describe it but maybe ''one-dimensional''.  They didn't tell us their back story, only slightly touch on it which sort of make it worse.....back to the good, it is also nice that we can see the struggle of the main characters. They may make questionable decisions that we may not agree with but they often have their own reasons behind it. ( would have been a lot better if they does that for some of the supporting chaarcters too...) i think the best story makes us able to emphathize with the characters and this drama was able to do that for me to a certain extent ,thats why despite all the flaws, i still like it.
Was this review helpful to you?