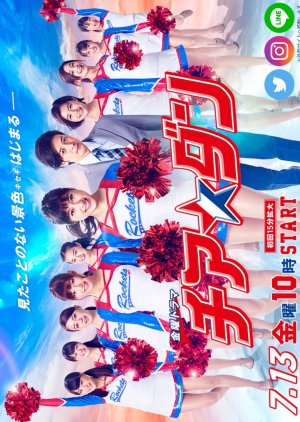 This is a very charming, very sweet story! I wanted to watch this mostly because of Odagiri Joe, who does not disappoint in this show in the least (his personality and genuine pride in his work definitely show!), but the more I watched the more I was drawn in by the story of each cheer-dance team member and the town around them.

This story really shows off the definition of hard work and dreams, not to mention high school and friendship. This show is really amazing; each member was very strong, talented, and beautiful to watch throughout each episode. I wouldn't call it a slice-of-life drama specifically, but it does fit within that category; to me, this show was more of a "coming of age" story. This story is basically the story of life; hard work, friendships, families, hopes and dreams, loves and heartbreaks, strength and determination... You know, life!

I do believe that this show is a very underrated gem and a definite jumping-off point for anyone's new love of Odagiri Joe, or his current fans, too; I really believe that he really filled out this story and made it (at least) half of what it is.
Was this review helpful to you?