Was this review helpful to you?
En serio.. tras que el drama era malo, lo terminaron casi que peor... con ridiculeces y cosas incompletas... Pobre Kim, quiso regresar y escogió una buena historia, pero nada le ayudo a salir del hoyo en que la vieja lo metió...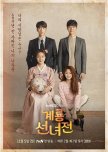 Was this review helpful to you?
Until now, this new Korean drama is perfect, funny, lovely, with a good special effects... I think that I will fall in love of this drama.
En su mayoría fueron escenas que no importaban ni venían al caso con la historia; además con qué fin la vieja hace ese live broadcast, para que el mundo supiera.. okey, pero a los espectadores no nos contó nada nuevo, pues todo lo sabiamos.
Creo que lo único bueno de ese live broadcast fue que el CEO se le cayó todo el teatro, pero aún así no supimos si lo iban a castigar o no; uno supone que lo castigan, pero no sabemos si salió castigado como el otro con libertad condicional...
De verdad que este último capítulo dejó mucho que desear, eso si, hasta el 33 estuvo genial.
Truly, this drama was very good and in spite of all the setbacks he knew how to maintain himself, but this chapter 34 was a complete dummies.
In their majority they were scenes that did not matter nor came to the case with the history; also with what purpose the old woman does that live broadcast, so that the world would know ... okay, but the spectators did not tell us anything new, because we knew everything.
I think the only good thing about that live broadcast was that the CEO fell all over the theater, but even then we did not know if they were going to punish him or not; an alleged punishment, but not out of there, punished as the other with parole ...
Of truth that this last chapter left much to be desired, that if, until the 33 was great.
Was this review helpful to you?
De verdad que este drama estaba muy bueno y a pesar de todos los contratiempos supo mantenerse, pero este capitulo 34 fue una completa bobada.