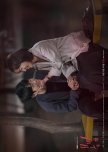 Since I belong to the minority that hasn't seen Something in the Rain, I am going to review this show purely based on the story that it brought to me, regardless of what came before it.
Let's start with the story, One Spring Night tells the tale of two people who fell in love despite the whole world telling them not to. They tugged at my heartstrings with their beautiful, mischevious relationship that not only had to bear the weight of internal struggles but also had to face the societal pressures that came along with being Korean. It's as much a social drama as it is a romance story, so please go into it keeping that in mind. The cultural differences will make some decisions hard to understand but all of them make perfect sense, regardless. Jeong In and Ji Ho's slow burn romance coupled with extremely lovable side characters, realistic and fleshed out "antagonists" (though I'm not sure if I want to call them that because they weren't inherently evil, just handicapped by their circumstances, upbringing and morals). All in all, OSN offers what most dramas tend to lack these days: authenticity. It makes you feel like you're there with the characters and grow fond of them. A beautiful, minimalist love story.
The acting is so extremely well done that I don't even feel like I'm watching Jung Hae In or Han Jimin (or any of the actors for that matter). Everyone, EVERYONE, did a brilliant job of internalizing the characters. From the minor characters to the major ones, all of them gave a very natural performance that made me think that the characters were people that could actually exist irl. I would also like to applaud the writing and directing. There are plenty of scenes whose artistic value could be seen even through my inexperienced eyes. The drama is a treat to watch.
I also really, really loved the music. It fit really well with the setting of the scenes. Best of all, I feel like the OST wasn't used to manipulate the mood of the show which gave it an even more authentic feel. It complimented the scenes and wasn't distracting at all. They do have limited songs playing in the background but tbh I didn't mind that at all. I'll think of OSN when I listen to We Could Still Be Happy haha.
I want to add that another reason why this drama is so special is because of its exceptional secondary characters. All of them feel like you could be friends with them. They're flawed yet extremely raw and realistic. They aren't caricatures or used as a plot device to further our main couple's story but instead they power through struggles of their own. They're all very different from each other but equally endearing. This show deserves an award for creating characters like them.
Anyway, I really loved this drama and it has become one of my favourite dramas of all time!
Was this review helpful to you?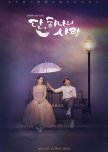 Story? Snoozefest
Acting? Sub par
Rewatch value? Non existent
Writing? Piss poor
Direction? Meh
Editing? Abysmal
Music? The only saving grace
Honestly, I'm mad at how this show turned out. Imagine making the viewers become unattached to the characters AFTER you made us grow fond of them. It takes talent to screw up this bad. It had HUGE potential to be a masterpiece but bad creative decisions and unoriginal (manipulative) writing completely ruined it.
I'm only giving it a 6 because I genuinely loved the initial episodes and SHS's performance, everything else, including the romance, falls flat.
Was this review helpful to you?