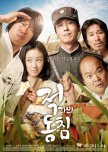 Don't let that poster fool you!
Based on real events that occurred in some villages during the Korean War, this movie touches aspects like political idealisms, morality, ethics and relationships without forgetting to add laugh-out-loud comedy and heart wrenching moments that keep reminding you this actually happened.
Regarding the cast, every character plays an important role in the movie, from the villagers with their simple ways of living to the North Korean troops who strongly believe in their mission to "liberate" the oppressed people.
At the end, the real message this movie leaves its viewers with is that life can take you anywhere, but you decide how to live it.
Was this review helpful to you?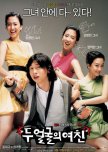 I watched this thinking it was a simple romantic comedy and ended up finding a really well done, full of emotions story that will make you shed a tear and burst out in laughter at the same time.
Story: Reading the summary I thought it was a nice and funny movie, but as you go deeper in the scenario, you'll find a surprising, loving and even sad tale of lost love and the beginning of new love, that you'll enjoy and root for.
Cast: I've seen both main actors before and liked their work (and they didn't disappoint me here either!). Bong Tae Gyu plays Gu Chang, a college student who's basically a loser and has never experience love. He ends up meeting Anni, Jung Ryeo Won, a girl full of life, funny and a little dorky, who suffers from multiple personality disorder due to a past love. As both characters start to know each other, including the different personality of Anni, they become friends and accept each other weirdness.
If you want to watch a romantic movie, with some comedy and some deepness, that will make you cry and laugh from one minute to the next, I'm sure you'll really like this as much as I did!!
Was this review helpful to you?