The website is currently undergoing maintenance. Sorry for the inconvenience.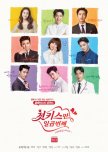 Ngl, I only finished watching it out of respect for the amazing cast
The idea behind it is alright, but it just makes me feel like I'm watching someone play one of those dating games. It's extremely cringy. I felt second hand embarrassment pretty much every episode.
On the other hand.... great advertisement guys! xD
Don't watch it
It's a trap xD
Was this review helpful to you?