The website is currently undergoing maintenance. Sorry for the inconvenience.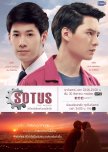 I find it distasteful to base a story on an actual issue. SOTUS is an incorrigible act of violation of a person's personal rights. Many have died going through it. I just feel sad that many young thais or even university students anywhere have to go through hazing. On that fact, I just do not understand why there are so many viewers who are not voicing this out.
However, to be subjective, the storyline is strong and the acting is on par. I am just worried that the romance that blooms out of SOTUS will make SOTUS an applicable and allowable act. Maybe they should think of changing the name for the second season and not make SOTUS as the frontal point of the series anymore. It would be good if they have a stronger anti-SOTUS storyline for the second series.
Let's remember those who fell by the act of SOTUS everywhere and May Karma return to all that have caused and still doing it.
#antisotus #goodseries #changethename
Was this review helpful to you?