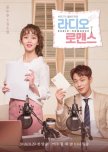 When you reach episode 6 of a drama and you tell yourself "It call only improve from now on" you know that the drama has hit rock bottom.
It pains me to say so because I love the cast. When I saw Sohyun, Doojoon, Yura and DongYeon I thought that nothing could go wrong so as to drop the drama.
The main problem of the storyline is that everything is too much, and it is difficult to follow the story without having a part of your brain yelling that this is too unrealistic to be believable. First the lovelines assemble all the cliches they could garner. You will find plenty of wrist-grabbing, of being stranded in a hanok and of fate connections. It looks like they threw all the ingredients of 2000s love dramas and let them simmer.
Another drawback are the mean/bad characters and how korean dramas often depict unfairness. Many situations are outrageous and unfair and all the mean characters are ridiculed or presented like psychos. This is also very reminiscent of older dramas. The writer does not take the time to show us why such characters are mean. This makes the situation unbelievable. Of course there sociopaths out there, but it is difficult to believe that they all decided to meet around Sohyun's characters.
The two main characters played by Sohyun and Doojoon are nice but overall they are also too cliches. Sohyun just receives all the unfairness of the world without defending herself. Even if I know that fighting back in the work place is hard in Korea, recently many dramas have showcased more powerful women and it is a disappointment to go back to the cinderella conundrum. Doojoon is the cold traumatised jerk who is in reality a nice guy. Again very classic. I really enjoyed Revolutionary Love is comparison because even if there is a poor girl and a rich guy (same situation to start with), both show strength of character and break through the usual cliches which is nice to see. Radio Romance if quite weak in comparison.
The one thing that is good in the drama, in my opinion, is the radio part. I was curious to learn more about the process of making a radio show and the drama shows it well. The most emotional parts take place in the radio station. It is really the best part of the storyline and it's a shame it is drowned in wishy washy romance and half-hearted drama.
Another good point are secondary characters that would have made exceptional leads like DongYeon and Yoon Park ! Such a shame that they are only used as a comic relief !
Was this review helpful to you?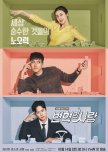 I started the drama with apprenhension as I though this was going to be again a classic poor girl and chaebeol drama. It is partly true. There are a lot of cliches in the drama (which are not so much cliches when you look at the korean news lately). You will find the psychotic father who uses his golf clubs to beat people up and believes that strength and corruption prevail over anything. You will find the son who craves for power and is ready to follow his cruel father's steps. But the cliches stop here.
The first thing to note is that Kang Sora's character is no cinderella and that she is aware of society's issues (Joseon Hell). She is not your usual wimpery female leads whom suffers injustice without complaining because she is a good girl. It is refreshing to watch a drama putting aside the Princess Sara syndrome. She takes on part-time jobs usually dedicated to men and decides how to deal with her life. She is generous and has morale principles she abides to.
Siwon's character is the rich guy. But he is not the arrogant, cold-hearted jerk featured in every drama. He is extremely naive but warm and good-hearted. Wrist-grabbing begoooone ! Here is a character that actually respects women and don't shove them to walls !
Both leads will evolve through the drama than to their interaction.
The storyline is rather classic but is also thought to reveal some society's issues. One of my closest friend is a Doctor in Korean labour law and explained to me that the situations shown in the drama are very common in Korea. For once, I felt that I had learnt something useful while watching the drama.
The music is excellent, I still listen to the OST very often.
I really enjoyed this drama ! Although it is not a classic, it showcases a sweet romance in Joseon Hell with accuracy and a lot of humour !
Was this review helpful to you?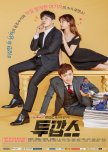 Two Cops
0 people found this review helpful
When I first saw the promotion for this drama, it didn't catch my attention. After all there are tons of legal and police dramas out there.
But I started it two weeks after it finished airing and was not disappointed.
The storyline is interesting and original in the sense that it uses mechanics we are familiar with but in an original way. Lately fantastic dramas are all the rage and of course, we have all seen dramas where bodies are switched (Secret Garden and Oh my Ghost with Jo Jeon-Seok himself !). But here, switching bodies adds to the personal story of the characters (their fate) and allows to unlock tricky situations in the police part of the drama.
I love how the love story is not prevalent but blends naturally with everything. The plot is well construed even if there are some inconsistencies.
The only drawback is the music which is really forgettable.
Was this review helpful to you?