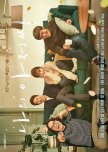 My Mister is about life. The sad and harsh truth which is life.
The message My Mister wants to tell is that even though life is this difficult, everyone can succeed and find a way to be truly happy in life. The perfect MC for this is Ji-An who lives a life which probably couldn't be any more difficult and cruel. We follow her steps into what is called "life" and uncover many lessons to be learned.
Another masterpiece, and ranked No. 1 on MDL, by director Kim Won Suk, who already followed his principle about life-telling stories in Misaeng (2014) and who is the director for the 2nd highest ranked drama show on MDL - Signal. He clearcly does his job right and I will be looking forward to future works of his. IU and also Lee Sun Kyun are doing wonderful jobs acting in My Mister and several of the supporting actors and actresses are doing an utmost, perfect job and are fitting right into this setting and story. My eye personally stuck to two here: Song Sae Byuk as the youngest of the three brothers aswell as Oh Na Ra as the bar owner Jung Hee. Both of these characters go through each their own struggle themselves and they are very charming. I don't know what I could add to other reviews here, but IU and Lee Sun Kyun are perfect in this drama and no one could have fitted the roles better than they did. They make a very charming and real relationship in front of the camera and give this story the kind of meaning it deserves. This might easily be the best acting IU has done so far and I hope she will continue her road of success - she truly deserves it.
More in-depth review: https://youtu.be/GChUsqdgKpE
Was this review helpful to you?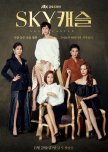 This review may contain spoilers
Sky Castle = (Korean) Life
The story told in Sky Castle is by far one of the most cruel and realistic ones that can be told. It's all about how the korean "high society" live their lives of trying to get their kids to the best university possible, make them doctors and what not and just force them to study until they die basically. They go to lengths, just to accomplish their goal, that are unheard of and should never be ignored. I think this drama has one of the best stories out there and the plot develops in such an unpredictable and harsh way that you sometimes are annoyed at humans just because you can imagine that what you see is probably really happening somewhere in the world. Something that no human being should go through - in the past, present or future.
The story is insanely well written and directed, nonetheless what really seals the deal for this korean drama is the acting and just the cast in general. I don't think there is a single actor or actress that did poorly in this show. Even all the side characters, the kids and what not have been a fabulous way of portraying their character in the most accurate and perfect way you could think of. They are not just acting their characters, they're living them. I especially was very fond of a few here: Oh Na Ra, as she was really really good in My Mister already and I loved that show to heaven, Lee Tae Ran as Lee Soo Im just acting her ass off and Yeom Jung Ah, Yoon Se Ah and also Kim Seo Hyung just being what their characters are best at. I really enjoyed Kim Bo Ra as Kim Hye Na and Kim Byung Chul as Professor Cha aswell. There were many others who could and should have been mentioned as fantastic actors and actresses but I can't talk about them all.
The music is also very fitting and there's always this one main theme called "We All Lie" playing in crucial situations, mainly the ending of episodes, which is really just taking over this show. At the start I couldn't really feel myself into the lyrics that much, but it got more and more fitting over time and I sang along a few times in the last episodes, especially when it really hit me hard in terms of story. There are many upsetting pictures and scenes in this show, where I was just really starstruck and upset about everything in life - I was thinking "How could they even do that?". It just adds to how well done this drama is. I really need to watch some behind the scenes stuff now though, since I really can't cope with some stuff that happened to a few characters.
One thing, I guess you could call it a flaw, though is: what happened to the real killer of Kim Hye Na? That security guard? He just wasn't mentioned anymore at all and it's a little weird. He was surely not important for the story but it's kind of a plot hole you know. Also I would have really loved to see Young Jae and Ga Eul reunite at the end. That was something I longed for a while and it made me sad that it only kinda happened in our imagination.
Even though, this drama is for sure a 10/10 and worthy of being called a masterpiece. It's nothing short from that and everybody should watch this show for sure!
Was this review helpful to you?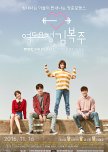 The story around Kim Bok Joo and Jung Joon Hyeong is one of the more heartwarming romance stories in the kdrama-Universe. It's very enjoyable and fun to watch it develop and even though there definitely are conflicts, especially early on, you never really feel annoyed by anything like you do in most other romance shows. There's always this one antagonist character that you really hate and who develops into someone likeable throughout the show, who actually didn't mean any harm as you suspected early on. That type of cliche character is very common in romances and used often. Not in WFKBJ though, they just build all their story on this happy, heartwarming ground they got going on with super loveable characters and actors/actresses behind it.
There's not much more to say. If you like heartwarming and feel-good romances and also like the premise of sports stuff happening as a "side dish", then Weightlifting Fairy Kim Bok Joo - or in short WFKBJ - is definitely for you. I don't know if there's that much of a rewatch potential in romance shows, so I kinda rated that a bit low. The music was fine but not overwhelmingly good.
Was this review helpful to you?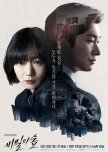 Stranger
0 people found this review helpful
This review may contain spoilers
Stranger is strange, that is certain.
The show is heavily, who am I kidding, MASSIVELY driven by the story. It's actors are good and surve the purpose, the characters are there and exist yada yada yada. But without the geniusly written story and complex development it experiences this show would not work.
That said, I personally am someone that needs strong characters, character development and good acting. Was it missing here? Not at all. The actors were all so good, that they delivered the story elements perfectly and every character had a very deep and complex story him-/herself. So why did I give this show not a 10/10 or something close to that but instead "only" a 8,5? That's because they kind of wasted their potential here a bit in terms of even further, deeper and overall better character development. They only scratched the surface on what could have been the right path to a masterpiece. All of the set up there is for Shi Mok and also his relationship with Yeo Jin just blatantly gets thrown out of the window for story purposes. I'm glad I watched this show when I already knew, that there will be a second season. Because this makes me hope, that all this set up wasn't for nothing and they actually focus on it more in season 2. I strongly believe that at least the two main characters will actually experience this severe development I strive for, because Shi-Mok showed signs of his development he made in the last scene of season 1. His smile told me, that in his 10 months he has been doing SOMETHING to express some emotions, sort out his thoughts and stuff like that. I just hope, that the showrunners will not ignore the huge potential the relationship between Shi Mok and Yeo Jin has in season 2 once again. Even though the story will probably be genius again and I will fully enjoy myself because of that, I will most likely not forgive the writers and directors for not making this small step to complete the masterpiece Stranger should be.
More in-depth review: https://youtu.be/p3OXEj-RdyY
Was this review helpful to you?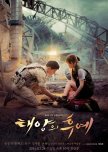 What is wrong with Descendants of the Sun?
This main question is what I asked myself many many times throughout watching this title. I really don't know. Even after finishing it, I still don't know the answer to it. The acting is really good, especially from the two main actors - the *prior to 2 days ago* popular SongSong couple. They are both very charismatic and do a good job. The story is interesting and unique. It plays at many different locations and never uses one for too long. Yet I somehow didn't get emotionally attached to this show as I would with many other shows. So why? I think the answer lies somewhere in the script writing and directing department. Even though the story is good and suspenseful and the actors are doing a good job "playing the story" they somehow fail to connect to the viewer on a deeper level. It's like they are playing the script for themselves and are playing emotional for themselves - not to appeal to the viewer aswell. It's a weird scenario I've never been in with a show, period. Not even on the american market.
Descendants of the Sun is a show with a very large potential but sub-par result at the end. Mainly due to just overdramatizing many scenes at the start and building up a "fake hype/drama" around the main couple. It was fine that the "I don't want you to leave me and how can I handle this" type of scenario was used once or twice, but they re-used it so much, that it actually got too obvious that it's just for the sake of drama. It kinda got unrealistic or unbelievable from the point of view of the viewer at that point. From that point on you would just not care about the effort the show would make to make it up to you as a viewer because you already were so frustrated that you couldn't care less. This is really sad in my opinion, because especially the main actors but also Kim Ji Won and Jin Goo did a wonderful job and it all got thrown overboard for the sake of an unrealistically high drama dose.
In the end, Descendants of the Sun re-uses this scenario once again and just makes you suffer one more time. So there isn't even an ending which would make up for this. There are slight glimmers of hope here and there, where you can feel happiness from watching this show, but it's really just for small things and not the two main couples, where the focus is mainly on and where it should have been done more right. I just can't give this show a 8/10 with the way it evolved.
More in-depth review: https://youtu.be/BgzK2_g82Rw
Was this review helpful to you?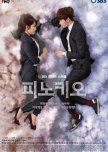 Pinocchio is a nickname for the character this story revolves around.
Choi In Ha, acted by the unbelievable Park Shin Hye, who did a fantastic job in this drama, is a person who can't lie or else she has to hiccup. A very unfortunate feature, so it seems. Yet, she strives to be happy in life - just as much as anyone else in the world. When she crosses paths with Choi Dal-Po, her same-aged uncle, her life story changes drastically.
Pinocchio does a wonderful job of depicting what it's like to be controlled by the media and how everything works behind the scenes when you are a reporter. It clearly shows the scary side of media on a whole other level. Pinocchio itself has a very complex and weird-structured story. Even after finishing the drama, it's not 100% clear, what the red thread throughout this story was and that makes it very enjoyable to watch on the one hand, but it also makes you a bit confused and worried at times.
To highlight outstanding acting performances, I clearly - as I already hinted at - have to point out Park Shin Hye as the main anchor point of this story. She just depicts this character perfectly and her acting the hiccuping is so real to a point where it's scary that it's only acted. She couldn't have done this better and it's definitely her best drama act so far. Lee Jong Suk is very strong here, as usual, but I think he got outshined by Park Shin Hye a bit. Talking about the supporting cast - very well acted were the roles of Jang Hyun Gyu by Min Sung Wook, as the crazy nitpicking reporter who just has the most unique humor ever shown in a tv show period, and also Yoon Yoo Rae played by Lee Yoo Bi (I know she is listed as a main role here, but I wouldn't call her that), who supported especially Park Shin Hye and Lee Jong Suk perfectly. These two actors made side stories impactful and enjoyable as no other and I can't think of any better choices of well-acted roles than these two and Park Shin Hye.
I overall enjoyed Pinocchio quite a bit, but let me warn you: The first 3-4 episodes are weird and misleading and you might actually get annoyed by some story twists here and there. Also by one or another character - so bear with it. It only get's better from there. Another critique point of Pinocchio could be the awful depiction of tears on the actors and actresses faces'. I'm not sure if I ever saw any worse job done than here and even though that shouldn't keep anyone from watching this great show, it could get you annoyed sooner or later, since it's being used quite a bit and just doesn't look even close to real. For me, Pinocchio get's a 9/10 or 9,5/10 score - depending on what I decide on in the next few days - I have to let all this sink in a bit more, since I watched this drama in less than a week of time span and just finished it now.
More in-depth review: https://youtu.be/oLiyySnTP90
Was this review helpful to you?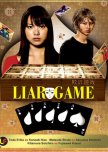 This review may contain spoilers
Liar Game is a relatively short drama with effectively 11 Episodes à 35 minutes runtime. It basically amounts to 5-6 episodes of regular korean drama lengths. This means, that your time investment in this show isn't as high as for most other dramas. Taking that aspect into consideration, Liar Game is a successful show in giving you the enjoyment for your invested time.
The story is innovative, but lackluster. It has nice mysteries but definitely isn't groundbreaking in this aspect. For all ya'll folks who watch anime, you know what I mean. There are titles such as Akagi or Kaiji and they clearly surpass this type of story depth. Now that we've talked about the story strengths and weaknesses, let's focus on the main and best point about Liar Game: the acting. Especially Akiyama (Shouta Matsuda) and Fukunaga (Kousuke Suzuki) come to mind as being greatly presented. Hasegawa is another strong point in the story aswell as being well presented by the actor Kinya Kitaoji. On the other hand, there is one big weak point in this and sadly it's the main actress of Erika Toda representing Nao Kanzaki. Her character, which can easily be put in the jar "useless as it is", mainly meets one purpose: Representing the "dumb" and inexperienced viewer in this story so the writers can easily combine these two parties and give the viewer an "identification person" in this story. As many other shows do this, this doesn't seem that stupid at first, yet Erika Toda acts this so poorly and the writers especially lack using the key point of identification, which this character brings. All this leads to it being very frustrating to watch this drama all through out and even if the viewer doesn't understand every single aspect of the mysteries and puzzles presented, he/she can be sure that Akiyama will come to rescue to save the day and that Kanzaki will never once solve anything by herself. Except one example in the revival round, where she finds a way to make everyone happy, Kanzaki clearly lacks intelligence and empathy for her situation she is in.
Therefore, if characters are really important in a show for your own enjoyment, i suggest NOT watching this drama. If you can easily oversee stupidity and naiveness over and over again without any learning done by the main character aswell as her poor actress representing her, then go ahead and enjoy the about 6 hours of 7,5/10 story.
More in-depth review: https://youtu.be/foNCXs6o2x0
Was this review helpful to you?