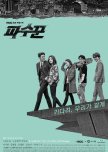 The Guardians. WHAT a show.
Straight off the bat, I fell in love with my usual favourite character. The smart-ass, hysterical and weird one.
Oh and then I fell in love with the badass mum who can do anything she puts her mind to, thank you.
And then the .... I'll stop.
Strong female lead? Quad-ripple check.
Now, yes, there are some predictable moments, but they happened to suit my taste, so they never bothered me.
What a story, a twisted, in depth look of means and justice, what's wrong with how we've built judicial systems in modern society, what it takes for innocent people to stand up to those who ruined their lives for no reason, and the impact that cruel people have on innocent lives.
All the main characters have been mistreated by the justice system, had horrible things happen to them for no reason but the ruthless actions of people in higher power.
And we get to see the toll it takes on them, giving up their previous lives as they're forced to live on, and turn their energy into obtaining their justice, working together to achieve what they'll fight so hard for.
Acting. Brilliant. Key, special shoutout, did an amazing job as Kyung-soo and brought so much depth to the character.
But. Kim Young Kwang stole the whole thing.
With the opportunity to showcase everything in his acting, with such a diverse, 4D, more like 12D, character, he displayed the themes, and depth and message of the drama so brilliantly, and though, unlike many, I never disliked his character, the plot and his development of his character will have you twisting and turning through genuinely questioning motives and means.
Is giving up on the system you work for, going on the run, really the thing to do? Not even Soo-Ji knows, but it's what she does.
You follow these characters as they press forward after having been through events so traumatic that many would have lost their own will to live. They are all strong, there are no useless characters, no weak moments, no relationships shallow.
There are also no stupid moments on the antagonists' side, it's a high-stakes, one slip up and they're onto you environment, you really don't know at any given moment how it will turn out. And boy....
It really IS the perfect drama for me, as it has all the tropes I like and some of my favourite types of characters, but it's also so deep and packed with so many details that you can't blink if you don't want to miss them, there's that many.
The action scenes, while a lot to look at, and tense and dramatic, were never over the top to the levels that other shows would take it.
The feats that seem a little far fetched are only ever performed by people who had training, beginners can't fire off a gun, they have to figure out another way to achieve their goal with their own skills.
Was this review helpful to you?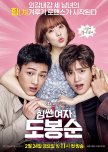 While this drama definitely isn't for everyone, if you want a mystery, action, romance, comedy with an overly extra male lead and a badass female lead, then this is your drama!
The leads are hilarious sometimes and super badass at other times, Bong-Soon has a cheeky, warmhearted yet tough personality. Min-Hyuk is brilliantly cast and is a strange yet entertaining combination of child-like energy with lethal intelligence.
It's a long drama, with 16 hour-long episodes so there are plenty of sub-plots and relieving moments from the darker tones.
None of the leads throughout the drama do anything unreasonable or spontaneously out of character, the sweet Bong Soon is always a brilliant character to watch.
Was this review helpful to you?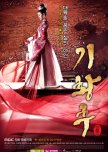 Empress Ki captured my attention because of the two lead actors. (Huge fan) The music, scenery, acting and costumes are amazing, as is the characterization and humour.
Yes, I first though it was a bit long, and I think that had they dropped a little of the wash, rinse, repeat it cold have been shortened and it wouldn't have drained me to watch.
It's true when reviews say that you never get a break, and I'm so in love with Ki Yang, a super strong woman who is capable and true to herself.
What I didn't like about this, and what made me drop it, is the strange way in which the romance is written, to the point where the couple I loved (main couple, lead couple) just didn't seem to develop properly and there were too many dramatic plot points that happened earlier on for me to be able to see it so believingly.
There are characters you'll want nothing more than to go away, but not because they're annoying, but because of their performance, the actual characters themselves you want to leave, and let the leads be in peace.
There is a moment about halfway through the drama that is quite epic and powerful, and I was really impressed, but then the writers chose to go with a dramatic, so much of a coincidence it's not really believable, trope, and that was when I started to lose steam with my enthusiasm for the story.
This was a personal choice and, as a writer, I found it a little too unbearable to entertain, and when the cycle of defeat a plot by the evil man just kept going I found I couldn't watch any more.
BUT, although it turns out this drama wasn't for me, it's definitely a well made, impressive and captivating drama, especially the first half.
So see if you like it, and you'll probably find, if this is your genre, that you will.
Was this review helpful to you?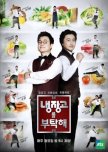 Looking for absolute hilarity, banging background music, creativity, education, wisdom, your favourite actors and idols (shoutout to Taeyang and GD's episodes!), and a chill time? Seriously, look no further than this masterpiece.
The premise is simple. Two guests bring in their fridge, or its contents, to the studio where four chefs will have two matches to see who can cook the better dish for the guests' tastes using ingredients only from their fridge. Within a fifteen minute time limit. Yes, it gets hysterically chaotic.
There's the hilarious Kim Poong, webtoon writer turned chef and the kind hearted "Grand Master" Lee Yeon Bok who took him on as his apprentice.
Yeon Bok is my favourite, with recipes that leave my mouth watering every time and skills that make even the other chefs fear taking him on each week.
Close in second is Choi Hyun-Seok, a cheeky chef from whom stems a seemingly infinite well of knowledge, skill and weirdness. He boasts and bluffs, but in the end we all know he's making fun of himself. And it's unbelievably funny.
With hilarious MCs, some truly creative and delicious recipes and displays of skill that will make your jaw drop, if you've made yourself a delicious dinner and want something to sit down and watch, it's perfect.
You learn so much form these amazing chefs, and have a great laugh every time as the chemistry from them bounces around the walls as their enthusiasm creates insane energy that will cheer you up, no matter your mood.
I cannot stress just how awesome this show is.
It is NOT your average cooking show, believe me, and if you've never once thought to sit down to an evening of "Master Chef" or "Bake Off" or Such and Such's tour of Thailand, don't include this show in that genre. It's in a league of its own.
Was this review helpful to you?