The website is currently undergoing maintenance. Sorry for the inconvenience.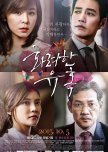 I live watched this, I found it that addicting. Like most longer dramas a few episodes are dedictated to the childhood/teen arc before getting any momentum going. When the adults come in and then the initial revenge starts, the drama starts to get exciting. Then, there's a very hot kiss that starts the drama's downfall and it leaves you wondering what's going to happen to our leads. You wonder if the writers got confused or they caved into netzien complaints. They didn't go as dark as they needed to with this and it also seemed as though they gave into viewer demands because Grandaddy was too hot and it unnerved some of the viewers that the relationship didn't seem gross; and they try real hard to push it this way towards the middle end.
Good, cause for revenge. The plan is no real plan, but, its fun anyway, until she  gets the help that isn't any help at all. Rather the helper mucks it up to the point yu wonder if an actor's ego was involved.
Second lead guy and girl are crazy and self centered. Anyone in business, law and medical fields be prepared for laughs.
The PollyAnna doormat lead actually buys a backbone in a tube of lipstick.
After the drama aired, an off-screen relationship was mad public and I realized this is what screwed this project up royally. Because the timeline fits exactlly when the handfuls of suck started to be dolled out.
I wouldn't watch it again, though I admit when it aired I watched episodes multiple times. But, I would recommend as an okay 'between your other drama watch', meaning if you need something to fill time between the days yourother drama airs, watch this.
Be prepared to be mildly disappointed. And I say mild because a few episodes after the kiss you realize you're watching just to see how it ends.
I loved the instrumental OST, hated the Steel Heart song, gawd that song was so horribly out of place for me.
I rated it a 7.5 because there were episodes and parts I rewatched, though I would never watch the whole drama again. Mainly because this is a drama I didn't FF through parts, I watched every episode. So it gets a 7.5 because of the actors doing the best with what was given. And too the actors that ruined this by possibly making the writers work around your relationship, ya'll suck; congratulations on your marriage. They can tell the grandkids they ruined a drama because they didn't want to see each other kiss others.
Was this review helpful to you?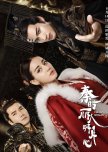 I'm not going to lie, I dropped this drama somwhere in the last 10 ep, when I realized I was watching a wash and repeat of the same self-inflicted angst caused by our pouty king.
 If you're a fan of this genre and are immune or enjoy endings that are meant to piss you off, this is the one.
 If you are new to this kinda stuff, don't feel guilty ff through second lead jerk-face's scenes. You'll still get the idea of what's going on Ff bith hs scenes and what I call "The bad people plotting/doing/discussing the bad things'. I swear the second leads story arc despite the head-scratching simple conflict of the OTP, is the weakest and somewhat unnecessary part of the show.
I found it evtertaing until a certain point, then I just wanted to know how it ended, which as you either know or will find , a lot of stuff is given in the open/ending credits.
I wouldn't watch it again and would only recommend to the male lead's an without reservations. He did look good in this.
Other than this, I wouldn't recommend this drama to those new to historical Chinese shows, under any circumstance. 
Was this review helpful to you?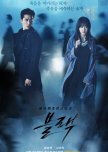 Black
1 people found this review helpful
The story is okay, OST is okay. The ending makes you question why you liked it.
Maybe SSH had this written into his contract. 
"The ending has to be vague or, suck altogether. Oh yeah, and let's have Halloween-Christmas because, Why not? 
I want my fans to prove they love me for me instead of my work, just like Lee Min Ho. 
Come all my pretty lemmings and I'll show you a cliff. Bwahahaha!"
Don't watch the last 10 minutes of the final episode and you'll be better for it.
Was this review helpful to you?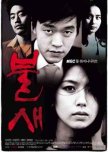 Phoenix
0 people found this review helpful
How can 26 episodes seem like 100? This felt like a daily in disguise. Play a drinking game for everytime someone threatens to break up.
Yes it's entertaining, until you realize that some of the roadblocks (Mi Ran) could've been easily dealt with.
I mean who lets a crazy woman have keys to their house? It is also a good example of how not to treat a mental patient that so obviously needs help.
I woudn't watch it again and would warn others to not feel guilty about FF through parts.
There were other storylines besides our love triangle but, I honestly don't remember what happened with them or the names and I just finished the drama after watching a second time. (I couldn't remember watching this drama and had to satisfy my curiosity as to why)
Was this review helpful to you?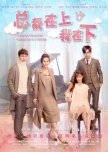 I loved this drama. It's a complete hot mess from the very first frame and continues without any hope of getting better.
And this is what makes it awesome.
Main lead dude is cray-z for no reason and then chooses to be crazy because he knows his love is crazy.
Lead doormat, well, maybe you can find why these dudes were nearly killing themselves and each other over her, because I didn't see it.
Has a second lead that you root for, then you just want him to die.
Why does anyone still listen to a second lead female after the betrayal train.
For Point of Reference.
The writer must've studied Thai Lakorns and forgot to add a wack gun fight or the wedding that hell built,...oh wait...Just kidding, maybe.
I would watch this again and again.
Was this review helpful to you?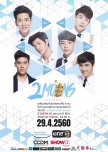 Who didn't like this?
Cute cast, great story, and it's flaws you'll overlook.
Don't watch if you aren't into BL or don't approve. It's not for you then, accept it and move on.
I rated high, because I've watched it more than twice and would recommend without reservations.
This drama has moments that'll make you cringe in a good way. It'll mske you cover your eyes and then watch the part you just hid in cringy awareness from.
You won't  be disappointed.
Was this review helpful to you?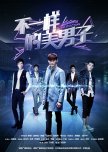 Look. This drama is what it is and knows it.
Don't take it seriously and you'll find yourself entertained.
Gui Gui plays Gui Gui as only Gui can do. (She's so cute).
Zhang Han plays Zhang Han like he does in just about every other show he's in.
Watch it because you want to see these actors in nonsense that make sense when you know you're watching nonsense.
This is Boys Over Flowers meets the Power Rangers and makes a drama trope cupcake with whipped cream and sprinkles.
Would I watch it again? Yes, but, I'm not bored enough with my life yet.
Would I recommend it to others? Yes, with reservations, because it's a hot mess and it knows it. A good drama to watch with friends.
Rated a 7 for entertainment value alone because even the boyfriend got into throwing popcorn, making the case for a romance switch among characters and yelling "Oh my Gawd". He even had found the decorations for these so-called grown men's bedroom up for debate.
Enjoy!
Was this review helpful to you?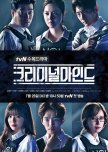 It's an okay drama. Something to watch to pass the time, like finding one of those random shows on Netflix, because you have a coupla hours to spare. Draws you in the first handful of episodes then, drops you in a mildly entertaining barrel of suck...and you'll still watch.
Would recommend for those in between dramas or want to take a break from the regular fare.
I would not recommend to those new to kdramas.
Not worth rewatching, unless you want to see our elf prince in regular clothes. Great ensemble cast. Just wish those who were meant to be badass actually got to show more than once.
Was this review helpful to you?