First of all, I watched all the anime episoded and movies, I read the manga too. And I love this show! It's awesome, and I don't even care that they changed the storyline a little bit. The actors did a great job, I absolutely loved Kubota's Light, Yamazaki's L and Yuki Mio's Near. Even Sano's Misa was good, better than Toda Erika's in the movies.
I liked how they changed a few things in the show and showed us another version of DN. I didn't really like the anime or manga, but I love the show and the movies. And even the CGI was great, much better than what you see in the Hollywood movies.
There isn't a single thing I didn't like here, everything was in it's place perfectly. Although I already knew what will happen in the end, I was shocked. The final episode was the BEST I think. But that's my opinion.
Was this review helpful to you?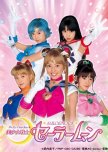 I met first with Sailor Moon anime when I was in high-school and I loved it. So when I saw the live-action version, first I was a little bit shocked, but I didn't find it so bad. The transformations and the animated cats were a little bit strange, but I found them okay.
The acting is quite good, and I love how they changed the storyline too a little bit. My absolute favourite here is Sailor Venus, aka Aino Minako, but I love Dark Mercury and the Shitennou too.
Was this review helpful to you?