The website is currently undergoing maintenance. Sorry for the inconvenience.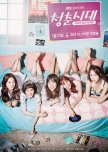 This drama surprised be quite a bit. It almost came out of nowhere and I was expecting a vastly different drama from the premise. But what I got was so much better and before I knew it I was completely hooked. I waited for each episode with great anticipation, which is always a very nice feeling.
It is short for a kdrama (only 12 episodes). But still manages to tell a good, well-fleshed-out story. It is all about friendship and fighting the ghosts in your life, together or alone. No matter in what shapes as sizes they come.
There is a scene at the beginning of the drama where Song Ji Won tells the other girls that she sees ghosts. And there is a ghost living in the closet by the door. All the girls ghost interpret in their own way and it gives the show a bit of a gloomy atmosphere.
It was not always easy to watch , since it became a lot gloomier and darker than I expected it to be. And at times I did feel like it was trying to hard to be that way. But it was still always grounded in reality. And there are also many light and funny moments between the gloomy bits. As well as very heartwarming moment between girls, and other characters in their lives. I felt like the drama did manage to strike a good balance between all these different moods.
The relationship between the girls is so well done. It felt real. they care so much for each other. Even if they all come from different places and all have vastly different personalities and different problems to deal with. And they mesh very well together, most of the time. But they also argue a lot. Each of them gets their own part to tell their story. Although some girls get a heavier history than others and are therefore get bigger story line. Which is something the production could have balanced better.
You can yourself a bit in every one of these girls. Or at least empathise for them. But at they can annoy you as well at the same time. Just like real friend do. None of them were one-dimensional in any way, since they all got a time to explain their side of the story. I felt for these characters and I loved them all. I could put myself in their shoes. Although I had never experienced most of the things they were experiencing.
The girls were the centre of the story and nothing else. Not even the romance, like I thought it would be at first. Since I thought it was about a youth drama all about campus-romance. But instead I got something much better. The romance was a big part of the show, but the drama was not about finding a boyfriend.
The romance was both sweet and cute, and sometimes a little sad. But it isn't the centre of things. The drama is, for me at least, mainly about friendship and growing as a person. But it manages to be really good a mix of all of these things.
It's rare to get a kdrama like this one, where we get to follow five young women and their lives. And this is entirely about them. The rest is just extra. It was refreshing. I felt like this show was made ??by women (although the director is a male), about women, for women.
Was this review helpful to you?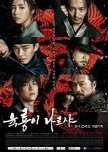 I did it! After having finished Empress Ki in 2014, now almost two years and 17 dramas later, I have finally finished another big Korean sageuk drama. Me, who sometimes can't even finish a 16 or 24 episode drama. But this one was just awesome.
I had my doubts at first. The first episodes was a bit of a rocky start for me and I had never managed to finish a drama by these writers before, but boy did this drama prove me wrong. I do not regret setting out on this journey now.
It is very difficult for me to give anything 5 stars or 10 out of 10. No matter if it is a book, a tv series or a movie, because nothing can be perfect. Now, Six Flying Dragons is not a perfect drama, but in a way I would like to almost give it a perfect score. Because it was that good.
And one of the reasons why I want to give Six Flying Dragons 5 stars is because I can almost not find anything negative to say about it. It did almost exactly what I had expected and hoped that it would. Throughout these 50 episode. the story itself never seemed to disappoint me. And I can understand almost every decision the scriptwriters did.
Unlike Empress Ki, which was long, but entertaining drama I never thought that Six Flying Dragons felt that long. I was always as excited to get new episodes every week for over 6 months. It just always so consistently good and there was always something exciting happening. Even if the story is so political and has a lot of old men sitting at a table plotting something against each other. It is also so much more than that.
There was also not that much of any love-lines in the drama - though there is nothing wrong with romance - and there is some of it within the story. But it's always pretty much in the background and not overwhelming the main story, which I appreciated. Because that wasn't what story was about.
Most of the episodes are very exciting and there is plenty of great fight-scenes and plotting to keep you engaged. All of the battle-scenes in this drama are pretty well executed and cool to watch. And the costumes were also very pretty. That is one of the things that I judge a good sageuk on and Six Flying Dragons has all of that.
Sometimes I feel like this type of dramas is only as good as it's fight-scenes and Six Flying Dragons is totally awesome when it comes to that. But Six Flying Dragon is also so much more than just a drama with good-fight scenes.
Empress Ki for example was much more soapy than Six Flying Dragons - and no, that isn't a bad thing, because I love soaps - but Six Flying Dragons is more of a political drama, and, in a way a rather human drama. It is darker and grittier - and bloodier - and we just get more of that as we descend further into the drama and Lee Bang Won get's more ambitious. And it is amazing to see that unfold.
I feel like 'epic' is a good way to describe Six Flying Dragons. What really stood out for me when it comes to Six Flying Dragons is the story itself. How it was executed. How well written it was - as well as directed and acted - and how the plot unravelled. It was kinda unpredictable, even if it is based in history. And the scale of it was amazing. You could tell that there was a lot of time and effort put into it.
It was not just absolutely stunning visual wise but scriptwriters seemed to know their setting well. They also seemed to know where the story was going. They never lost steam and there were no unnecessary fillers or anything like that.
The drama kept me constantly on my toes by what was happening, and they were usually always one step ahead of me. Which is incredibly fun as a viewer. It was nether too slow or too fast - which was something that I did worry about at first.
And most of the characters were sort of in the 'grey area'. None of them were that simple, or totally good or totally evil, which was great. They were just human, just like the drama is human. There might be some character that I wanted to be used and explored better, like Min Da Gyung, Lee Bang Won's wife. But you can't have everything, I guess.
The character start on one team and then change their allegiance. They work together and then work against each other and use each other for their own gain, ect. I was impressed with it, and how it gradually went darker because of it. It worked it's way to it. It earned it's darkness, and it paid off so well.
Was this review helpful to you?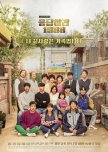 Started off super well. Then it started to decline in the end. Still, this franchise continues to do what it has been doing for years now. It is still all about the nostalgia of the youth - and the people - in Korea during the time-period that the drama is set it. It still manages to make me feel very sentimental and nostalgic for a period that I didn't experience on my own - being an Icelandic girl born in 1991 - and the approach of the material is still very mundane and raw.
TvN know what works when it comes to this series, so changing that formula - as well as the who-is-the-husband-baiting-plot - isn't probably that high on their list. Still, the Reply franchise is honestly not like any other drama series in terms of friendship and family-relationship. Or at least not out of all of the dramas that I have watched.
In some aspect I found I think this series - the third series of the Reply series - to be better than the second series. It is just as long as the second one - with 20 episode per series and about 90 minute to almost two hour long episodes, twice a week - but it didn't feel like it dragged as much as the second one did. The episodes are all way to long, but then again TVN isn't always about quality over quantity when it comes to this show. But I still found myself having fun watching them.
Some things really are just unnecessary fluff and fillers. It is just that I didn't mind most of that unnecessary fluff and fillers. I got a lot faster frustrated with them in Reply 1994 than I did in Reply 1988. It didn't go on and on and on about the love-triangle, since it focused more on the other relationships of the other characters.
Sure, both Reply 1994 and Reply 1997 focus on the friendship between the main characters and their friends and the family-bond that exists there, but Reply 1988 does a bit more of that. We get to explore all of the families on this one street that Reply 1988 takes place, which gives us more stuff to watch over the 90 minute episodes.
Much more than in Reply 1994 at least, where all we had was the family and friends of the main girl and guy. So more time went in baiting us with Chilbong and the love-triangle. Reply 1988 is the drama that feels most like a family drama in the Reply series and that is one of the best assets of Reply 1988. Seeing them all move away, after spending so much time together, at the end was very painful to watch.
There is a lot of baiting in Reply 1988 with the love-triangle. But it felt more similar to the baiting in Reply 1997 than in Reply 1994. Just a whole lot more mellow than in Reply 1997. There was a lot more happened in the love-triangle there. Here we just had two guys pinning after this one girl and never really doing anything about it. They really could have done a better job with it. Sometimes it felt like they were taking some time that they could use on that on some cute, fluffy, filler with the other characters. Like Jung Bong and Mi Ok's relationship.
In the end I felt very indifferent toward the love-triangle. Which makes one of the main points of the drama - the husband-hunt aspect - kinda pointless to me. They should have made me care, but since no one really did anything, then I couldn't really care less about it.
That made the Reply 1988 drag a lot toward the end for me. Sure, I didn't feel like they were milking the story as much as they did in Reply 1994 and I didn't feel as soon frustrated with Reply 1988 as I did with Reply 1994 - but Reply 1988 didn't have Chilbong - but it still left me a bit unsatisfied. She is in some way better than Reply 1994, but not nearly as good as Reply 1997 or as good as it could have been.
I also feel like I care more about Reply 1997 and Reply 1994 than I do with Reply 1988. It pulled more at my heartstrings, despite it all. Even if I felt like Reply 1994 dragged on for way to long and milked it's story for it popularity - all of the Reply series do that to certain extent - and Reply 1988 told a better overall-story. I just cried more during the first two series.
Not to say that Reply 1988 didn't make me cry, because it did. The Reply series is made for sentimental and nostalgic-loving people like me. Of course it is going to make me cry. All of the warm-family stuff tend to get me teary-eyed. It just didn't make me bawl my eyes out as much as the other two did. Maybe because I started to feel a bit indifferent toward some of the stuff in it. And the episodes could be a bit - OK, a lot - shorter. Reply 1997 was the best, when it was just 45 minutes per episode.
Was this review helpful to you?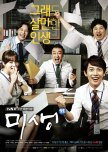 I mostly watch rom-coms and period dramas so Misaeng was at first not a drama that I had too high expectations of and I was just going to check it out because I liked some of the younger actors there and I read that the person who wrote Arang and the Magistrate was writing it or adapting it to the small screen and I liked Arang so I thought I could at least check it out.
Misaeng really surprised me. The story itself doesn't sound like my cup of tea or that exciting and rather "ordinary" and ordinary isn't always what I am looking for in the tv programs that I am watching but it pretty much just won me over at the first episode. It was fresh, it was sort of fun and sort of heart-warming and I think one of the charms of Misaeng is how ordinary it feels. This is just a drama about everyday life almost.
There is no over-dramatic plot, there is no romance in it or anything like that. It is sort of just very heartfelt, heart-warming story about this ordinary dude that is just trying his best to get his feet on the ground in this new environment that he is in. It is done very well, it is written and acted very well as well as directed and it manages to speak to people and connect to them since it is so easy to see yourself in these characters, even if you haven't experienced what they have or are experiencing.
I really feel like applauding the writers and the director and everyone involved with this drama, as well as the manhwa author for thinking up this story since it really was just wonderfully done from the beginning and until the end. It really is the best drama that came out in 2014 and it is one of the dramas that I have enjoyed the most while watching it and I was never expecting that when I first started to watch it tbh.
I have mentioned that I thought Misaeng was fun to watch but it also sort of wasn't, since it was quite heavy and I don't think many people are just watching it for some entertainment because some of the scenes and themes in this drama are so heavy and make you feel quite sad while watching it but in a good way. There weren't that big dramatic scenes but it is quite intense at times and so heartfelt in its delivery and the characters are amazing that is becomes sort of amazing and you are willing to watch these heavy scenes.
The main plot is almost just seeing these people interact and seeing the newbies trying to find their place in the workspace and seeing them fail and succeed at it. It has bosses that aren't so good and bosses that are so nice and it talks about stress and tension in the workplace as well as misogyny and the question whatever you will become a permanent worker there or not and that maybe doesn't sound that dramatic for a drama but it is very interesting, intense and realistic and we really didn't need to have a bigger plot than that.
Like I said, that can be a bit heavy but there are some lighter scenes in between these heavy scenes and while they don't really hurt as much in a good way but they make you feel a bit better and make the tension go away fro a little while. Some of my favorite scenes in this drama are these more lighter scenes, where we see the characters growing closer and working together.
The friendship that bosomed between the newbies and the sales team nr. 3 was one of the best things about this drama and it both broke my heart and glued it back together at one point or another in this drama. I just want these people to be friends forever and the thought of that not happening was sometimes unbearable.
Mr. Oh and Geu Rae are the most popular ship or relationship in this drama, which is completely understandable and they are so sweet together, as well as the friendship that slowly grows between the newbies at the workplace. I also really really liked how there were no love-lines and there is no second lead or anything like that. There don't need to be a love-line in every single drama and this story just isn't about that so it wouldn't really fit.
Shows like Misaeng don't tend to get me in the heart like I wanted but man this show owned my heart. I also sort of knew that I could be very good but that did not mean that I would have to like it since you don't always end up liking shows or movies that are really good simply because they didn't get you in the heart. You didn't feel anything while watching it. That is not the case with Misaeng and that makes me super happy.
Sometimes it was hard to watch and some of the character arcs didn't really do it for me but I liked how every character got their own time to be explored and we got some time to know them, at least the major characters. I almost have nothing but praises for this show except my somewhat usual complaint with TvN dramas and that is that sometimes their episodes can be rather long but other than that they are doing a great job.
I may have gotten more entertainment out of other dramas this year but Misaeng is one of those dramas that I really cherish and I am pretty sure that I am going to remember it after few years while I might not do that with some of the more entertaining dramas that aired this year. It is also so original and well done that it is almost impossible to just forget it. It just really spoke to me, even if I have never been in most of these situations before and it is very well done and I am not surprised over how popular it got. I just hope this review is doing it justice.
Was this review helpful to you?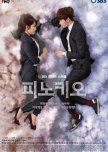 I kinda knew that I would be making a review of this drama around episode 10, because it was just one of those shows that I couldn't stop talking about. I liked it that much and I was sure it would keep up the good work and I was right.
The things that I like the most about the dramas that Park Hye Ryun writer is how easy and fun they are to watch and how great I feel when I watch them. They are all a feel-good shows for me. They all manage to be both funny, entertaining and dramatic and emotional at the same time and there is a great balance between all of these things in this drama, as well as in Dream High or I Heart Your Voice.
I was just so pleased with this drama, it is well written and for me it hit all the rights spots, since I got emotional and I smiled etc. so I was very much in love with it. It is also very easy to watch and I tend to not get bored over her dramas or at least those who I have seen.
The story isn't necessarily not that new but I feel like I haven't seen that many dramas like Pinocchio and Park Hye Ryun does tell a good character story well in my opinion. The story is very well paces and I didn't feel like it ever dragged along ether and I liked how she wrote it. It was like she had a plan and she didn't just write something in for no reason and I like that. I also liked how the new reporter theme was used in this drama.
The character have always been quite good in those Park Hye Ryun dramas that I have seen and for the most part they are quite well rounded in this drama as well. I especially like how she writes female characters and they get to do more than just be the love interest or the mean bitch.
The secondary characters could have been a bit more developed in my opinion and I felt like she has done a better job with the second female lead in the past, which was a shame. Yoon Yoo Rae could have been a much more interesting character but she was just the cute comic relief to me. The second male lead Seo Bum Jo got so much more to do in this drama, as well as In Ha's mom.
Maybe it helps the plot to go along smoothly and swiftly that the main character can't lie and she has to tell the truth and can't hide her feelings or anything. I did have my concerns around the middle of the series that it was going too fast and there wasn't enough story left to tell, but I was gladly proved wrong on that.
I also liked the main couple a lot and it could have ended up being super creepy since they were raised as niece and uncle but it totally wasn't creepy at all and very well done and felt realistic.
This is one of the better dramas that I have seen Park Shin Hye act in and I think this drama has helped some people realize that she doesn't totally suck and maybe they will stop hating on her now because of Heirs or for other things. I liked PSH and I find it very comfortable watching her act and I am a fan so I am super happy that she got a role that I like.
In my humble opinion Pinocchio is one of the better dramas that came out in 2014 (most of the drama aired last year) and it was, like I said before, a very nice and sort of feel-good watch that I enjoyed a lot and therefore I have not many bad things to say about it. I am a huge fan of Park Hye Ryun now and I liked how she crafts her stories. They are meaningful and entertaining, both light and dramatic and I liked very twist and turn along the way.
Overall I liked this drama more than I liked I Hear Your Voice but not as much as Dream High. But like I did with Dream High I felt so nice and comfortable watching this drama, but I was maybe just a bit more emotionally invested in Dream High. I will miss watching Pinocchio every week and I can't wait for Park Hye Ryun's next drama.
Was this review helpful to you?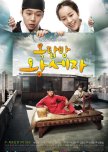 Rooftop Prince is one of those dramas that I like not because the story was good or anything (at least not in my opinion) but because of the sheer entertainment of it all. This drama made my day, it got me emotionally invested and I loved it. I was super impressed with Yoochun after Sungkyunkwan Scandal and then this drama.
I was watching King 2 Hearts and Rooftop Prince at the same time and I wad debating on which show I should do a review for and I ended up choosing Rooftop Prince since I just felt more things while watching it, though story wise and all of that King 2 Hearts is a bit better.
King 2 Hearts wasn't originally on my watch-list, because I thought it would be way too political for me but the cast won me over and I actually found the story intriguing. This drama on the other hand was on my to-watch-list ever since I saw the trailer and the poster for it, because it looked like it was going to be a hoot and it was.
I just knew this show would make me laugh and the trailer just gave of this really nice feeling and I just sort of knew that I would end up liking it. One of the best things about this drama is the humour of the show and the setting of it, since you can make so many jokes and funny scenes with people who come into the 21st century from the past. That really is the charm of the show, as well as the cute characters.
There were a lot of things that you just knew Rooftop Prince would make a joke out of, like the toilet and the spotlights and all of that, but they also just used so many other jokes that you sort of only notice if you have watched some period dramas (I think) or know even just a bit about it, like how the talked, and so on,and I just found that so well done. It had be rolling on the floor with laughter.
Rooftop Prince really made my weeks a bit brighter and I just want to thank it for that, in a way. The main couple was also very cute and shippable. The main story could have been a bit better though. The Joseon mystery was such an interesting set-up but I feel like it sort of fell flat and it got a bit dragged out or something.
The story about the family and the company and Tae Moo and Se Na and their whole revenge thing or whatever that was about was so badly done and some of it was such a filler and it got a bit annoying from time to time. I didn't really care and it was quite dull and not that original imho so that makes me lower my praises for this drama a lot, even if I enjoyed it for the most part or pieces of it.
In King 2 Hearts for example I liked the politics a lot, probably because a lot it was about that and also because it was written well into the story and it sort of made sense (at least to me) but this company, family stuff just bored me to death, because a lot of it was just a filler and to make a bit more conflict in the story. It was sometimes cute but that was about it.
I did however like how the story dealt with the reincarnation and all of that stuff and I found that to be quite interesting, like you become thing type of person because you did this and that in your past life and all of that. And I felt like it was used quite well with tying up the story.
So yeah, like I said, the main charm of the drama was the comedy and the rom-com elements of it, since I enjoyed the main couple a lot. The OT5 was super cute together and I sort of could just watch a drama about them all learning how to fit into the 21st century and all of that. I could take 20 episode of that kind of cuteness, even if it would have been a total fluff or even more of a fluff than it already is.
So the entertainment factor of the drama was totally there for me, as I sort of expected but I did not think I would get as emotionally connected to the story and the characters as I ended up doing. I didn't just find it funny and cute and I didn't just laugh over it. I also cried so much towards the end of it and that is what I look for in anything. Make me care show and preferably, make me care so much that I will cry. I am a sucker for those kinds of things.
Was this review helpful to you?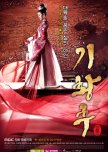 When I first started watching Empress Ki, I never expected to actually finish it and I am (sort of) to this day surprised that I finished it. Not because it was bad or I thought it would be bad. It was mainly the size of it because to me 50 episodes are a lot of episodes and I just wasn't sure if I could make it threw that but I liked the cast so I decided to give it a go and it just turned out so great.
The first 5 episodes of the drama had me hooked and suddenly I was just so far into it that I started to see myself actually finish it and here I am. This is therefore the longest drama that I have watched and funny enough the longest drama that I had watched before EK was the drama that introduced me to Ji Chang Wook (which was one of the main reasons for watching EK).
I know a lot of people were annoyed by the not-so-historically accurate plot and the costumes. I did read a bit up on Empress Ki before the drama and tried to do a bit of research here and there while it was airing but it sort of doesn't bother me that it wasn't historically accurate (I feel the same way about Reign as well) because I am mainly watching it for the historical setting not the historical accuracy.
I am very found of period or costume dramas and while I liked it when they are historicity accurate (if I know th history beforehand or when I read up on it) but I am mainly just there for the costumes and the period setting and all of that and to me Empress Ki delivered on that. The set and the costumes were gorgeous and just really well done.
The drama says in it's description that it is a "historical" romance drama and while there is romance in the drama (like there is in most tv shows or dramas) I felt like a lot of the romantic stuff was sort of put on the back burner for some parts of the drama, which I didn't mind that much.
A lot of the drama was just about Empress Ki /Seung Nyang revenge and quest for justice/power and the political aspect of things and while I did enjoy it a lot I think a lot of other people where annoyed by it or by Seung Nyang and her politics. I liked how the women of the drama were powerful and involved in the politics and I really enjoyed that aspect of the show.
I really didn't expect to like the politics since they sometimes bore me in these dramas. Maybe Game of Thrones is making me like that sort of thing more. It has happened that I am watching a drama and as soon as the plot goes away from the main couple I lose interest but that didn't happen here.
I feel it was most of all a character driven drama and not necessarily a otp driven drama. The main story is not how they got together but how Seung Nyang became Empress Ki. The story does go on for a long time though, so there are bound to be plotlines that were more fun than others.
Now that I look back my favourites were between episode 1-6 and episodes 24-37. Those were the plot-lines that I enjoyed the most and I felt like were best written. For the most part I felt like the story was fast paced and all in all decently written. It went a little thin in the end but overall I found it very entertaining.
Because it is so long and therefore you have plenty of room for a lot of things happening at once and a lot of different side plots and side characters you really could flesh out some of the characters. Some for the better and some for the worst and I think most of the characters went threw some sort of character journey, except for some of the bad guys which were just evil and bad just for the sake of the plot like El Temur and his lot.
Aside from Tanashiri which I always liked even if she wasn't the best character. I felt like I could sympathize with her but not her action. I understood why she felt why she had to do what she did, because she was the empress and she needed to secure her place in the palace because that was her only job in life but I didn't really like how she handled everything but I found her amusing and I liked the actress who played her and I will be keeping an eye out for her in the future.
I liked how I could understand most of the time why people did what they did within the palace because you had to be hard and ruthless if you wanted to survive in the palace and I especially liked how the women where written and that they were just as powerful as the men.
Wang Yoo however was one of the good guys and he was suppose to be the main lead until the public (and most of the fandom I think) decided that they liked the emperor more and he was sort of swept aside and he didn't get that much character development at all. He was just always very consistent and noble but just sort of there in my opinion and I just found it sort of plane.
I couldn't even get behind his love-line with Seung Nyang and I just sort of feel bad for Joo Jin Mo but their love-line felt so much like a duty thing and that she was always just his subject that I never got behind it.
In the beginning I also rabidly shipped Seung Nyang og Ta Hwan / The Emperor but that sort of went away later in the drama and while I liked them together for the most part of the drama my rabid shipping never returned. I mostly saw them as friends later on but I don't doubt their love for each other. I just really liked their
Ta Hwan did go threw a lot of character development, which is why for the longest time he was my favorite character on the show. Untill he became a bit too possessive for my taste and it almost looked like the writers forgot all about his character development and just decided to toss it out of the window because they needed a bad guy.
I think the best character in the end was Tal Tal but he was amazing and he really started to bloom in the later half of the drama. Empress Ki is just a very character driven drama to me.
In the end the story was getting a little bit thin and a little bit wonky but I still enjoyed it for the most part and I sort of expected it to go a little bit like that just because of how long it was. I never felt like it dragged and I wasn't really that annoyed by it or anything. It just felt like the writers didn't know what to do with all these episodes and just started to add in some shock-value.
I don't think it could have been ay longer than 51 episodes and 45 episodes or something would have served it just fine and made made the story just a bit more stronger and not at thin but I still enjoyed myself a lot while watching it. The last 10-15 episodes were not as good as the rest of the show.
The ending though didn't bother me at all nor did I find it lame or anything. It was sort of what I had come to expect given how the story was going and how the story actually went (historically) so I was't really mad about it. Empress Ki was such a roller-coaster ride and some parts were better then others and it did go a bit crazy in the end but I still enjoyed the drama a lot. It was entertaining and for the most part fun and easy to watch and I will miss it.
Was this review helpful to you?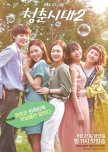 It's not every day that the Kdrama gets a season two - which is actually one of the things I like most about kdramas - so I was so I was thrilled, yet cautious about how the Age of Youth 2 would turn out. It's hard to meet all those expectations, if the previous series was really good, as Age of Youth was.
And while Age of Youth 2 certainly didn't beat Age of Youth in terms of quality, or how good it was, I can't say that this was a bad drama. This was still the story of five girls and all the ups and downs in their lives. Even if it did not feel as fresh or new, but then again, to me, it was never going to since it was coming after the first season. It was a lovely continuation in my opinion, was what it was supposed to be.  A continuation. And I think I have to judge it based on that.
At first people were concerned about how many changes were made (and some people it was just too much) but these changed didn't affect the story itself too much, though it did a little. Even if they added more male roles, they did not take any (or not much) time from the girls and their story. It was still all about the girls.
When it comes to both seasons of Age of Youth, they are mainly about the girls in Belle Epoque, their lives and their friendships.
The boys are just on the sidelines, featuring in the stories of the girls and it wasn't super heavy on the romance. And while there are some people who find the focus of the series have shifted a little more from the story of the girls, and into the story of the girls and all these ships, I personally never saw it that way.
A good part of the first series was dedicated to these 'ships'. Ether those who were there from day one (Yeun and her boyfriend) or the ones that slowly formed during course of the drama. (Jinmyung and Eun Jae and their men). The fandom might have shifted its focus more on these 'ships' in a second series, but the story itself didn't.
I think this focus on these couples within the fandoms has more to do with the fact that the underlying story of Age of Youth 2 was not as captivating or compelling as in the previous season. Or it didn't feel as tight. I like the stories that were featured in this season, but at the same time I did not feel like these stories had too much to do with each other, as they did in season two. This season didn't have any ghosts in the shoe-closet to connect all these story-lines and make it all more symbolic.
There were many interesting stories going in this series, but they didn't have too much to do with each other, and we did not quite get these individual episodes that we got into the previous series, which added so much to these characters. The connection that these stories had with each other was mainly that the girls all lived in the same house. 
To me, Song Ji Won, one of my favorite last season, got the biggest, heaviest and probably the best storyline, compared to the previous season where she was mostly on the side-lines. Which is great since Park Eun Bin is a great actress, one of the strongest in this drama and Song Ji Won deserved her own spotlight.
Her story had the greatest weight and depth in this season, and we got to see more of her and Im Sung Min, which I appreciated (cuz I ship them). I was over the moon over it and though that story took us to some rather dark place at times, it was handled quite well.
It took her character to another level and made her into such a complex characters. To me she is the star of Age of Youth 2. To me she was the main character of this season.
Drama was still only in trying to make the story darker, or more dangerous, than she had to be (in order to be edgy) in my opinion. But those items did not appear to be dry, or out of nothing, and just being there to make us feel uncomfortable.
Yeun and Jinmyung both got to continue on with their stories from the first season, as Jinmyung lays his first step into the adult, working-world, and Yeun is struggling with the follow-up of the violent relationship she had with her former boyfriend. And I thought that was very done, how Yeun and the drama managed to handle that problem and how she slowly began to become more confident. I was very happy with that progress.
Jo Eun, the new girl, who moves (after Yi Na moves away in episode 1) and although I found her friendship with the girls, how she opened herself up bit by bit, and her relationship and Jang Hoon was very sweet. But I didn't feel like story stood out a lot.
But Eun Jun, my favorite character in the first series (with Song Ji Won), got another actress who did very little for that character - though I blame it mostly on how she was written. Eun Jun really pulled the shortest straw when it came to plot in AOY2. All she did was break up with her boyfriend, for god knows what reason, and then she moaned over that the whole season. I never really understood what the scriptwriter was trying to go fir. All her parts just seemed to act as a filler, and she didn't really act like herself. For me it was by far the biggest minus about Age of Youth 2.
If Age of Youth was four and a half star then Age of Youth 2 was a solid three star drama. It had some really good moments; I was very excited about watching each episode, and overall had a pretty good time watching it. But it did not reach the same height as the Age of Youth did. I did not cry over t.  The story was, in my opinion, a little disjointed  at times and could have been tight. There was something missing in that department. We needed something to keep going back to, and added a bit of depth to the underlining story, like the ghost in the shoe-closet.
I thought t was a good follow-up, I loved visiting Belle Epoque again, as well as the characters. Not all the stores left as much behind as the stories in the first season. But it is hard to re-create that magic. I just wish I could have gotten a bigger closure to some of these stories. Because we have been sitting through 14 episodes of these stories, so I think it is better to not leave things too open ended. It doesn't leave as much behind.
Was this review helpful to you?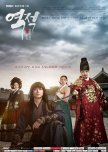 I feel like Rebel managed to tick a lot of the boxes that I like in these sageuk dramas. Really gorgeous hanboks, great fight-scenes, scenery, and a really good soundtrack that I can add to my writing playlist. But that alone doesn't make a good show worth the while.
Often there is also a very specific atmosphere surrounding sageuks and other period shows. For me they tend to much more about heroism than modern shows, which I enjoy. But I felt like Rebel did manage to do much more than that.
The drama talks a lot about the ideology of the Joseon era, about these different social classes and some have even pointed out that it was critiquing some things that are happening in politics today. But while I did appreciate and enjoy that, that wasn't really what I took, liked the most about the drama. I was more intrigued by these character-journeys that the drama took us on.
I really enjoyed how almost all of these characters got to be very layered individuals. They were not just the hero, or just the evil gisaeng, or the old lady that is just there to cause the hero some trouble. They got to be more than that. And Hong Gil Dong didn't just wake up one day and decide to be the hero of the people.
Sure, a lot of the side-characters didn't go through much personal development and kinda just went with the flow of the story, but all of the main characters, who the story revolves around, get to have some say in the story and have some meat on their bones.
Even the women, which usually get the short end of the stick in these shows, got to be ambitions and not always nice, but the drama did a very good job in explaining why they were doing the things that they did. As well as what had led to that. And they weren't just good or just evil.
Having the bad guys in these shows sort off simple really works, sometimes. Like in Marvel movies, where the story really isn't about them. But that wasn't the case with Rebel. Like I mentioned before; these people have ambitions and flaws, and all sorts of things, and I feel like the shows does a good job explaining that and not really shame them for it.
Some of the characters show up and you think that they are rather nice, but then it turns out that they aren't as nice as they seem. I really liked that in Six Flying Dragons, and I really liked that here.
Since Rebel is a very character-driven story, it can get a bit slow at times. Since the characters are moving the story along, appose to the story moving the characters along.
The first part of the story is more about Hong Gil Dong's father and it setting up a lot of things. He was a very interesting, gray-like, character. And when the narrative shifts to the main hero, Hong Gil Dong, the show changed a bit. It became a little slow at first, before picking up the pace again.
I would say that the middle part of the drama was probably the weakest part of the show, for me. I felt like it was a bit too slow. It lost me a bit, or I wasn't as invested as I was at the beginning. But around ep. 20 (I want to say) the story really hooked me again.
And looking back, I can appreciate the slow-build of the middle a lot more. There was a lot of great buildup going on there that just exploded in the most exciting way toward the end. It constantly kept me on my toes. It was great.
Was this review helpful to you?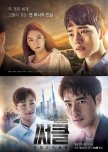 Circle
0 people found this review helpful
Even if this drama was a sci-fi drama, I feel like it takes some things from the dystopian genre as well. .As in this drama uses certain things from both of those narratives. Like the technology and all of that from sci-fi, as well as the question of what makes us human and so on. And then a government that is somehow trying to make things look like they are great, but behind the scenes it really isn't.
I have to admit that I did not expect to find a new drama that would hook me this much this soon after Rebel Hong Gil Dong. And I didn't really expect much from this drama at all, because it sounded very confusing based on the synopsis. And the first episode was kinda confusing as well.
The drama is only 12 episodes so the story is really compact and it does not really stray away from the main story. There are not a lot of side-stories in this drama. Or non that take us away from the main story, as in there are not many filler scenes. They used their time really well and they cowered their ground pretty well with these 12 episodes. Everything that is shows to us serve some purpose and moves the story along the story in a way.
Each episode is divided into two parts, so the first half-hour is dedicated to the 2017 part of drama, and then the second half is in 2037. And each part ends in some exciting way, or on a cliffhanger, so you have to continue watching to get some answers. And drama was very keeping you at the edge of your seat.
At first I found this leap between different years, especially when each part ended on a very exciting note, a bit annoying. Especially when I had more fun watching what was happening in 2017. But later, the  2037 part started giving me all the answers, and these two parts started connecting a bit more that I became utterly hooked on this drama.
All I can really complain about is how many women were missing in this drama. And sure, Han Jung Yeon (and Byul) played a leading role, and it was such a great, interesting role that you really rooted for. She was great. And then Park Min Young and one other one, who was Human B's assistant, were great supporting roles that brought something to the story.
But what I mean is that there were not a lot of women in the background of the show. I would have liked to see more women have more responsibility. Because you saw too much of men in such places, running around as body-guards, scientist or police-officers, but very few women.  And that's not something I want to see in 2037.
That didn't really ruin the drama for me, since I was very hooked on the fast-paced story that took place during these 12 episodes. It was just kinda annoying seeing mainly dudes running around.
Even if the show uses a lot of elements that you can find in a lot of other sci-fi shows, this show really manages to be its own story. It didn't go overboard with the tropes, as I could not really figure out where the story was going. It kept me on my toes.
It kept me guessing. There was always something happening that I did not expect and made me feel excited about the next episode. And I just had a lot of fun watching it and I felt like they did a really good job, from the writing to the acting, in making this a damn good sci-fi drama.
Was this review helpful to you?