The website is currently undergoing maintenance. Sorry for the inconvenience.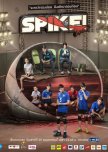 Excellent work! Probably one of the best. You can see a great effort of the director of performance to lead the characters to a great fulfilment, similar to the coach of the athletes. There is a great knowledge of the sport itself, the music communicates psychological impact, the characters are too real, worried with real human dramas, fighting to demonstrate something. Congratulations.
Was this review helpful to you?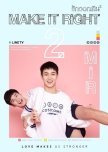 The characters are, surely, lovely. But a second season is always a risk for production: it does not guarantee a good outcome. In the case of "Make it right", the second season is poor in ideas and arguments: there is not a real climax and the characters live in a perfect world where everything happens as it is expected. The drama of Book as victim of an online sex video lacks consistency, logic and deep insight. It remains in the despair of Frame trying to be supportive of a depressed Book, but there is not a real villain, there is not a real explanation of why it happens and there is not any further consequence. The part of Tee and Fuse is even more worrisome: there is a vain attempt of Tee to walk away from an undecided Fuse, but it is also a succession of pink scenes without emotion, real drama and interest. Other alternative stories like the one of Rodtang seems too much artificial - Rodtang was very much interesting in the first season and his first partner was more real and dominant, while this second one is too passive. If it is popular, it's not because there is a succeed in the story, but it is more for the charm of the characters, but it is as there is another director or another playwright. I hope they will not try a third season that could be more damaging especially to the actors. It would be better to see them in new productions, new adventures and new ideas.?
Was this review helpful to you?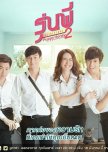 There are some problems. Probably the actors are cute and good ones - specially Emma (Horvejkul Nutcharee), but the story lacks a real climax and well formed antagonists and villains. The supposed to be villain is Din (Cheewagaroon Harit), but he is too cute, with the right to fight for his crush (Rome), but the way he is punished by Pik produces more pity than solidarity with Pik and Rome. The scenes related with Emma and Porsche are slow and redundant . Night (the great actor from Sotus) lost the time here, being weak and not posing a real challenge for Porsche - just like a condescending and passive character... doing nothing to ensure the love of Emma.) The scenarios seem too artificial, a "perfect Cinderella world". too much make up, especially for male actors - you can see the red lipstick in Rome, Porsche and Night, looking almost feminine.
Emma's brother (an antagonist that was strong in the first season, but here is lost), could make a big plan with a more aggressive and intelligent Night (we know him from Sotus) to ensure that Porsche never would come back. Din could be real nasty, dominating, tricky, strong, ready to fight, trying to break any relation between Rome and Pik, making his own gang to face the hard character of Pik... That would make sense.
Was this review helpful to you?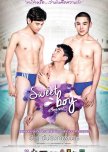 Very poor script. It is a fortune that Chimon got a good role in My Dear Loser that has a more professional making. Many irresolute situations: The homophobic behavior of the mother got not a divine punishment. After that declaration "God does not like gay... either I don't," she should get a lesson, since she almost sends her son to suicide. Another unpunished lady is the teacher stating that artists (or painters) are dumb to poverty - wow... saying it on a movie :(  The conflict with Petch was left behind. It could get more action, even to put the character as a real competitor to Toy. The character of Pong is also a blank. You don't know if it is just a clown or an antagonist. As a clown is a real disaster. As an antagonist, he does not posses any real situation. Pong could be a handsome but openly gay student who could make the story more interesting, trying to conquer Petch and Toy :) An alternative ending would be: Nack almost consummates suicide and he is found unconscious by his friends (three beautiful characters that are not well profited too.) The mother realizes how wrong she is and why she comes late in the night (doing things God does not like?) She asks pardon. Toy left to study and Nack, after months of recovery, goes to look for him to start the second part... The disparate call of Nack to Toy is the best part: great actor. Congratulations to Chimon.
Was this review helpful to you?