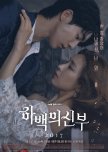 okay so this is my first review and im gonna be honest.
i was really excited for this drama because it had all of my favorite actors. Nam Joo Hyuk, Krystal, Im Joo Hwan AND Gong Myung.
The story was actually good and funny at the starting but in the end it got so boring. The story wasnt progressing at all, An episode is of one hour but it looked like 2 hours of even more than that.
In the end, i was so confused and disappointed that how did the story script even get such good actors.
I hope all these actors' next drama is good and gets better ratings.
Was this review helpful to you?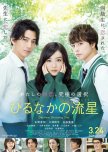 The movie was actually nice and i wasnt disappointed, I hope it gets an anime too xD
I loved all the character but... Mamura...
Its not like I didnt like him but for someone whos kentaro biased, I wanted him to play that role, no offense
Story was a bit too rushed, they missed some important parts. The love story between mamura and suzune was rushed that I started supporting sensei in the movie when I was actually supporting mamura in the manga.
I loved suzune and her actor, she was perfect! I liked sensei too, I think they chose a perfect actor for him too, someone whos both (cute and hot) xD
Was this review helpful to you?