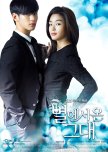 This review may contain spoilers
First of all, this is the love story between a handsome alien and a beautiful human girl which is an actress. Secondly, the storyline is interesting because before this I didn't see any romance drama which is related to an alien and a human, so it's interesting to me. Thirdly, their acting is too excellent. You can't find any wrong in their acting. It looks like they are really in relationships. Fourthly, I think Kim Soo Hyun is the most suitable actor to act Do Min Joon because of his cool face (without smiling, if he smile, he will become a sunshine boy????) nobody can replace him. Finally, this drama makes me laugh a lot of time because of them when both of them are interaction (The two main character).
Was this review helpful to you?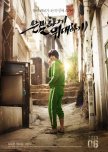 This review may contain spoilers
This is the best movie that I have ever seen. The storyline is new to me and the ending is sad. I even cry for the ending. I feel a little disappointed because of the ending, I hope they live. Even though you watch this movie again and again, you will cry ,trust me. Especially Kim Soo Hyun, I like his acting very much since I watched this movie. He can act the character good, out of my expectations. Before you start the movie ,please don't forget to prepare some tissues or towel because I bet you will cry for this movie!
Was this review helpful to you?