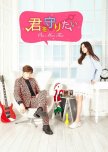 Story: After reading the summary, you might think that this is just another cliche love story; and it is. There are many movies and TV shows that deal with romance with a supernatural element. It's been done before, many times, but this drama is much different from what you'd expect. I didn't expect much depth within the plot, but there was. There was so much emotion that as a person who never cries, I got a bit teary eyed at the ending. The first few episodes were great, I found it quite interesting to see Tak run around like that and trying to deal with what was happening. It gets a bit boring for an episode or 2 there, but then it picks right back up again and really starts to get serious as it's then starts to focus on the relationship between the two leads. This mini series shows not a light hearted romance, but a great love story with a good lesson learned, which I enjoyed to see. A bad ending usually ruins good shows for me, but there was none of that. I was completely satisfied with the ending, which can be hard to come by. It ended happily and there were no loose ends. To clear one thing up though, one other review said that the plot was confusing, but in my opinion, it was quite easy to follow along if you really pay attention. The show is more complex than it seems.
Acting/Cast: The acting done by the cast was better than I've seen in most dramas. To say it was good is an understatement, there was such genuine emotion in each scene and it all felt very real. L and Yoon So Hee did such a great job with their characters and their relationship. The only thing that actually bugged me was about Taks character. At first, I really wasn't into Tak. I wasn't sure how he could turn into a complete jerk, even through such stress. It did frustrate me, but it was nice to see an imperfect character get knocked back to his senses.
Music: I'm really not trying to overdo this review with more compliments than it deserves, but the OST in this mini series was so note worthy. The soundtrack was so great to listen to, and it fit the band and the vibe of the show very well. I especially liked the last song, One More Time, I felt that song was absolutely perfect to finish the drama off.
Re-watch Value: I don't re-watch dramas a lot, especially ones with complex stories. I'd rather re-watch shows where all you have to do is laugh and smile. As good as this was, I might just save it as a memory, I don't think I'll re-watch it all by myself. With a friend however, I can totally do that.
Overall: I wanted to give this drama a 9.5 for how I felt about it after just watching it, but after some thinking, I gave it a 9 for everything I said above. With the ratings and the other review, you might think on skipping this one, but I'm here to say that this is a mini series worth watching. It's a 4 hour long ride, so if you feel like it's not you're thing early on, give it a chance to prove itself.
Was this review helpful to you?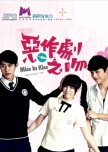 Story: This is a story that's been with me for a long time. I started with the anime, and have then watched the other drama remakes over time, so it will be hard for me not to compare in this review.
It's not a unique story to say the obvious. It's very cliche, but it's a guilty pleasure of mine to re-watch different versions of this cute story. I've watched the Korean and Japanese version, but I have to say, I think out of all the remakes, I like this one the most. I felt that the other versions lacked something that this one had, and that's individuality. While the others felt like just another cliche, Miss In Kiss acknowledged that it was a story that's been done before and added it's own tune. The vibe this drama gave off was very cute and light hearted; it was easy to watch, especially with the short episodes. No sub plots were dragged out and the pacing this drama had felt right. I actually don't think there's anything I dislike about this drama other than the fact that I thought a few scenes and reactions could have been done a bit differently.
Acting/Cast: I felt that the characters in this version was the most believable. Zhi Shu didn't act like a cold emotionless psychopath like the other versions portrayed him to be, and I was glad to actually see him smile and cry whenever he needed to. He was much more human and realistic while still keeping the stereotype of an intellectual yet cold guy, I really enjoyed Lee Dino's take on this character. I loved Yue Qin in this as well, she wasn't as obsessed like in the Japanese version. She was just a normal girl who had a crush on a guy, but just couldn't let go. She was a very cute character.
Yue Qin and Zhi Shu's relationship was well developed, in no way did I feel their progress was rushed or could have been done better. I liked Ah Jin and Zi Yu in this version the most as well, they had much more character and I didn't feel that they were just getting in the way of the two leads.
Music: The OST was very cute and matched the vibe of the drama perfectly. I usually don't focus too much on the music in a show unless it really stands out, I found the soundtrack quite catchy and original.
Re-watch Value: If I'm ever in the mood for a light hearted and fluffy story, I might consider watching certain episodes than the whole thing, but I wouldn't mind watching the whole thing again either.
Overall: I feel that this drama did a great job in making it's own version of the story. It didn't feel like just another re-make, it felt original and stood out from the rest. I look forward to a possible season 2.
Was this review helpful to you?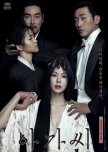 Story: This movie has been in my watch list for a while. I've never read the book this is based off of, but I have seen the 2005 movie "The Fingersmith" before hand, so I had high hopes for this film. I enjoyed the version I had already seen, but this movie surpassed my expectations. The vibe in The Handmaiden was more dark and mature in comparison to The Fingersmith and I felt that it was much more put together. The plot consists of 3 story arcs; Sook Hees perspective, a second perspective, and then a satisfying conclusion with no loose ends. All of the arcs were interesting and the whole 2 hours I spent watching this flew by. I wasn't sure how they would fit the whole story in 2 hours because of how complicated the story gets, but it was well paced and it all felt natural. While I expected some erotic scenes, I was surprised to see that my definition of eroticism was much less than what the directors had in mind. There's an underlying BDSM theme to this as well as a couple of long sex scenes that weren't censored. While a lot of Korean movies and dramas can be pretty light in PDA, this is a mature film, so keep that in mind. I really enjoyed this Korean take on the story and I felt that this movie told it perfectly.
Acting/Cast: All of the main actors, especially the 2 female leads did a great job. I loved the relationship between Sook Hee and Hideko, I was excited to see how it would develop and I wouldn't have done had it any other way.
Music: I usually don't pay attention to the OST unless it's very special in particular. While there wasn't any memorable tunes, the soundtrack fit the show perfectly, and I loved the song in the ending credits.
Re-watch Value: I'm not one to re-watch a film or a show with such a complex plot, but I definitely wouldn't mind re-living the experience of this story all over again.
Overall: I honestly don't think there was anything wrong with this movie, I loved everything this film had to offer. I would recommend this to anyone willing to follow a complicated yet perverted story with a good plot twist.
Was this review helpful to you?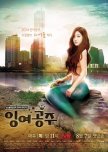 Story: At first, I was hesitant to watch this show because of the fact that it was about a mermaid who loved a man purely based on his looks. After some thinking, I decided to give it a shot, and I don't regret it. The story was incredibly cute despite the cliche mermaid tale, and had it's unique qualities that sets it apart from many other dramas; it's female lead and the stories risque humor. I was blown away with laughter in each episode, especially in the beginning, it was so hard not to when the female lead was so charming in a way that's not usually seen in dramas. The things that were said and the visuals that were shown really shocked me due to the drama norm, but I really enjoyed the difference that it had to offer.
Had this drama not been cut any episodes, this show would have been nearly perfect. The amount of time taken away from the show made the ending seem too rushed and it didn't seem like there was much development between the two leads. I felt that there was more chemistry with the second lead, so I ended up rooting for a relationship that didn't end up happening. While I was disappointed in that, this was a light hearted romance to begin with, so I wasn't too hurt.
Acting/Cast: I absolutely loved the cast, it had a lot of actors/actresses that I liked from others dramas, and the ones I didn't know of still did a great job. I adored most of the characters and loved the romantic and platonic relationships that were formed on the side.
Music: I honestly don't remember the OST that well as it didn't stand out much to me, but it did it's job so I don't have any complaints other than the fact that it wasn't as unique as it's leading story.
Re-watch Value: This is a drama I would definitely consider re-watching if I ever needed to cheer up.
Overall: If you're hesitant to watch this drama for whatever reason, I'm here to say that it is worth the watch. While the drama had it's unfortunate flaws, the comedy and individuality this show has is worth your time.
Was this review helpful to you?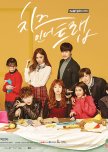 Story: As an ongoing reader of the original webtoon, I can say that the drama captured the the story quite well in most aspects. The story, in both the webtoon and the show, is interesting, complicated, and realistically portrayed. With it's intriguing and lovable characters and it's well done sub plots, it keeps making you want to know what happens next. The vibe is similar and would be a great alternative to the webtoon if you don't mind missing out on a couple of things and don't mind a second rate ending.
One of the few things that bothered me was the way that Yoo Jungs story line was told. If you read the webtoon, you'll see a much greater emphasis on his mentality and how he became how he was. In the show, he's made out to be a bad person who didn't deserve Seol, but in the webtoon, he was just a child who grew up with a neglectful father and was forced to be apathetic and distant. You get to see more interactions with his father and his classmates in his childhood, and you can see how much of an affect his father had on him; he wasn't born manipulative, he just lacked genuine guidance and comfort. As someone who related to Yoo Jung, I was sad to see his character dealt with in such a way. In the drama, his childhood and his way of thinking isn't focused on as much as it should have been.
He also lacked a lot of scenes too in comparison to In Ho. I liked In Hos characterization just the same as in the webtoon but was sad to see him take so much screen time away from Yoo Jung. The lack of screen time for Yoo Jung also affected the way his relationship with Seol developed, it didn't feel as real as it was in the webtoon, there were much more interactions between them and the way it paced just made much more sense.
The ending was average at best. Maybe it was because I was expecting much more, but it left me disappointed and not satisfied. They could have added at least one final scene between Seol and Yoo Jung at the end, but it was left missing. The story felt incomplete.
Acting/Cast:
There was not one scene from the main actors that I felt could have been acted differently, besides from one of the supporting roles. The supporting actors were almost as good as the leads, but I felt it was a bit exaggerated at one part. Other than that, I can't see myself complaining for both the acting and the actors, I was happy with all of the cast. Each scene felt so real and genuine, and I found myself taking time to appreciate the main actors' acting at some points.
Music:
The soundtrack was beautiful and fitted the vibe of the show perfectly.
Overall:
Had there not been the issues with the ending and the characterization, I would have given this drama a 9 and maybe even a 10, but I had to drop it down to an 8 for it's faults. The show is worth the watch whether you decide to read the webtoon or not, but I would recommend reading it before watching the drama. If you give it a read before starting this show, you'll understand Yoo Jungs character much more and his relationship with Seol. If you decide to watch it after, it would be a great bonus if you like the drama.
Was this review helpful to you?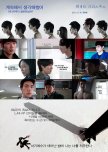 Story: I had high hopes before watching this after reading the summary, it seemed like just my kind of tale. A dark and complex story classified as a mystery and a psychological thriller? I was excited to see what this show would be about, and I wasn't disappointed; at least not entirely, but I'll get to that in a bit. First, I want to talk about all the good that this show is, because I loved it. There was not one moment in which I got bored watching this drama, because it lived up to it's genres, especially as a thriller. I was on the edge of my seat in every episode, just wondering what would happen next. If you like complex stories that gets you thinking, this is it. There was so much happening, but everything happened for a reason, and not just for the sake of making things interesting. It did that on its own naturally. This drama focused a lot on the mentality of it's characters in a realistic way that made it a great psychological thriller. Each character had their own story and their past which made me love all of them in the end despite disliking a couple at the beginning.The mystery aspect to this show was well planned out as I was just barely able to keep up to speed. While I had my suspicions pointed to certain characters and thoughts on what would happen, I was never completely sure what direction the story would take until it made itself clear, so there was always a surprise around the corner. While I loved all of that about this show, it didn't live up to its full potential near the end, which left me a bit disappointed. It started to dwindle a bit on its realism and characterization that it built so well on at the beginning. There were a couple of conflicts that were out of character which I found ridiculous, and the part where they celebrated was a stupid decision considering the situation. The whole thing could have ended sooner as well, but I felt that they dragged it out a bit too far. While it frustrated me to see these irrational and unnecessary things happening, it didn't ruin the show for me. It didn't bother me too much in the end as everything else about this show was amazing, and It was entertaining all the way through to the end. The last episode especially makes up for it in my own opinion.
Acting/Cast: A lot the actors in this show ended up starring in popular dramas today for a reason, their acting was superb. The cast really managed to bring their characters to life, I found myself really getting into the story more because of this. Each character was special and individual rather than just being there for the sake of the story to take place. I have no complaints on this, the cast did a great job.
Music: I loved the OST, it fit the shows vibe perfectly and made a lot of it's moments. I especially love how the used AC/DC. I laughed at first, but it fit the scenes well!
Re-watch Value: It's so complicated that I might just save this show as a memory, re-living it would just give me stress. Maybe one day if I'm up for it though.
Overall: This show definitely isn't for those who can't or prefer not to follow a complex story. If you like a good mystery and a well made psychological thriller that'll keep you on your toes, then I'd recommend this to you. If you don't like the drama at the beginning, decide how you feel about this show on the 5th episode, that's when the show really peaks.
Was this review helpful to you?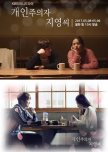 Story: Despite being a romance, this mini series was more than just a love story; It's about life and is a realistic representation of childhood trauma and how that can affect you in your adulthood. As someone who related a bit to Ji Young, I appreciated that the subject wasn't taken lightly and was actually the main focus of the drama. I don't think I've seen another drama that covered this topic so well like Individualistic Ms Ji. Young. While it wasn't perfect and had a couple of flaws, it was a beautiful story about a girl who underwent so much by herself, and met a guy who changed everything. While he didn't fix her like a lot of romances tend to show, he made her realize how lonely and sad she actually was and that she needed help.
Acting/Cast: Ji Young was a very real and relatable character, I think Min Hyo Rin's acting made this even more believable. She struggled a lot in her childhood due to family issues and developed in a way that forced her to isolate herself and become an "individualist". Her development throughout the story was realistic for a 2 hour run time. Gong Myung's character, Byeok Soo was less focused on which I found a bit disappointing. We didn't get much into his past and whether he recovered or not, which I found to be a flaw, but despite that, both of the leads we're similar in a way that made them compatible. They we're both lonely, but had different ways of dealing with it, which is why they worked so well together, even if it was hard sometimes. The only other thing I dislike about this drama besides Breok Soo's character development was Ji Youngs psychiatrist, but maybe that's just me.
Music: The music was cute and fit with the scenes, but wasn't anything special.
Re-watch Value: Since this drama is only 2 hours, I wouldn't mind watching this again, but I probably won't, I think it's much better to watch once.
Overall: This mini series is definitely worth the watch it you either want a cute romance or something with a deeper story line or relatable characters. While it wasn't perfect, it was more than enjoyable to watch and had a good look on trauma development.
Was this review helpful to you?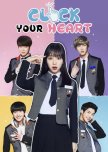 Story: Click Your Heart is a pretty typical story in each of the arcs, the difference being that this drama is interactive so that no one gets left out for their own preferences. Second lead syndrome getting the best of you? Look no further, this drama will be sure to give you what you want. It's short and cute and is worth the watch if you're bored and have an hour to spare.
Acting/Cast: There was nothing exceptional about the cast, but it didn't fall short of my own standards when it comes to acting.
I liked Da Won and Ju Ho the most, they felt the most realistic when it comes to relationships while Ro Woon and Cha Ni didn't have much chemistry at all. Mina's relationship with Da Won and Ju Ho are something you'd find out of a typical 16 episode long series, just shortened. I thought I'd like Ro Woon, but his character took a turn from wise to immature. Cha Ni just wasn't my type of guy, but I did think the twist at the end was cute. Either way, that's just my own preference, and it all comes down to yours because that's what this whole drama is based on, so don't take what I say as fact.
Music: I didn't pay much attention to the songs, but the theme was pretty cute and uplifting.
Re-watch value: I tend not to re-watch shows unless they're a personal favorite of mine, but since it's short, I wouldn't mind. Not planning to though.
Overall: Not something to take too seriously, it's light and fluffy and you get to choose your own path. I wish more dramas had this feature.
Was this review helpful to you?