i think this drama has a pretty great story but I disliked the fact that it kinda started going back, forth and even in circles when it got around to the middle so it was a bit frustrating and tiresome. I had to take a bit of a break from it for that reason. But if you like a quirky drama filled with love, emotions, romance, silly moments and sad moments then you should try watching this drama. Even though I got a bit stressed out by the ongoing circles in mid story, I think this drama is worth the watch. You will also find yourself having a love/hate relationship with the characters at times, but I enjoyed most of them.
Was this review helpful to you?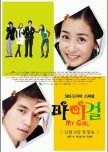 My Girl
3 people found this review helpful
I found this drama to be funny and full of small moments, the story seems quite fresh considering the year it came out in. The cast was pretty good but I found so many scenes to be overacted that sometimes it was funny and other times it was just plain annoying, now I am aware that some scenes were meant to be overacted because of a certain situation but there are some that just felt over acted but they weren't really meant to be or shouldn't feel as so. The music was pretty good, I enjoyed most of the songs, some songs were a bit out there for my taste but still good.
I don't really re-watch things, often times more than not I find something new to watch rather than watched something I have already watched before. But if I were to consider this drama for re-watch,
I am afraid I probably wouldn't because if I found some things to be somewhat predictable already
while watching for the first time, a second time around wouldn't be any fun because I would most
likely remember most if not everything that is going to happen.
This drama overall it's a good watch if you like a fun love story,
with it's little moments along the way and plenty of stubborn people.
Was this review helpful to you?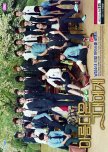 I love this drama but it shouldn't really be compared to Hana Kimi even though they are similar they are far different at the same time. Although I really enjoyed watching every moment of it, I believe that it was lacking in some areas and I really expected more from the kiss scenes and certain other scenes in the drama, as for the end it wasn't really bad I have seen worse endings but again I expected quite more and more emotion. Overall this is a really great watch and I would still recommend it to anyone, I don't regret watching this at all.
Was this review helpful to you?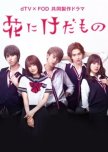 The story starts oddly between the new girl at school and the most popular/handsome guy in school which is a total playboy. I think the story line jumped ahead so many times it was hard not to cringe all through this drama, it repeats itself so much it's not even funny but to make it clear this drama is underwhelming overall. The main of the story seems to revolve around the 2 main leads but there is so little background story to the characters in general, the male lead wasn't given much of a background and the female lead had a bit of a good background story that if used properly it could have been a great part of the story line but who needs to follow that, right? It's not like the story will turn out crappy... oh wait, it did. If you're looking for something to fill in your time in between dramas or just waste time give it a watch, but if you're looking for/expecting a good drama out of this it is not and it's in no way, shape or form anything like Hana Yori Dango or Boys Over Flowers or any of the relative titles in any given remake of said titles. This is just a simple story gone bad, the only reason I finished it is because the actors were kinda handsome and the girls weren't totally terrible. WARNING: If you do watch this you will face endless cringing.
Also, I watched the last episode without subs, so I can only guess from what I saw a lot of what happened other than the very few words I do understand in Japanese, but the ending didn't make much of anything better overall it's something that could have happened 5 episodes back and saved me the all the nuisance of watching the same thing over and over in a different way.
I wouldn't re-watch this at all, ever. But I am obliged to mark something down on the ratings. The music wasn't bad at all, the acting was pretty stiff and I can't for sure say it's the actors because it could also be the way their characters were written. The story had the potential to be a good story but the writer just went in circles with the idea and turned it into a cringe annoyance fest.
Was this review helpful to you?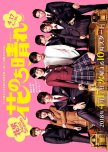 This story is placed 10 years after the original Boys Over Flowers timeline, this is deemed a second season for that matter a continuance if you will but with a different or newer generation taking over what once was F4 at Eitoku which is now known as the C5. The story seems very similar to that of the F4 but even though there was some potential in the story it's rather disappointing overall, there is a lot of back and forth on trivial things the actors are nice but their characters or the way the characters are portrayed come off as very annoying in some cases and I couldn't bring myself to empathize with most of the characters. The story just seemed so forced and uncomfortable that I was just trying to get through it near the last episodes, particularly the last 2 or 3 episodes. The story also starts dragging a lot past the first 3 or 4 episodes and the lead girl's attitude/demeanor can be so annoying and frustrating.
The ending was weird, incomplete and very disappointing regardless of what is going on in the story, everything is too rushed even the ending... I wish there was a bit more backstory to things and that characters were made out to be more appealing in terms, when I get into a drama I usually have a range of emotions and have characters I am rooting for that captivate me throughout the episode's heck even characters I hate that make me want to throw a shoe at the screen and make me yell at the screen like a crazy person but with this story I generally was just rooting for Haruto because it's the only character I could make any connection with and I found Airy's personality kinda funny as well as cute, the C5 was no F4 but they weren't the worst part of the story either. I actually liked the music more than the story since at least it was good. I wouldn't re-watch this though and having waited so long to finish it just to get disappointed sucks.
The only other thing that was pretty great was the cameos of some of the F4 members in the drama, but other than that I can never like this more than the original Japanese version or even the Korean version. This was a very disappointing "follow up" that had a lot of promise.
Was this review helpful to you?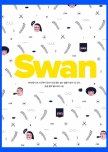 Swan
1 people found this review helpful
The story had potential but it was fully taken advantage of, even though this is a short drama with episode s being around 20 mins long the way they developed the story made it lack places and made it kind of redundant after a bit with the whole back and forth between the main characters. Also, the whole Chinese/Korean language thing threw me off? at first since it is my first time watching a cross language drama but after a while you kind of get used to it, either that or you get annoyed by it.
If you are looking for a short drama to experiment with because you've got nothing else you would rather watch at the moment then go for it. It wasn't a bad drama but it wasn't the greatest one either, all in it's watchable. It has funny moments, some slightly sad or rather emotional ones and some awkward moments but it's not totally shabby.
The music was very repetitive and I didn't really care much for it for some reason so I don't really remember it. If it doesn't stick, I won't remember it.
The ending fell kind of short to my expectations and it left quite a bit unsaid, I wish the ending would have been wrapped up nicer.
Overall it's an ok watch and I don't regret watching it but I wouldn't necessarily re-watch it.
Was this review helpful to you?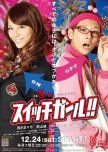 Even though I had some fun while watching this drama there are things that could have been done better. The characters feel fake for most of the time even when expressing their feelings, the lead girl seems to cry out loud a lot and I can't really connect much with the characters specially because it seems overacted. Even though I liked the actors that played each roll because they were each sort of unique in their own way, I can't help but dislike their acting in this drama.
The story is good it's just underdeveloped, with such an idea I think more could have been done even if it was just 8 episodes and I also think that for such a short drama too much was crammed in the story which is what kinda ruins it because there is barely any time to connect with the characters.
Since it's a short and somewhat fun drama it would make for a good watch to just kill off time or for something short and quick to watch.
Was this review helpful to you?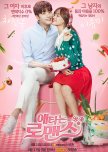 Fairly fun and promising, but I expected more...
This drama is a fairly fun watch and the story started on a very promising note, there are so many things that could have been explored in this drama from what is being told in the story and you do get answers to some of your questions along the way but I felt like many things went unanswered and/or passed on throughout the advancement of the episodes, there were things that were blatantly left hanging.
There is a point where there were one too many flashbacks, in fact so much so that I started skipping said flashbacks because I grew tired of them. It's like where they didn't have something meaningful to go with they stuck a flashback to fill it out, so basically half-way through the story it becomes more 'filler' than story with the whole flashback from the past thing specially on the last 2 episodes.
I don't really have any complaint about the actors but the characters/roles they were given to play goodness, it felt like some had a backstory missing or something. Then there were the moments where things were just a little too much, I am all for romance and kissing but particularly on the last episode there was a kissing scene that became a little too much for what I am used to from k-dramas and not only that it felt a bit too forced in a manner...the scene wasn't planned well enough to make it feel more natural and less cringey. Yes, I did indeed actually cringed.
Overall this is a good drama to watch on the side, specially if you are looking for something short in between other dramas or while you find something new to watch then this is great. I don't regret watching it, but I didn't enjoy the ending very much because it left too much unsaid and it felt like more could have been said if they hadn't thrown in so many dang flashbacks into the story/episodes, I truly believe that many flashbacks was unnecessary.
Was this review helpful to you?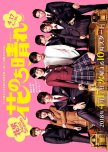 Esta historia toma lugar 10 años después de la linea de tiempo original de Boys Over Flowers, esto es considerado como una continuación de la historia con generación diferente o más nueva continuando lo que una vez fue F4 en Eitoku lo cual ahora son conocidos como C5. La historia parece ser bien similar a esa de F4 pero aunque la historia tenia algo de potencial termino siendo bastante decepcionante, hay mucha ida y vuelta en cosas triviales y los actores son agradables pero sus caracteres o la manera en que sus caracteres son presentados es súper fastidioso en algunos casos y por tal razón yo no pude sentir empatía por la mayoría de los caracteres. La historia se siente tan forzada e incomoda que yo simplemente estaba tratando de llegar al final de la serie, especialmente en los últimos 2 o 3 episodios. La historia también empieza a arrastrarse mucho después de los primeros 3 o 4 episodios y la actitud/comportamiento de la chica principal puede ser tan fastidiosa y frustrante.
El final fue raro, incompleto y bien decepcionante independientemente de lo que este pasando en la historia, todo es tan apresurado hasta el final...Deseo que hubiese habido más historia de fondo de las cosas y que los caracteres hubiesen sido más atractivos/conmovedores en términos, cuando me gusta un drama me siento sumergida en el y animo por los caracteres que me cautivan atraves de los episodios, hasta los caracteres que odio y me dan deseos de tirarle un zapato a la pantalla o gritarle a la pantalla como una loca pero con esta historia yo generalmente solo estaba echándole animo a Haruto porque es el único carácter con el que puede sentir alguna conexión y encontré la personalidad de Airy medio graciosa y linda, los C5 no son ningún F4 pero no fueron la peor parte de la historia tampoco. Me gusto más la música más que la historia, ya que al menos la música es buena. Yo no volvería a ver esta temporada de la serie y el haber esperado tanto para poder terminar de ver esto para ser decepcionada apesta.
La única cosa que fue bastante buena fueron la aparición especial de algunos de los miembros de F4 en el drama, pero aparte de eso esta historia nunca me va a gustar más que la versión original de Japón o la versión de Corea. Esto fue un "seguimiento" decepcionante que tenia mucha promesa.
Was this review helpful to you?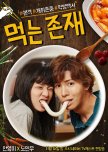 This is the review of the drama story that tried too hard, the main female character wasn't too bad but kinda weird and awkward, the main male lead I have seen in other dramas and i've seen better roles out of him so I know it wasn't specifically his acting. The writer of the story tried way too hard to make this have several different flavors to the story but, it honestly isn't it at all. The story feels awkward, pushed together and even rushed places...the drama makes me think of a gone bad/weird version of the drama Let's Eat which is actually a pretty good food drama, this story here was poorly execution of a potentially good story idea. If you have nothing else to watch and want to just watch anything even if it doesn't make a lot of sense then try this drama, if not just keep going...there are better dramas to invest your time in out there.
Was this review helpful to you?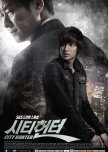 The story is alright, the idea behind it was good it just seems to have strayed creatively along the way. The actors were pretty good although I found a few to be distastefully annoying and it was probably just the character they were portraying but other than that, not bad. The music was not bad, I just didn't notice it too much except for a song here or there, I would most definitely not re-watch this but then again I don't I have ever re-watched any drama i've seen so far. One of my biggest peeves in general whether it's a kdrama or not, is a bad/confusing/ridiculous ending...it just doesn't sit well with me and while the ending for this drama wasn't the most terrible, it was certainly not the best either, throughout the story many things were said and answered all was fairly well until there was a point about midway towards the ending that started to raise questions that by the time the drama was done were left unanswered.
I just shrugged off the ending for the most part but I was annoyed that I ended up with more questions than answers by the end of the drama and the ending itself was a hot mess in it's own way which is probably one of the most parts that left many questions without an answer.
If you are looking to watch something that has action, revenge and some romance then this is not too bad of a watch although some of the plots don't really develop as you would be used to in other dramas like the romantic side of it, there is a lot of back and forth throughout the episodes about the revenge thing and the action scenes were not bad at all, a bit cliched but not terrible.
Was this review helpful to you?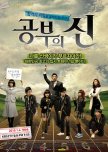 The intent of the story is very good, but I found it pretty hard to get used to some of the behavior of most of the characters, I found some episodes so annoying I was clenching my teeth and hoping for certain scenes or episodes to be over, it got pretty good towards the end and all in all it's a good watch if you have nothing else to see at the moment or to fill in between dramas or something. I found characters to get really annoying at times and I couldn't go more than 1 or 2 episodes at a time without having to take long breaks. I loved the cast though for the kids from the special class, I had seen them as young adults/adults in other dramas but not as kids/teens.
Was this review helpful to you?