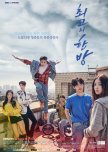 This was one of the best drama I have ever watched, if not the best. Light but at the same time quite complicated. It definitely was The Best Hit.
First of all there is a plotline. It started off pretty weak but quickly got better. It was funny, it balanced well between cliche and innovation. The most important thing is it was totally enjoyable. There was not even a moment I got bored, I barely skipped anything in this drama. Characters were well developed, even side characters had their story that explained their actions and behaviour. And the relations between them! Something beautiful. Especially good was bonding between Lee Sun Tae and his granddaughter Mal Sook. The humoristic aspect was ideal. I love how they did so many parodies and at the same time managed to make more dramatic plot. No exaggerated plot-twists. I like how they made us think it is going to be predictable but they did something totally new and refreshing. Even the ending was good and it's hard for me to like the ending as well.
Casting was the best thing that could have ever happened to this drama. All those cameos were so good! For those who watch 1n2d they were even more enjoyable. I really liked Deokhwa in this drama as well as his character's granddaughter. Yoon Shi Yoon did great in portraying his characters and changes in him. I want to praise Cha Eun Woo too - he did really good. Hong Kyung Min managed to act so good it had me wondered why did he not pursue his acting career. He was the real scene stealer in this drama. Special mention to Lee Han Seo who made this drama even more approachable. Not to mention Cha Tae Hyun - it is undoubtedly difficult to do both acting and directing, yet he managed to do exceptionally well in both.
When it comes to directing it would be a huge mistake to forget about Yoo Ho Jin. It was his first drama and he did a really good job. I think it wouldn't be an exaggeration to call him a genius. I am really looking forward for his upcoming projects.
I can't say much about the music in this drama, it's pretty ordinary, nothing's out of order. I do want to say I really like T-ara's song and it weirdly matches this drama well. Also it really bugged me that the instrumental of Yoon Mirae's song is pretty much the same as her previous work in Descendants of the Sun.
Summing up, it was quite a journey. I can't say that as a fan of 1n2d I'm not biased towards this drama team but I tried my best to give an objective opinion. The only thing I hated about this drama is the beginning. I even thought about not watching it and hanged on just because of the cast. And I do not regret this decision.
Was this review helpful to you?