Details
Last Online: 8 hours ago
Gender: Female
Location: USA
Total Edits: 50,149

LV43

Birthday: August 10
Roles:

VIP

Join Date: June 1, 2018

         

Info / Short Version

        

HideYourHeart

 (also HYH)

Music Lover
Drama Enthusiast
Socially Anxious
Twitter / ?

| | | |
| --- | --- | --- |
| | | |
   PERSONAL INFO:    I'm going to start this off awkwardly. Hello. 안녕하세요. こんにちは. If you want to call me by something, you can call me HYH, hideyourheart or any nickname. If I have felt comfortable enough to tell you my name, you can call me that.  I'm in my late 20s. I began watching dramas around March 2018 and joined here in June 2018. Things I like: web design/etc, watching dramas, writing, reading, listening to music, knitting and trying to learn new things. As for pets; I have six cats that I love very much. I have anxiety, +++, which causes a slight lag in my responses. I know a bit of Korean but I am still learning (autodidacticism/self-education) - along with self studying more about Korean history and culture. I know a little Japanese but not nearly as much as I know of Korean since I am focusing more on studying it currently. Would LOVE to learn Chinese but the difficulty is too much for me to attempt right now. For anime, I didn't start watching anime until 2 years after crash landing in dramaland.  I am extremely new to it and not quite sure if it's my cup of tea or not. But the art styles can be mesmerizing.

   DRAMA AND MUSIC INFO:     I'm Not A Robot holds a special place in my heart since it is the first drama that I completed. I rarely (but sometimes will) watch US/UK content (Peaky Blinders continues to be my give in for that). I do listen to korean, chinese and japanese music as well as music in english.  I'll usually give any song a chance but I've noticed upbeat or slow vibe songs are huge hits with me. For dramas, I usually give anything a chance. KDramas were my first and are still the most prominent but I love a good JDrama and CDrama too!

   MDL INFO:     I'm friendly and drama/judgement free, if you want to message me (with my anxiety, it usually takes me a while to reply) please feel free to! And friend requests are absolutely welcome. If I send a friend request I have either read a lot of your posts on the feed (liked them too!) or we have something in common. I do not take part in arguments and will ALWAYS ignore conversations that go in that direction. I believe that everyone has an opinion and they are entitled to it and the expression of it, I accept differing takes on anything and everything - so I will never challenge or question someone's opinion. I write articles sometimes for MDL and when I do I use the headline "Let's Talk About" and "Save The Date". I am ABSOLUTELY willing to co-write/etc articles.  I also make graphics sometimes for things like AskMDL, My Articles, and the 2020 Watch Challenge. Some things in my custom list area for "completed" might not make sense, but I'm very specific about my tracking of what I watch, so I use those to make little notes.

MDL Articles (Save The Date, Let's Talk About, ETC)  -  Co-Written Articles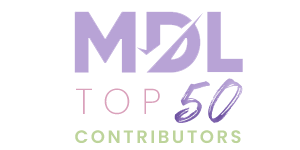 I do not speed watch (skip scenes/episodes/etc) dramas/episodes because         
        I feel it's not complete if I do. This is just a personal preference.        
M Y    R A T I N G    S Y S T E M
★ ★ ★ ★ ★ ★ ★ ★ ★ ★
  1-2.5:   Grueling to complete, so many issues
  3-5.5:   There's a lot I would change, it was okay.
  6-7.5:  Better than I thought it would be, liked it.
  8-9.5:   Really good, would say I loved it, might have something I would change
    10:      HIGH re-watch value and wouldn't change a thing about it
Statistics
96d 20h 1m
ALL TIME
2,946 episodes, 294 shows
8d 15h
ALL TIME
133 movies
List Updates
Currently watching

28

/32

1 day ago

Currently watching

6

/16

1 day ago

Currently watching

10

/12

2 days ago

Currently watching

1

/8

2 days ago