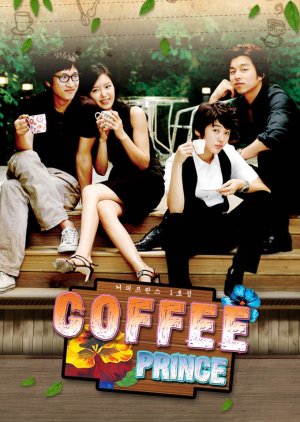 I'm so much in agreement with every word written in Jeanie's review that I had to go back and change most of mine in order not to write a useless review full of repetitions of what had already been expressed so well.

On my part, I can say Coffee Prince made me reconcile with Korean dramas. If I have to tell the whole, bitter truth, for some time I thought Korean could only produce melodramas, with round eyes girls pouting and arrogant dudes raising perfectly trimmed eyebrows. Until I landed on this drama.
Everything about it felt so real, by the middle I wasn't a simple viewer anymore: I was part of that group of friends. The kind of alchemy they created on screen is rarely found in dramas, because in most cases one is reminded that these people are acting. But Coffee Prince feels like they are having fun together. It reminded me of a dinner with my friends, or camping out with them.
There's a delicious special at the end of the drama, which shows some behind the scene bloopers and interviews. And it's amazing, because either the special looks like integral part of the drama, or the whole drama is like a behind the scene: the interaction between the actors stays the same. Even the make up and clothes are everyday things, not a catwalk display.

And I absolutely loved the way the issue homosexuality was treated. I loved that Han Gyul was tormented by the thought of being gay, but that he was even more so in finding out that she was a woman. Because love, betrayal and trust are universal feelings and have no connection whatsoever with gender.

The music deserves a mention too. Coffee Prince has an outstanding OST, very unusual and difficult to put into a precise musical category. Some pieces have a jazz undertone which I personally loved.

I've read some people complaining about the pace of this drama, saying nothing major happens. But a work of art, be it a movie, a drama, a novel or a cartoon isn't made only of events. It's made of style too, of images, silences, scenery, words. Thousands of love stories have been written and shown in dramas. What makes this one a delightful watch, is the ability of actors and direction to make us connect and "live" this sweet love story with the characters.
Therefore, I'm ready to recommend this show to everyone.

Was this review helpful to you?