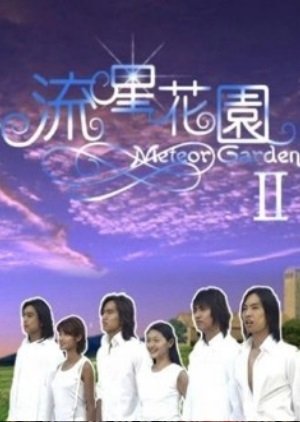 The only way to enjoy this is by erasing from your memory manga, anime, Japanese or Korean live-actions and simply watch this drama as though it were a completely new story, only with faces you've already seen and names already heard.

The constant comparisons won't help; on the contrary, they'll spoil the fun. All in all, I DID enjoy this second season of Meteor Garden. The acting of all has improved tremendously, and so are photography, direction and characterization.

Meizuo and Ximen's side stories are addressed and completed, something I thought was sadly lacking elsewhere. Shan Cai grows into a truly likable character and the second female lead is, for once, a delicious person, instead of the usual viper-like, scheming character. So refreshing! Honestly, I've had enough of girls portrayed as if they were incapable of true friendhip or generosity and who seem to live only to target the guy of their dreams. In this sense, this second season is way more romantic and realistic than many other adaptations.

It has some dragging parts, mostly when the whole plot is compared in length to the pretty rushed ending, but as a counterpart to this, some details are truly satisfying (I can't elaborate this unless I spoil the end).

Overall, I am convinced this drama is much better than what's usually expected and deserves a try.
Was this review helpful to you?