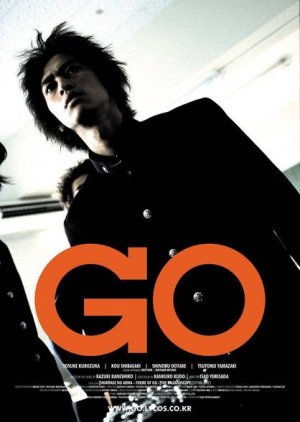 "This is my love story".
The movie opens up with this declaration, uttered in background narration by the main character while he's scorned and targeted by a players-filled basketball court. And it isn't only the rival team watching him with contempt: his own teammates are shouting the loudest.
"This is my love story", repeats Sugihara while he escapes from the police or is beaten by his father.
The contrast between the narration and the scene shown on screen gives us the key to the reading of the whole film, which is about finding ones place between love and hate, belonging and distancing, caring and detachment.
It's the story of a young man who has to show the world he doesn't give a dime while inside he's yearning for a sense of belonging.

GO is a wonderfully dramatic movie, one that deals with a cruel reality of discrimination. It's the journey of a guy who struggles to find his place on the planet. But don't be fooled by the surface: the director highlights the Japanese prejudices and the Korean stubborn obtuseness in equal measure. To each their own share.
And in the middle of this, there's Sugihara, who looks like a Japanese, talks like a Japanese, was born in Japan and is not recognized as one. His part is superbly acted: Yosuke Kubozuka is so convincing one can't help falling for him despite his murderous glances and his rebellious spirit.

So how is this a love story?
It is such on multiple levels: there's love for the friends, love for a father shown with fists, love for a country - or 2 - and love for a girl.
The music fits the pace beautifully, never overpowering the scenes.

Overall an emotion-filled movie, superb in acting, direction, plot and photography.
To be avoided if you're looking for a light watch. A must if you like thought-provoking films.

Was this review helpful to you?