The website is currently undergoing maintenance. Sorry for the inconvenience.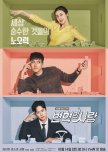 I CAN'T BELIEVE THIS DRAMA HAS ENDED!
I loved this drama because the cast is amazing and they are so good at getting into their character! This drama has stayed funny and humorous yet romantic until the end, and I love how they didn't make any of the main characters enemies. This drama is so pure and shows the struggles many young adults are having! The reason I said it was an 8.5 on rewatch value was because I don't know if I could still have the same joy and nervousness of not knowing who Baek Joon will end up with. But I will definitely hold this drama dearly to my heart for a long time! I DEFINITELY RECOMMEND THIS DRAMA!
Was this review helpful to you?