To.Jenny
10 people found this review helpful
In one word this show would be described as sweet.
Don't be skeptical to watch it because it's only two episodes. They are two really good episodes.
The main character Park Jung-min is so lovable. He's a bit awkward, but when it comes to music he changes into a different person. He's definitely my favorite part of this show. Kim Sung-Cheol did a great job expressing Jung-min's fears and his love for music. He's a relatable normal character who you're going to find yourself rooting for as he tries to win the girl of his dreams.
Jung Chae-Yeon plays Kwon Na Ra, a former one-time idol still with the hopes of pursuing her dream. I think she played her role well, don't let idol bias stop you. She fits the character really well. She's the former popular girl at school and the Jung-min's childhood crush.
The show is refreshing. It's somewhere between a sweet tiramisu (haha, you'll get this once you watch it) and a cool cucumber. It's not the most original of premises, but somehow it feels different than other shows. Don't worry there's no cliches nor any cringy parts. Everything flows easily and you'll be surprised that time passed so quickly. The plot is well constructed and executed.
The chemistry between the leads was also a plus. This is the two episodes work at a disadvantage because by the time you're done you're going to be wishing for more.
I loved Jung-Min's support system. From his little sister who gave him dating advice to his friends who stand by him to his gruff uncle who's interest is always best in heart.
The music is also a highlight. I think most of the songs are covers, but they're incorporated into the story very well. They 're catchy and have caused me to constantly replay the songs on youtube. If you're skeptical about watching this, I say watch for the music.
My only qualm was that the ending felt like it could have added some closure to a few things. But they're also a few very small parts that I think can easily be overlooked.
Overall, It's a light, funny, entertaining and good quality short watch.
Was this review helpful to you?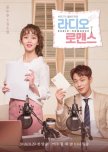 I honestly think this show isn't as bad as most of the reviews think it is. There's been a lot of negative reviews, but there are shows just as good as this, but just more popular.
The acting was phenomenal. Yoon Doo Joon was great. I was surprised to see the stark difference between him in Radio Romance and Let's Eat. I could truly see and believe that he was sad. Most cold male leads tend to just be aloof and annoying, but he even when he was cold, the sadness seemed to radiate off of him. His character development was definitely the largest in the show, but I think that's because he also just had more room for development.
Kim So Hyun was good as usual. I didn't really notice the age difference till I starting about, but by then it became hard to not notice. Thankfully they stopped perming her hair (which emphasized her age) around that time and she looked more mature. Aside from that one minor qualm, I enjoyed her role. Her character development was there but in a more subtler form. She became a more confident writer, but other than that I don't think she really had much to develop. She was strong, persistent, and hard working. I do feel like she started to respect herself more, compared to the beginning of the show where she threw away her ego in order to the first DJ to be on time for the show or to recruit guests. Don't misunderstand, she's not a timid candy character, she just was willing to go all in to achieve her goals.
The ending felt a bit forced. Ji Su Ho's mother suddenly became viewed in a more sympathetic manner. She supposedly cared about him more than money. I think that if that's the type of ending that the writers wanted, they should have shown some glimpses of her love for him earlier.
It wasn't perfect, but it was satisfying enough.
The only time felt the show was a bit boring was during the later episodes. The beginning and middle were interesting. The shows would have been much better if writers had introduced the sub-plots (backstory/murder cards) earlier and had expanded on it.
The show is a bit cliche, but it's surprisingly not cringy either as I find most cliche shows tend to be.
The OST wasn't super memorable, but I do felt that it fit with the show.
Keep in mind that I also binge watched this, so my experience was probably different than others who watched it while airing.
All and all it's a decent show. It's definitely not the best, but not the worst either. If you're looking for a good old-fashioned romance drama this would be it.
Was this review helpful to you?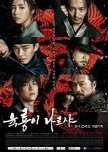 I love how complex and developed both the characters and plot were. I hated the characters, yet loved them all the same. It was happy, but it was sad. The characters were terrible, but they were wonderful. The acting was fantastic, especially Yoo Ah-In's. The actors were able to express such complicated character that I can't help but applaud them. The first few episodes provide backstory, but after that the show pics up a lot (actually the first few episodes themselves were pretty fast-paced). The ending was appropriate and realistic. The writer did a really good job showing the different sides of each of the characters. This is one of the few dramas I actually cried while watching. However, don't be afraid there is enough humorous and happy moments to balance the sad moments.
   Originally I was skeptical I would be able to make it through all 50 episodes, but once I started watching I never looked back.  Since this show is based on actual history, most of the major events were real. Even for those who do know the history that happened behind it, the show does a good job building suspense and garnering a reaction out of the audience. The OST (was spot on and truly fit each of the characters.
   The show was epic and humanistic. I assure you, you won't regret it.
Was this review helpful to you?