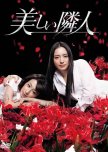 I'm used to Nakama Yukie's more energetic and happy roles but her version of an obsessed mother and deceiving woman is spin-chilling. She's brilliant!
Unlike most Japanese drama, the acting is not over done and sets a more serious and believable tone to the series. The music gets a little repetitive, having the same theme played during the episode and then the same song at the end.
It tugs at the heart strings, has you gasping at the disloyalty and questioning who to believe. Utsukushii Rinjin is a brilliant introduction into thriller drama and one worth sinking your teeth into.
Was this review helpful to you?